High Sierra Track Camp 2018: Learn How To Improve Technique and Speed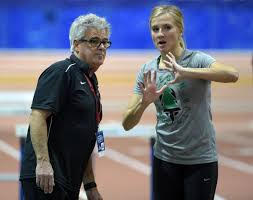 High altitude and soaring mountains aren't the only reasons to choose the High Sierra Track Camp 2018, but they are comp
elling ones!
Here's another: Coach Harry Marra — the world-renowned coach and trainer whose career is highlighted by Ashton Eaton's two Olympic golds and world record, as well as Brianne Thiesen-Eaton's Olympic bronze. He's been the USA National Decathlon Team coach, Nike Coach of the Year and IAAF World Coach of the Year. And you'll learn from HIM at the High Sierra Track Camp 2018.
High Sierra Track Camp 2018
Should training behind such a credentialed professional interest you, then you're invited to the High Sierra Track & Field Camp in Truckee this Summer. And what a place to train!
Camp runs July 16-20.
High school athletes and coaches get to train in a week-long summer camp set in the beautiful High Sierras.
Surrounded by the majestic Sierra Nevada mountains and spectacular lakes, Tahoe and Donner, the track and field facility (a state of the art Beynon 2000 facility at Truckee High School) is nestled at Base Camp Truckee!
At elevation 6000', the High Sierra Track Camp 2018 is an ideal location for high altitude benefits across all track and field events which include sprints, jumps, throws, distance and pole vault.
The camp is led by Coach Harry Marra. Coach Marra is the 2016 IAAF Coach of the Year and longtime decathlon guru who led Team Eaton to two gold medals and a bronze.
A camp this unique delivers quality teaching through small group instruction for athletes and a "Learn By Watching" and "Coaching the Coaches" approach.
Coach Marra's team includes Diana Yale- Truckee HS Head coach; Uros Kogal- Decathlete and coach and Rob McClendon, multiple Nevada State Team titles coach and All-American.
****************************************
Coaches-Only Special Promotion
High School Coaches, Sign up five or more and learn from Coach Marra FREE.
Needs-based scholarships available.
****************************************
You will come away with the skills you'll need to become the best track and field athlete you can be; learning correctly from the very best of the best.
Through excellence in one-on-one coaching and teaching, the aim is to target each athlete's needs and help them improve technique and speed by providing the tools they need. Staff brings passion and a wealth of knowledge to athletes and coaches.
Go! Enjoy a week-long camp in the beautiful High Sierra. Train with the coach of the two-time Olympic decathlon champion. Also train with the repeat Slovenian National Champion in the decathlon. Not to mention, the coach of several Nevada State Champion cross country and track and field teams.
About Truckee, CA: The Town of Truckee is a perfect vacation destination in the summer offering. It has a myriad of recreational opportunities, restaurants, events, and lodging.
Visit http://www.truckee.com/ to get started. Truckee calls itself the gateway to FUN in the Sierra Nevada.
And rightfully so.  With Lake Tahoe and Donner Lake right nearby, camp attendees and their families can extend their vacation. Enjoy and play in this beautiful place.
Easy access to the Truckee Regional Airport, the Reno-Tahoe Airport (just 30 minutes away), and I-80, makes this camp and its facility an ideal get-away location.
Getting there:
Host hotel, the Truckee Donner Lodge ( http://truckeedonnerlodge.com/ ) has set aside a block of rooms reserved at a camp discount.
Please call them ASAP and mention High Sierra Track & Field Camp, and they will give you a room rate of  $139 (plus 12% tax) for a King room (one king bed in the room) and $159 for a two Queen room (two queen beds in the room).
~~~~~~~
They'll also include a hot complimentary breakfast, coffee, coffee drinks, tea and hot chocolate all day.
Best of all, they have a pool and hot tub for restoration each night before the next day's workouts!