Jaden Conwright, East Bay Racer On the Move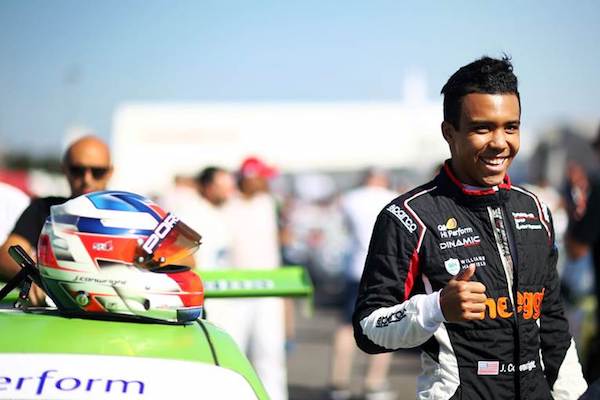 Jaden Conwright, East Bay's Porsche Carrera Cup driver is on the move. And in impressive style!
The Porsche Carrera Cup Italy just released a one-minute promotional video. Above all, this video is for their popular Scholarship Program in Europe. In it, you will clearly see clips of #48 Jaden Conwright. Conwright is the Fremont-based racer. Likewise we've kept our eyes on  Conwright since his high school days at Newark Memorial, Newark.
East Bay's Jaden is currently 2nd in the championship with 4 races remaining in San Marino and Milan Italy. And moreover this is just his rookie season!
_______________________________
GET CONNECTED:
Follow SportStars on Twitter & Instagram | Like us on Facebook | Subscribe!
_______________________________
In addition, Jaden, his mom Kim and father Craig will be heading to Italy this month. There they'll be able to finish out their son's season by his side.
In short, 20 year old Conwright continues to generate significant positive interest from many parties in Italy and Europe. As a result, discussions are underway with his current racing team, and also other eager parties. Above all they're interested in contracting Jaden as a pro driver for the 2020 racing season.
SportStars has followed East Bay's Porsche racer Jaden Conwright's career since his high school exploits at Newark. Additionally following his track highlights at Sonoma Raceway.
Catch the Porsche Carrera Cup Italy promo video here.
"La sfida nella sfida. In ogni tappa i ragazzi dello Scholarship Programme vivono training e assessment dedicati all'allenamento fisico e mentale. Rivivi con noi le fasi salienti di questo weekend romano, dagli occhi dei nostri piloti Junior e dei Driving Coaches che li seguono."
Translation:
The Challenge in the challenge. In every stage the guys of the scholarship program live training. And evaluation dedicated to physical and also mental training. Relive with us the highlights of this Roman weekend. From the eyes of our junior pilots and also the driving coaches who follow them. (Buona fortuna, Jaden!)