JPS Ultimate Linemen Challenge: 2019 Battle Of The Unsung Heroes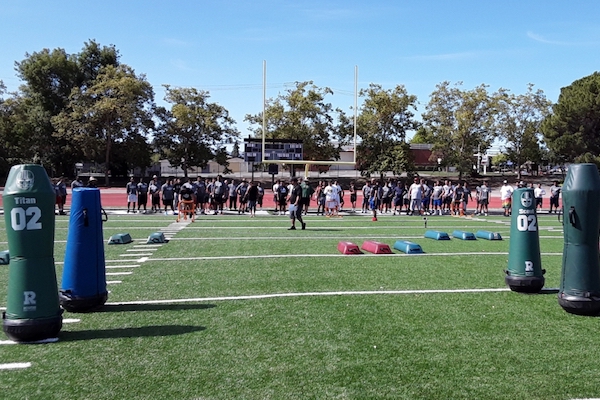 Impressive Collection Of Talented NorCal Linemen Gather For A Spirited, Competitive — And Even Emotional — Battle Of The Unsung Heroes •
On June 8, Diablo Valley College played host to the annual Jr. Prep Sports NorCal Ultimate Linemen Challenge: Battle Of The Unsung Heroes.
It was an impressive gathering of arguably the best collection of offensive and defensive linemen throughout NorCal.
The event includes a team competition and an individual lineman challenge. SportStars also presented an obstacle course challenge for the second consecutive year.
Several sponsors helped JPS bring the event to life. The NAVY, Dick's Sporting Goods, Visit Concord, Fit Pro GO, KIND Snacks, Gatorade and SportStars Magazine all contributed.
In the team competitions, Stag Elite was the Open Division champion while the Nor-Cal Outlaws were the runner-up. Hayward High was the Select Division champions while Skyline-Oakland took second.
Gabe Martin of Riordan High-S.F. earned the Ultimate Offensive Lineman Award. Princeton Toki (Salesian-Richmond) was awarded the Ultimate Defensive Lineman Award.
JPS also debuted a new award for 2019 in honor of the late Tui Talia. Talia was a standout defensive lineman from Ygnacio Valley-Concord who went on to excel for the University of Oregon in the 2014 and 2015 seasons. The 25-year-old passed away as a result of injuries sustained in a drunk driving accident less than a month ago. He was a backseat passenger and not wearing a seat belt.
The Tui Talia Ultimate Warrior Award was conceived to go to a lineman that best represented Talia's tireless work ethic and strong character traits. In an emotional presentation, coaches named Mana Taimani (Clayton Valley-Concord) the first recipient. Taimani is in fact a close cousin of the late Talia.
The JPS-provided video below showcases highlights of the action and the full presentation of the Tui Talia Ultimate Warrior Award.
The All-Tournament team included Taimani, Martin and Toki as well as Havika Baumgartner (Clayton Valley), Augustine Tautalatasi (Encinal-Alameda), Boss Foumani (Patterson), Tyler Miller (Freedom-Oakley), Nolan Phillips (Freedom), Ruben Hernandez (Hayward), Daniel Fukofuka (Hayward), Darius Fonteno (Skyline), AJ Ugaitafa (St. Ignatius-S.F.) and Lincoln Holland (Vanden-Fairfield).
For more information on JPS, including its Paradise Football Classic all-star event in Hawaii, visit the organization's home page.