Kari Geissberger: Day In The Life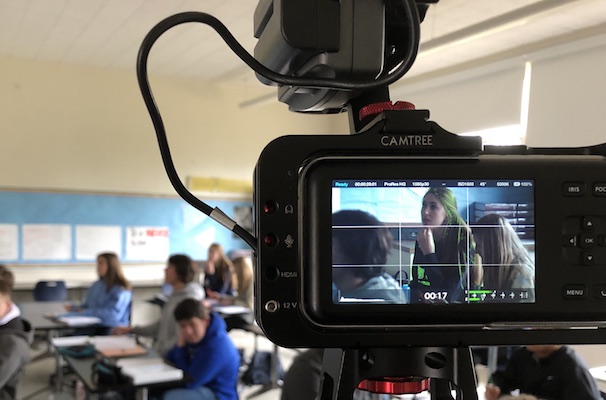 Sunny With A Chance Of Spikes: Marin Catholic Volleyball Star, Kari Geissberger, Is A Ray Of Positive Energy — And A Devastating Hitter •
Kari Geissberger doesn't really walk across the Marin Catholic High campus. It's more of a glide. 
That's how quickly she and her 6-foot-5 frame seem to move. If the Kentfield skies weren't shrouded in overcast gloom on this Feb. 12 afternoon, one could swear a ray of sunshine followed Geissberger's path as she walked.
After spending the greater part of nine hours following Geissberger throughout her day and into the evening, that's the lasting impression I have of the Wildcats' junior volleyball star. Striding, gliding along with friends at her side and a constant grin across her face. 
Which seems like the norm.
"There's this inner light that she has," said LaShelle Rullan, a former coach of Geissberger's at Absolute Volleyball Club in San Rafael. "I tell her all the time she's my kid that's the definition of sunshine. She loves her family and her friends first. She loves her teammates first. … She'll remember the one play someone backed her up when she wasn't there, as opposed to the one time she hit the ball straight down. That's what makes her special."
SportStars videographer Derek Nguyen and I spent the day with Geissberger to film the second installment of our "Day In The Life" video series. She was one of two athletes — both volleyball players — who were voted on by fans to be our first subjects. 
We released our first video on St. Francis-Sacramento volleyball star Alexa Edwards back at the end of November. The holidays and a brief lull in volleyball activity following the end of the high school season forced us to push back our day with Geissberger. But we cleary still got to see Full Kari.
Over the course of the day we observed her in a few of her Marin Catholic classes, theology and math. We saw her first Marin Catholic offseason training session. And we finished the day at her club practice in San Rafael where she plays for Absolute Volleyball's 17 Black.
It was a close contest as to who was more excited about our presence, Geissberger or every individual who got the chance to say something nice about her. 
"Are you guys here for Kari!?," came a shout across the Marin Catholic quad as students transitioned between classes.
"Yep."
"I was her setter. She's awesome!"
We thought so too, and we're excited to bring you her story. 
Also, we're soliciting nominations for our next Day In The Life athlete. Email me your suggestion, or hit us up on Twitter or Facebook and tell us why the athlete your nominating should be next.
Until then, enjoy Kari's spotlight moment.