Lexi Webb: NorCal Softball Player Of The Year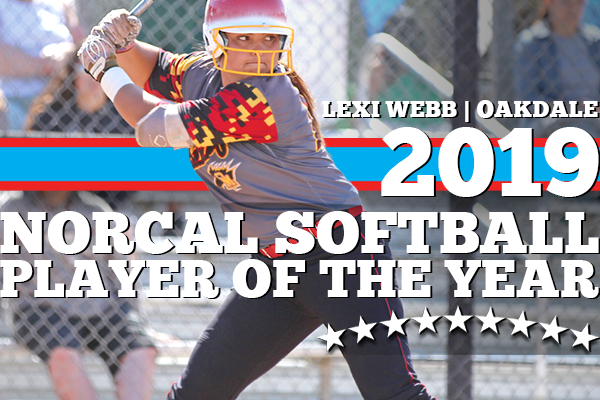 Oakdale Slugger Proved Just As Dominant In The Circle On Her Way To Leading Mustangs To 29 Wins, Sac-Joaquin Section Title •
If Oakdale's Cal-Hi Sports State Championship softball team is the Avengers, then Lexi Webb is surely its Iron Ma'am.
The Mustang's home-run clubbing, strikeout pitching, Thanos-killing senior was the hero we deserved this Spring. She was also a relatively easy choice as the SportStars NorCal Softball Player of the Year.
She led Oakdale to a 29-1-1 season, tossed two perfect games, smashed 10 home runs and collected 43 RBI. And her Sac-Joaquin Section championship ring doesn't even have an infinity stone.
"If you watched Lexi at any point this season, you would see right away how determined she was to make this year special," Oakdale coach Larry Loger said. "And while the reason I am getting calls and why she is getting accolades is softball, I have to tell you that she is as every bit a good person as a softball player.
"I have known her since she was little girl at Kerr Park playing rec' ball. It is really neat to see what she has become."
Webb will depart Oakdale for a softball scholarship at Fresno State this fall. Her bio on the Bulldogs athletic site will read something like this:
Lexi Webb was a four-year standout at Oakdale High in the Valley Oak League, where she was hailed its MVP. She was also the Modesto Bee Spring Sports Athlete of the Year, the Front Row Preps Softball Player of the Year, Cal-Hi Sports Medium School Player of the Year and SportStars Magazine NorCal Softball Player of the Year.
Her senior year, Webb tossed 271 strikeouts with just seven walks across 154 innings, allowing only seven earned runs (0.635 ERA). She also pitched 13 shutouts and threw two perfect games. At the plate, Webb hit .598 with 43 hits, 43 RBI and 10 home runs. She also managed 24 extra-base hits, walked 28 times and stuck out only three times.
It's a sterling bio.
"(Being recognized as a Player of the Year) makes me proud because of all my hard work has paid off," Webb said. " It makes me feel blessed with the opportunities I have been given."
She's come a long way.
Two years ago, Webb was a respected prep recruit, but mostly highlighted for her hitting. When she developed her pitching, especially over the offseason in 2018, she became a must-have player for collegiate programs. Webb throws 66-68 MPH and aggressively challenges even the best hitters. 
"She is one of the best pitchers I have ever seen" Loger said. "She can fool you in a number of ways. It really comes down to determination with her."
Webb initially committed to Southern Alabama. However, it was Fresno State that landed her final commitment. The change was due partly to Fresno's eagerness to play her as a pitcher/hitter, and partly because of the successful program/coaches.  Mostly it was the school's proximity to home.
Fresno State's West Coast schedule in the Mountain West Conference will allow Mom and Dad (Loretta and Steven Webb) and sisters (Elizabeth and Lesie Webb) to attend games. Since 13-year-old Lesie has Angelman Syndrome, travel is a real issue, and Lexi is a real-good big sister.
"Lesie's mind will be like a 2-year-old's for the rest of her life," Lexi explained. "She likes softball and she can kind of process it, communicating with her eyes. But sometimes she falls asleep after a long day."
Big sister should thrive in a conference that contains Colorado State (39-12 in 2019), San Jose State (37-16) and UNLV (36-14). Fresno State was fourth this year at 37-20.
Oakdale alum Haley Fuller also plays third base for the Bulldogs. She's one of the four players that Lexi boasts as her greatest player-influences from the Mustangs program. She also listed Arizona standouts Kindra and Maddi Hackbarth and Oklahoma star Grace Green. She said the former Oakdale players taught her how to be a leader, how to take over a team and impact the game.
The Thanos-killing stuff was self-taught.