Maddy Goldberg: Foothill Soccer GK Is Keeping It 100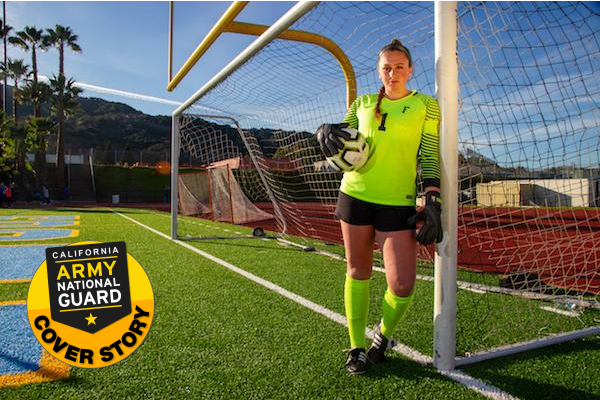 Pleasanton's Maddy Goldberg Is Taking Charge — And One Of NorCal's Best Goalkeepers Has Foothill Off To A Strong Start •
Don't expect Maddy Goldberg to quietly, unassumingly hang out around the goal box. The always-vocal Foothill High junior is constantly in motion, whether the action is headed her way or toward the opponent's goal. 
Similarly, Goldberg's soccer pursuits have been in constant motion for several years now. She has been part of the Olympic Development Program since she was 12. In many ways, she has started early and is ahead of the game. True to form, Goldberg, 16, has already made her collegiate call, committing to Oregon in August.
In high school she is an integral part of a Falcons team that was unbeaten through Jan. 13 and in the top-tier conversation within the East Bay Athletic League, perhaps the top league in Northern California. She also stars on the top-flight Pleasanton Rage '03 ECNL (Elite Clubs National League) team.
"Her physicality is good, but more importantly, it's her presence. Her voice, her command, she is very mature for her age," said Walter Pratte, who coaches her at Foothill  and for her Rage team.
In his four years coaching her, he has witnessed her leadership skills soar.
_______________________________
CONNECT WITH US:
Follow SportStars on Twitter & Instagram | Like us on Facebook | Subscribe!
_______________________________
"The team responds to her," he said. "The team feels confident when she is in the back. Her presence really helps us to be more calm. She is a complete leader. She is the captain of the team here in high school, she is the captain of her team in club. The girls look up to her.
"It starts at home," Pratte added. "Both mom and dad are great people, both police officers, so she understands. It's 'Yes, coach. … No, coach. … What do I need to do?'" 
Goldberg began playing at age 6. At those early stages, coaches would rotate players into positions. Something clicked when it was her chance to play in goal.
"The day it was my turn, I loved it," she said. "My dad (Cary) was a goalkeeper. So a little bit of it ran in the blood. I had decent hand-eye coordination from the beginning and so my coaches were happy and they kept me in goal and I just fell in love with it." 
Yet Goldberg was not initially that whirlwind of activity and a vocal leader, constantly conversing and directing teammates. That took a while to develop.
"It was definitely not like that at the beginning. I was like a mouse standing there," she said. "I am very vocal now. Being a goalkeeper, it's important being connected with your team. I had to do more work to be more vocal."
Goldberg was 12 when the ODP first selected her, the first year she was eligible.
"When I was little I didn't know what to expect. It was definitely a higher level of competition than I expected. But I am very thankful for it, that it challenged me. I think it has helped my game in every way possible. I highly recommend the program."
Everything escalated from there. Goldberg recalls the excitement upon reading an email in 2016 that she had been selected for the U.S. Soccer U-15 Girls National Team training camp in Carson, California. The camp invited just 40 girls and five goalkeepers nationally.
"I was so surprised for such an unexpected lucky thing to have happened, because I had worked so hard to get to that point," Goldberg said. 
When her mother, Michelle, asked her what she'd remember most of the experience, she said it would be the locker room, seeing her name above her locker, with a jersey set there for her amid all the decor. "I took a panoramic picture of it because it was so cool."
Her ODP journey has led to working with some of U.S. women's soccer's greatest. Last year, Brandi Chastain coached her at the regional level, and her first two years, her coach was Tiffeny Milbrett. At the national camp, Nicole Barnhart was the goalkeeper coach.
"It's crazy to be able to learn from those great players," Goldberg said. "The giving back is such a big aspect of it all. It is what makes women's soccer 10 times better, because the generation behind it is learning from the best, and the spirit of giving back is so important." 
In that spirit, she is welcoming to younger players. This year's Foothill team is quite young. She is one of 11 juniors, with just a handful of seniors who see significant playing time. One of those seniors, Audriana Templeman, is going to Chico State next year. Younger players are starting to get college attention, and turn to Goldberg for support, the coach said.
"She is very supportive of her teammates," Pratte said. "She has played at the highest level, and though some of the girls that are playing in high school maybe don't play at the level that she does, she is very open-hearted in the sense of trying to help them." 
Goldberg honed her skills playing up an age group for three years with the Rage, but because the older group wouldn't be traveling much this season, she returned to her old '03 Rage ECNL team. She and her teammates will go to Arizona in April, New York in May and North Carolina in June.
When she makes her way to Oregon, it will be part of a new era for the Ducks, who named Graeme Abel as its new women's head coach on Dec. 30. Abel was an assistant with the 2015 and 2019 FIFA World Cup champion U.S. Women's National Team. Once again, Goldberg is excited about the prospect of being on the ground floor.
"It's going to be super exciting to be coached by someone with the amount of coaching experience he has," she said.
Playing up, and always trying to get better, has led Goldberg to this point. "Soccer is very tricky. Some people think the result is what gets you recruited," Pratte said. "But what gets you recruited is the work you put in day in and day out, how hard you train, your dedication. Those are the things the college coaches look at." 
She welcomes her coach to hold her to a more stringent standard.
"I don't like being sugar-coated," Goldberg said. "He praises me when I need it, but he can be brutally honest, which I respect." 
It's that resolve that has become a factor in Foothill's success thus far.
"One of the keys to being successful is being honest with everybody," Goldberg said. "That helps us perform well. I am not seeing a weak player out there."