Max Nyrop: Nothing But Zeroes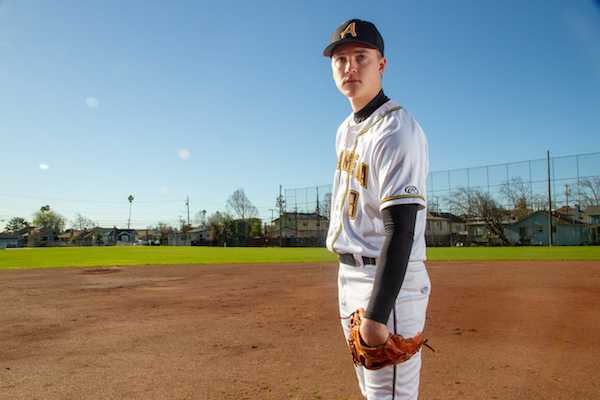 Alameda Senior Max Nyrop Finishes Just Two Innings Shy Of State Record For Consecutive Scoreless Innings Pitched •
When a pitcher in baseball doesn't give up a run and posts a shutout, the manager or coach is never questioned about poor sportsmanship. A run is a run and any batter can run into a fastball at any time and launch one over the fence for a round-tripper. Max Nyrop tested that theory a lot in 2018.
During the California high school season in 2018, the longtime state record of not allowing a run for consecutive innings by a pitcher came under assault. At first by two players, and then a third. The crux of this story is that the third player, Alameda High's Nyrop, was only a junior. He took an active streak into the 2019 season.
According to the Cal-Hi Sports State Record Book & Almanac, the state record until last season for most consecutive scoreless innings was set at 59 in 1970 by small school pitcher Jerry Jordan of Avenal (CIF Central Section). 
In the CIF San Diego Section, Jordan's record first came into focus last May when pitcher Joe Magrisi from Torrey Pines-San Diego surpassed that section's record of 42 set in 1982 by future major leaguer David Wells of Point Loma-San Diego. Magrisi, who later would be named Mr. Baseball State Player of the Year, extended his record into the postseason. It was halted at 54.2 innings in the first round of the section playoffs.
One week later, it was reported in Pasadena and San Gabriel Valley newspapers that Maranatha-Sierra Madre junior Dawson Netz was piling up the shutouts. Although his team won a Southern Section Division III title, Netz's streak was snapped in a playoff game against Palos Verdes-Palos Verdes Estates. The reported total of 59.1 innings was above Jerry Jordan's state record, but more info was needed. That's because in many record books, one-third or two-thirds of an inning isn't counted. It reverts to the total from the previous inning.
In the case of Jerry Jordan, due to the information stored by Central Section historian Bob Barnett, it was determined his scoreless streak did indeed end squarely at 59 innings. And thus, Netz was given credit for a new state record at 59.1 innings.
This is where Max Nyrop comes in. According to Alameda statistician Jim Quilici, Nyrop had only zeroes over his final 41 innings of the regular season. Max then pitched consecutive shutouts for the Hornets in the North Coast Section Division II playoffs. He tossed a four-hitter in a 7-0 win over Newark Memorial and a three-hitter in a 1-0 victory against Drake-San Anselmo. He didn't pitch in the NCS title game, so his consecutive innings streak didn't end at 55 and was set to start up again this season. 
Nyrop needed just 4.2 scoreless innings to start this spring to break Netz's record. He only got half of that. Nyrop surrendered his first run of 2019 after just 2.1 innings of work in a 7-5 win against Tokay-Lodi on Feb. 23. His streak ended at 57.1 innings, good enough for the state's third-best all time.
It was a unique way to start a season, but Nyrop had a mature way of looking at it.
"Of course, there's some added pressure. But I just got to get out on the bump and approach it the same way as before," Nyrop said during a phone interview on Presidents Day weekend. He had just returned from a trip to Minnesota to visit colleges. "It's got to be pitch by pitch, stop by stop, and get outs. If (the record) comes, it comes. I'm not going to worry about it too much."
Both Nyrop and Alameda coach Ken Arnerich love the fact that a record like consecutive scoreless innings is a clear reflection of the team. In addition to one swing of the bat creating a run to score, so can a hard-hit grounder that isn't fielded cleanly, allowing a run to score on an error. Such a streak requires almost perfect defense.
"First, the defense we had last season was the best I've ever had," Arnerich said. The coach is beginning his 17th season with the Hornets. "It takes defense like that to do something like that. Second, as a pitcher, Max just paints the zone. In five or six of his games last season, he won on 65 pitches or less. He doesn't walk anyone and pitches to contact."
For the season, in earning all-state underclass honors, Nyrop had a 9-0 record on the mound with a 0.85 ERA. He doesn't throw with the velocity that generates Division I college offers or MLB Draft talk. Both the pitcher and coach are working on that.
"I would like to play (in college) as long as I can," Nyrop said. "I'm definitely working on that velo plus change-up. Deception is my major tool. I do all I can to keep batters off balance."
"We went through all of his games on tape and no one really barreled him up on any swing all season," Arnerich said. "I think we will be able to get him up to 85 or 86 (mph). That's perfect for high school and I think he'll start to get Div. II looks."
The improvement since last season may also come for Nyrop with bat in hand. He was one of the team leaders as a junior with a .341 batting average with 18 RBI. While he didn't pitch in that NCS final, Max played first base and came up in a tie game with Maria Carrillo-Santa Rosa in the bottom of the seventh inning. He promptly rapped out a base hit. Not known for his speed, he made it to third base on a throwing error. Then he watched as a pinch runner scored on a game-winning single by KW Quilici.
The 4-3 win capped a 27-2-1 season; the Hornets were later named the Cal-Hi Sports Division II State Team of the Year. With Nyrop and senior teammate Bryan Woo (as much of a pitching ace as Nyrop), they helped Alameda post 15 shutouts as a team on the season. That isn't a state record, but is on the all-time state list.
Besides Woo, five other starting players have graduated, so it may be difficult for similar success. Regardless, Nyrop thinks there will be no limitations.
"It's going to be hard to fill their shoes," Nyrop said. "But I have full confidence the younger players are going to step up. We may not have the initial talent when you first look at us, but I think we can do some damage."
Nyrop has the full confidence in Arnerich to get the team ready to defend its title in May.
"It's great to play in a place like Alameda," Nyrop said. "Baseball is so important and the Arnerich family is known by everyone. Our coach is a legend and just to be coached by him is such an honor."
Many of Nyrop's teammates from this year and last year have played together since they were 5 or 6 years old in the Alameda Little League. Some of them also were on a World Little League team that played in Japan when Max was 13.
The city of Alameda's high school history is more famous at rival Encinal. That's where MLB Hall of Fame slugger Willie Stargell attended. It's  also where recently retired Encinal coach Jim Saunders had some great teams led by players such as Jimmy Rollins, Dontrelle Willis and Osiris Johnson, the 53rd pick in last year's MLB Draft by the Miami Marlins.
Nyrop's streak was just a little bit more history to the baseball fabric of Alameda. What could be next?