Moreau Catholic Football: Ready, Fresh, GO! (NCS Small Schools 2019)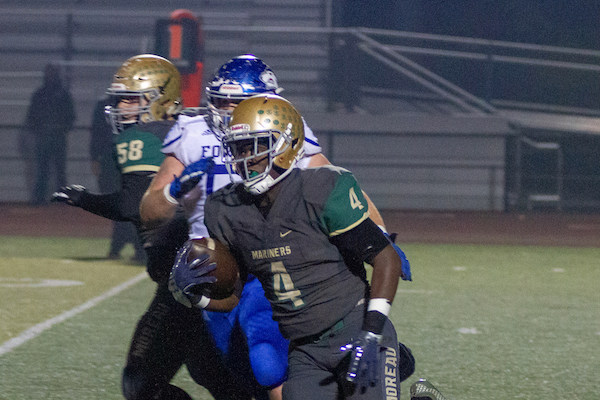 One Year After Falling One Win Short Of Its First Section Title, Moreau Catholic Takes Aim Again With Star Tailback Fresh Ison Leading The Way •
As he prepares for his third varsity season, Fresh Ison is finally the wise elder on the Moreau Catholic football team. And he's ready to embrace his leadership role.
One thing he knows, and is fully happy to preach, is that no player can win a title on his own.
Ison should know. He practically tried last December by rushing for 162 yards and four touchdowns in the North Coast Section Division IV championship game. But Fortuna scored twice as many times in a shocking 61-35 win. The defeat not only denied the Hayward school its first NCS title, but also blemished a perfect 12-0 record.
"Pretty much all of us are trying to get back there," Ison said by phone on Aug. 9 — just before the first week of full-pads practice was in the books. "That (loss) left a sour taste in everybody's mouth. We're doing whatever it takes to make sure it doesn't happen again."
For Ison, that means focusing solely on the leadership role for the first month. He likely won't get any game action in until the fourth or fifth game as he recovers from two shoulder surgeries to repair a torn labrum.
"The shoulder kept dislocating last year," Ison said. "And the constant popping out and back in led the labrum being torn."
All of which makes his junior season numbers even more impressive. Ison rushed for 2,093 yards on just 133 carries — an average of 15.7 per run. He rushed for 32 touchdowns and added two more through the air. That success, plus a productive summer, has led to four NCAA scholarship offers so far. Dixie State is the most recent as well as Howard, William & Mary and Northern Colorado (where his brother Jullen plays).
While Ison knows he can't win a title on his own. He also knows he won't have to try either.
Coach Rob Gatrell will have plenty of skill and experience to utilize up and down the roster. In addition to Ison, the Mariners also return starting quarterback Bowen Dickstein and fullback LC Glover. The offensive line that helped pave the way for Ison's 2,000-yard season returns four starters, including Daniel Banuelos, Adan Nevel and Tyler Randall.
Dickstein did more than just keep defenses from loading up and waiting to stop Ison. He completed 64 percent of his passes and threw for 24 touchdowns. He has two of his top three receivers back from last season too in Nicolas Ledesma and Nikko Reed.
"Bo looks real good," Ison said the senior quarterback. "He's polished himself really good over the summer. He's real poised and knows what he has to do to be a team leader and everything."
Ledesma, who had close to 300 yards rushing last season, may see some time at tailback while Ison sits the first third of the season. Junior newcomer Devin Arnold will likely take some carries as well.
The defense, which allowed just 14 points in Mission Valley Athletic League play last year, returns about half of its starters as well. The biggest linchpin to that unit will be Kaleb Elarms-Orr. As a sophomore last season, the outside linebacker had 39 tackles, eight sacks, two fumble recoveries and one forced fumble. Elijah Salazar-Alexander will also make an impact on both sides of the ball for Moreau Catholic.
In the new NCS competitive divisions format, Moreau Catholic is part of Division V. They share the division with Div. III-champ Fortuna and Eureka, an NCS Div. II finalist last year. Three other teams — Miramonte-Orinda, Encinal-Alameda and San Marin-Novato — were all 8-4 a year ago.
The Mariners have their work cut out for them.
"I feel like we have a really good group of guys," Ison concluded. "Everyone is interchangeable. We're working on bonding as a group and the chemistry may be even better than last year."
So once Fresh gets, fresh, look out for the Mariners.
BEST OF THE SECTION—SMALL SCHOOLS
Names to know and teams to watch from North Coast Section schools considered to be in the Division V and VII enrollment group.
TOP OFFENSIVE THREAT: Fresh Ison, Moreau Catholic-Hayward, Sr.
TOP DEFENSIVE TALENT: Jermaine Terry, Kennedy-Richmond, Jr.
BEST ARM (QB): Will Omey, St. Bernard's-Eureka, Sr.
BEST BACK (RB): Calel Aramboles, Calif. School for the Deaf-Fremont, Sr.
TOP DEEP THREAT (WR): Jason Wood, Albany, Sr.
TOP ROAD GRADER (OL): Patrick Selna, Piedmont, Sr.
BIGGEST RETURN THREAT: Teddy Oliver, Encinal-Alameda, Sr.
BIGGEST LEG (P or PK): Kevin Tan, Moreau Catholic-Hayward, Sr.
TOP PASS RUSHER: Jermaine Terry, Kennedy-Richmond, Jr.
TOP BALLHAWK (DB): Jalen Henderson, De Anza-Richmond, Sr.
OFFENSIVE BREAKOUT CANDIDATE: Ivan Robledo, St. Helena, So.
DEFENSIVE BREAKOUT CANDIDATE: Dante Antonini, St. Vincent-Petaluma, So.
BIGGEST TITLE FAVORITE: Moreau Catholic-Hayward