Mountain View Volleyball Club: 18U Boys Net National Title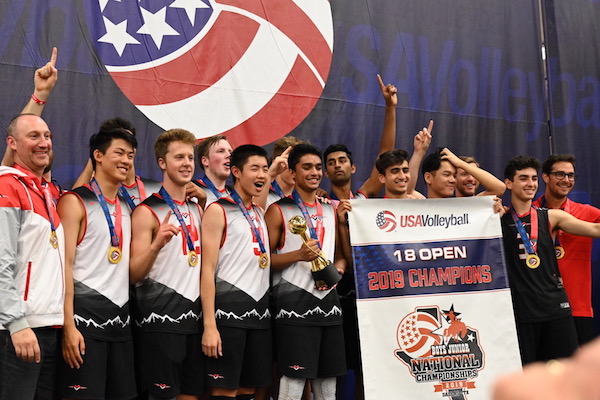 Behind Eight Boys Who've Played Together Four Straight Years, Mountain View Volleyball Club Claimed Its First Open Division Junior National Championship •
Certainly this was the ideal sendoff for the Mountain View Volleyball Club 18 Red boys team. 
Just before its players go their separate ways and venture off to various colleges, the team won the program's first Open Division-Gold championship at this summer's USA Volleyball Boys Junior Nationals in Dallas.
And what a way to mark the 10th anniversary for MVVC, which has made a great impact in the club volleyball scene in that relatively short span. It's a tremendous example of the rewards of staying together and working, working, working toward a goal — eight of the 12 players have played together in MVVC since age 14.
"It was definitely great, and looking back, I realize there's no better way we could have finished off," said MVVC setter Kevin Mathew, one of the eight mainstays. "Having played on a club so long with these guys, how perfect it was that we finished on the best possible note. All the loose ends got tied together."
Steady play helped the team go 9-2 in the 18 Open division at the June 30-July 7 tournament. The core players' familiarity with each other paid big dividends in Texas.
"It's a pretty consistent effort by all the guys on the team, and it especially shows how homegrown we are," said Jonah Carson, coach of the 18 Red Junior National champions and MVVC Boys Club Director and Recruiting Coordinator. 
Not that it was easy. 
For starters, MVVC had to shake off an 18-25, 25-18, 15-13 loss in its opener to Outrigger from Honolulu, Hawaii.
"That sort of showed us no team was going to hand us a win," said Mathew, who closed his high school career at Monta Vista-Cupertino winning Central Coast Section and CIF NorCal Division I championships. "In the end that was really helpful to us, because we knew they would not hand it to us and, on the other hand, we were not going to hand it to another team."
Carson, also coach of the USA Men's Junior National Team and the St. Francis High-Mountain View boys, said he felt his team could absorb the loss and recover, finding the best mix to win.
"One of our top players, Cole Gillis, who is going to UC Irvine, was struggling, not playing as well as he could," Carson said. "We put in Ben Airola, who is going to UC San Diego and we beat 949, one of the top teams in the tournament. We then put Cole back in there, and I have to give a ton of credit to Cole to regroup and play so well."
It all came together with a 25-22, 19-25, 15-9 championship win over SoCal powerhouse Balboa Bay Volleyball Club, based out of Costa Mesa with a storied 43-year history. It was a rematch from four years ago when both clubs met for the 14s Junior National championship, with Balboa winning. 
"When we played them as 14s, we were happy to be in the finals and let them have it," Mathew said. "The 18s match felt a lot different. We were there for a fight and came out hot from the beginning. So we came pretty aggressive and got a lead in the first set after it was 18-18 and pulled ahead. Then it was essentially the reverse in the second, and we were playing catch-up. The third set was close until 7-7, then we got hot and won 15-9."
Fiery starts were a trademark of this MVVC team, Mathew said.
"We tended to come out of the gate really hot and really intense. Come out intense and on fire, and we would catch teams off-guard," he said.
One major force for MVVC was tournament MVP Jarrett Anderson, who starred at Harker-San Jose and was a driving force behind the Eagles winning the CCS Division III title and making the NorCal Division I finals. Recently named to the SportStars Magazine Bay Area 75, Anderson is headed to Springfield College in Springfield, Massachusetts. All that is amazing considering this is just Anderson's second year of playing volleyball, having focused previously on basketball.
"It's a pretty incredible accomplishment," Carson said. "Two years in the sport, he has a pretty incredible capacity for work. He can handle the workload and is a really good learner." 
Carson points to the hard work of Gautham Dasari. Another graduate of Monta Vista, Carson called him "the absolute rock of our team." Now on his way to NYU, Dasari made a steady climb up the ladder of teams in the MVVC system.
"He started on the 14 3s, worked his way to 15 2s and has been on the top team ever since," Carson added. 
Mathew is headed to USC, where he will be playing club volleyball while focusing on being a human biology major.
"He's the heart of the team," Carson said. "He kept everyone moving in the same direction; he's a great communicator."
For Mathew, he found Carson to have incredible insight.
"It's almost like he's seeing into the future," Mathew said. "For instance, he had us practice defensive formations, and at the time we didn't see value in it. But when we got to Junior Nationals, it was a revelation. It just showed how much he knew about the game."
The championship adds even more prestige to MVVC, 
"The big thing is having a reputation and getting our first national championship will do that," Mathew said. "Balboa has a great reputation, and we beat them. I don't think people take NorCal seriously and I think this will help change that." 
From his perspective as club director, Carson is thrilled to see how well MVVC teams fared at Junior Nationals. Along with the Gold at 18s, there were the 16s taking their Bronze in the Open, and four others (17 Black, 15 Red, 15 Black, 14 Black) each grabbing fifth place in various divisions.That certainly bodes well for the future.
"I'm Interested to see who is the next Dasari or Cole," the coach said.