Nico Young Gatorade XC Boy Athlete of the Year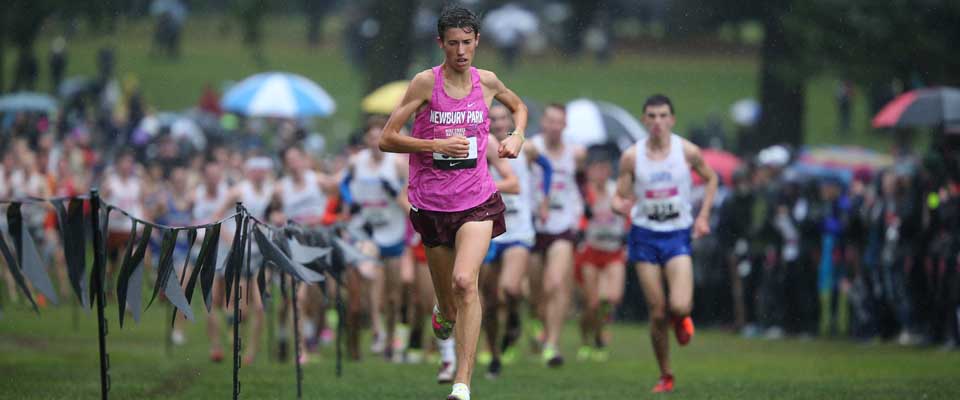 Nico Young 2019-20 Gatorade National Boys Cross Country Runner of the Year
In the lead during the 2019 Nike Cross Nationals, Nico Young – Newbury Park High School senior raced to the national championship this past season, breaking the tape at the Nike Cross Nationals Final with a course-record.
The 5-foot-11, 135-pound senior set a course-record time of 14:52.3 and leading the Panthers to the national title as a team.
Young also won the Division 2 CIF state championship in 14:26.5. He also set a U.S. prep three-mile record of 13:39.7 last fall in winning the Woodbridge Classic.
_______________________________
CONNECT WITH US:
Follow SportStars on Twitter & Instagram | Like us on Facebook | Subscribe!
_______________________________
He also broke the tape at the Southern Section finals, the Marmonte League finals and the Clovis Invitational.
Young has volunteered locally for three summers in a row as a camp assistant at Many Mansions for underprivileged youth.
Nico has maintained a weighted 4.68 GPA in the classroom. He signed a National Letter of Intent to compete in cross country and track and field on scholarship at Northern Arizona University this fall.
The Gatorade Player of the Year award is the most prestigious award in high school sports. It recognizes the nation's most elite high school student-athletes in the District of Columbia and each of the 50 states. Choosing winners in 12 different sports: football, girls volleyball, boys and girls cross country, boys and girls basketball, boys and girls soccer, baseball, softball, and boys and girls track and field. And it awards one National Player of the Year in each sport. Student-athletes are evaluated not only for outstanding athletic excellence, but also high standards of academic achievement and exemplary character. Since the program's inception in 1985, Gatorade Player of the Year has awarded a distinguished list of athletes including Peyton Manning, Abby Wambach, Karl-Anthony Towns, Derek Jeter and many other sports icons. For more information, visit www.Gatorade.com/POY.
Feature Photo by Klotz ImagesStory by SportStars INSIDERs at Youth Runner Magazine. Follow YRM at https://www.youthrunner.com/