Nicole May: NorCal Softball Pitcher of the Year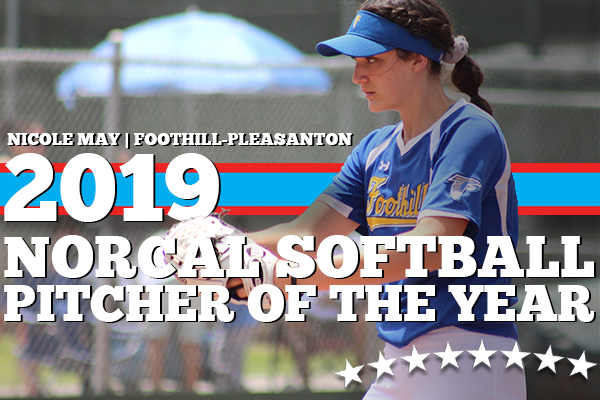 Foothill Ace Delivered Flawless Junior Season To Help Lead Pleasanton Powerhouse To The North Coast Section's Best All-Time Undefeated Record, Section Crown •
There's often no better compliment for an elite athlete than calling him or her a "big game performer."
When the stakes are highest, the best players are the toughest to beat. 
Nicole May checks that box. Over and over again. 
"Every big game, she gets bigger," Foothill-Pleasanton softball coach Matt Sweeney said following the North Coast Section Division I championship, which the Falcons won 2-0 over Heritage-Brentwood. "The Sheldon game in the (Livermore) Stampede. The playoff games and championship. It's hard to keep that kind of level throughout the course of the year."
But May sure can sure summon it. 
In the NCS final against Heritage, the Oklahoma commit spun a one-hit shutout gem. She struck out 13 and walked just one — against a Heritage lineup that entered the game hitting over .400 as a team and averaging 9.7 runs through its first 27 contests.
"Nicole today. Holy cow," Sweeney marveled. "She's typically at 61-62 (miles per hour) and today's a big game and she's at 63-64." 
And then there's this: She knocked in the championship game's only runs with a 2-run home run in the third inning. The final was 2-0.
"I was just trying to go with it and score the runner that was on base," she said later. "And it went over, so I'll take that. Obviously."
The fact that May is just a junior and returns for one more season is something Sweeney will definitely take. Obviously.
May was an easy selection for NorCal Pitcher of the Year after going 24-0 with a 0.32 ERA and 246 strikeouts in 151 innings pitched. She allowed just seven earned runs and only 13 walks. 
Her offensive numbers were nearly as impressive — a reason she was one of five finalists for Cal-Hi Sports' Ms. Softball State Player of the Year award. She hit .463 with 38 hits and 28 RBI over 28 games. She had eight doubles and five home runs. 
Foothill's championship was its second in three seasons, but the 2019 title came with the best record produced by any NCS Div. I team — 28-0. Previously, the section's best undefeated record belonged to the Falcons' cross-town rival, Amador Valley-Pleasanton. The 2014 Amador Valley NCS championship team went 27-0. 
May was asked after the game what it took to get through a grueling 28-game schedule without a single blemish. 
"We just tried to focus on coming out and competing, and not like, 'If we don't win this, we'll lose our streak,'" she said.  
"It was awesome. We had a really good group of girls and we came and grind everyday. We just come out to play."
May will come out to play again in 2020 as part of a very similar lineup to the one that went undefeated. That lineup will include heavily-recruited slugging catcher, Courtney Beaudin, as well as spark plug Hailey Hayes at second. Expectations will be high. 
Which means more big moments. And more of Nicole May raising her game. 
None of which is good news for the rest of NorCal softball.