Team NorCal Battles on National Level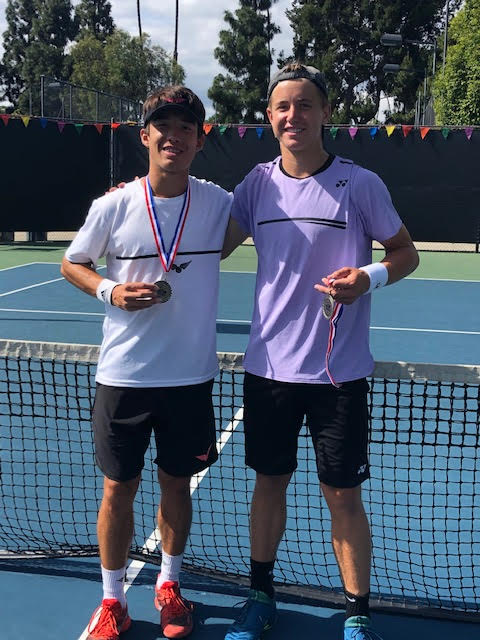 NorCal Juniors Honor Roll: May 2019
In May, Team NorCal traveled to Florida and Southern California to battle on the national level and on the ITF tour.
Team NorCal started the month by heading to Delray Beach, FL, from April 29, to May 4, at the Delray Beach ITF. It is exciting to have Stefan Leustian of Mather, CA, back on the Honor Roll, as he claims the doubles trophy with Hunter Heck of New Brighton, MN. The pair beat Matthis Ross of Great Britain and Nikolas Tvedt of Norway, in straight sets 6-3, 6-2. On the girls' side, Maribella Zamarripa of St. Helena, CA, won all her matches in straights set as a Wild Card, but had to retire in the semifinals against Gianna Pielet of the U.S.A. Maribella teamed up with Allura in doubles to also reach the semifinals. The sisters gave it their all but fell to Ava Catanzarite and Gianna Pielet of El Paso, TX, 6-1, 4-6, 1(12). It is worth noting that Aidan Mayo reached the quarterfinals in singles as a Wild Card.
Back on the west coast in Anaheim, CA, Team NorCal competed at the USTA National Boys' 16 Level 3 tournament May 4-6. Jake Vassel of Danville, CA, held up his ranking as the No. 1 seed of the tournament in doubles, winning his four matches alongside Ryan Morgan of Pasadena, CA. In the final, the California pair took on the No. 5 seed, Conrad Brown and Rithvik Krishna of Irvine, CA. After a close match, Jake and Ryan overcame the American duo 8-5.
Making their way back to Florida to participate in the J4 Coral Gables ITF May 6-11, Team NorCal continued to prove their good form since the beginning of the year. India Houghton of Belvedere-Tiburon, CA, and Gianna Pielet of El Paso, TX took the first place trophy in doubles, fighting to overcome Allura Zamarripa of St. Helena, CA, and Annabelle Xu of Canada, 6-3, 7-6(5).
India swept the competition as she also took the singles title in an all-NorCal final against Allura. Indiagot up to a fast start, winning the first set 6-1. However, Allura came back strong in the second set, evening things out at one set all 6-1, 3-6. India found her form again to take the final set 6-2. A week later, India continued her winning streak, reaching the quarterfinals in singles of the ITF Plantation in Plantation, FL. She advanced to the semifinals in doubles, paired up with Ava Hrastar of the U.S.A. After a fantastic battle, India and Ava had to concede to Ayshe Can and Karly Friedland of the U.S.A., 4-6, 6-4, 1(3). Congratulations to India, who is having a very impressive year.
Congratulations to everyone who participated in tournaments this month, and we look forward to seeing what June brings. Go Team NorCal!