Pahulu's POV: Pittsburg survives Serra Comeback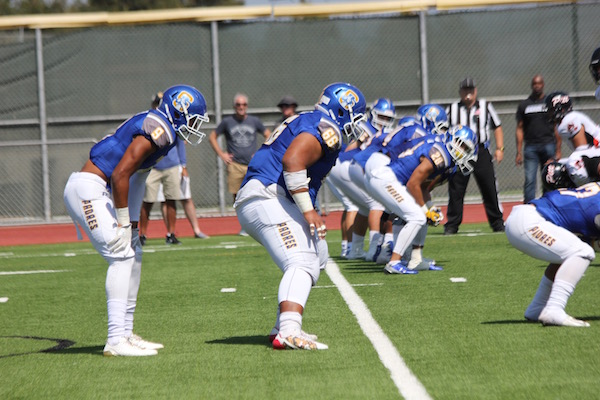 Powerhouse Pittsburg Pirates Face Serra's Padres
Serra vs. Pittsburg 9/9/17. Photo Credits: Sherrie Gutierrez
I'm here at another great football matchup with Division 1 Powerhouse Pittsburg Pirates as they travel to San Mateo to face the Serra Padres. Thinking that the game would start at 1pm, but Serra postpones the game til 2pm Saturday start time due to academic testing. It is a hot day in San Mateo and the later start time won't affect Pittsburg because they play in 100-plus degree weather anyways.
Serra is located in the middle of two public high schools in San Mateo: Hillsdale and Aragon, and they are located about a mile in either direction from Serra. Famous alumni of Serra are: Lynn Swann, Barry Bonds and most notably Tom Brady, whom I had the opportunity to play against during my high school football days in the Peninsula. The Head Coach is Patrick Walsh, a De La Salle Alumni has revived this football program by recruiting a lot of our Tongan kids from the Shoreview area (East side of San Mateo) as they would go to Aragon High School prior.
Serra has two Tongan football student-athletes on my radar: #9 WR Patrick Nunn and #66 Antonio Mafi.  Antonio is 6'3" and weighs 360 lbs. He's been getting looked at by Pac-12 schools. He plays Defensive Tackle and would go on offense at Guard in GoalLine situations. I am very impressed that he can move at his size.
Patrick Nunn is 6'3" and weighs 210 lbs, plays WR and safety on defense. On the other side of the ball for Pittsburg is #7 Jaden Tauanu'u who plays Tight End and has gotten my attention.
One of the things that I respect about the Pittsburg football program, despite being a Division 1 powerhouse playing in the BVAL (Bay Valley Athletic League) is they cap their varsity squad to 55 kids. Pitts first game of the season was in L.A. against national powerhouse Centennial-Corona and it was great exposure for these kids especially as a public school. With the new Open Division for the NCS (North Coast Section) that was implemented last year (top 4 teams), Pittsburg will always have an opportunity to play for State Championship as the top 2 in open division automatically qualify to play for NorCal regional and State Championship football games.
To start the game, Serra is driving down the field. Serra scores as QB #10 Luke Bottari finds #9 Leki Nunn in the end zone for an 11 yard TD reception. However their 2 point conversion fails. Pittsburg responds as #28 Premier Murphy scores from 2 yards out. Pitt is up 7-6 with 3:03 remaining in the first quarter.
Second quarter and Pitt is going for it on 4th & 6 at the Serra yard line. Pitt converts with a TD pass from #13 A'jae Boyd to #18 Zachary Mosesly and takes the lead 14-6 with 6:16 remaining in the half. Boyd was thrown into QB duties when Pitt starting QB Tre Turner was ruled out for the season when he suffered a knee injury during their scrimmage with De La Salle.
On the next possession Pitt goes for it on 4th & 6 at the Serra 33 yard line. Initially, A'jae Boyd throws an incomplete pass, but there is pass interference from Serra that keep Pitts drive alive. Boyd scores on a QB sneak from 2 yards out and Pitt is up 21-6 with 1:20 remaining in the half. On the kickoff, following the score, Pitt gets a boost as #38 John James knocks the Padres ball carrier off his feet for a tackle. Momentum is shifting towards Pittsburg as they quiet the home crowd of Serra's band and student section.
Halftime is full of adjustments and Serra responded on their very first drive.  It started with a 52 yard run by #13 Isaias Kendrick to the Pittsburg 15 yard line. Two plays later, QB Bottari scores a TD with a QB keeper and the Padres are down to 21-13. On the ensuing possession for Pittsburg, Pitt responds with a 22 yard TD run by #28 Premier Murphy and Pitt goes back up by two scores: 28-13. Serra responds again as Bottari runs another QB keeper from 11 yards out. They also converted the two point conversion and Serra is only down 28-21.
In the 4th quarter, Pitt runs it in from 4 yards out by #28 Murphy for his 3rd TD of the game putting Pitt up by two scores 35-21. Serra just won't go away! Bottari throws to #28 Shane Villaroman for a 45 yard TD reception and the Padres are on the move again, 35-28 with 7:06 remaining. With 5:18 remaining in the game and at their own 21 yard line, Pittsburg is going for it on 4th and inches to try to run the clock out. It's a QB sneak by A'jae Boyd and he's was stopped behind the 1st down marker, but a face mask by Serra on the keeps the drive going, and gives Pittsburg a first down.
This play was a key factor because if the Padres didn't face mask, they would've had great field position to tie the game and possibly take the lead. The Pirates keep running the ball forcing Serra to use all of their timeouts as the game ends with a 35-28 Pitt victory. What a game!
Pittsburg is the last Bay Area team to defeat De La Salle in 1991 when they had standout player Regan Upshaw who eventually went to CAL before going to the NFL as a first round pick for the Tampa Bay Buccaneers. The Pirates ain't going away as they continue to beef up their non-conference schedule and have their community support behind them.
Til the next game. 
Ofa Atu -George