Peter Ming And Elk Grove Wrestling's Swiss Dynasty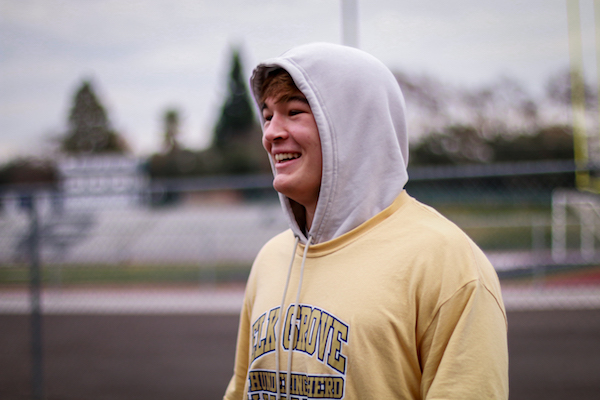 Stanford-Bound Wrestler Peter Ming Is The Latest In A Long Line Of A Swiss Family That's Part Of The Bedrock To The Elk Grove High Program •
Elk Grove senior Peter Ming has come a long way from sawdust.
It's the sacred floor of Swiss wrestling, a sport known — by very few — for it's odd uniform, wrestling shorts called "schwingerhosen" with grippable belts.
Peter's great-grandfather, Albert, is one of the early pioneers of Swiss wrestling in California. He's the patriarch who started a dynasty of Swiss, Greco-Roman, freestyle and collegiate success.
Today Albert lives on in Peter Ming, who ditched the tan breeches for an Elk Grove singlet and traded annual Schwingfests for grueling year-round dedication to prep wrestling.
It's paid off.
_______________________________
CONNECT WITH US:
Follow SportStars on Twitter & Instagram | Like us on Facebook | Subscribe!
_______________________________
Peter earned a wrestling scholarship to Stanford this fall. He will join a rising program ranked top-25 in the NCAA and won a Pac-12 wrestling title last season. 
The two-time state qualifier and one-time placer (sixth last season), Peter is NorCal's No. 2 ranked wrestler at 220 pounds (SportStars) and No. 2 in the state by The California Wrestling Newsletter (as of Jan, 6).
"He has put himself in a position to win a state title," Elk Grove assistant coach Chris Brusato said. "He is sneaky athletic and moves extremely well for a big kid.
"Watching him develop has been very enjoyable."
The Mings are icons of Elk Grove athletics.
Peter's great-Uncles — Albert and John — were standout Elk Grove wrestlers. John (a NorCal champion before the state meet existed in the late 1960s) is the first name you will find posted on the acheivement wall inside Elk Grove's wrestling room. John's son, Matt Ming, was a Sac-Joaquin Section champion for Elk Grove, and went on to become an All-American for UC Davis.
Matt's cousin Joe, Peter's dad, wrested for Elk Grove and Chico State.
"I don't know what other people talk about on Thanksgiving and Christmas, but we talk about wrestling," Joe said with a laugh. "A lot of us played football, but football was kind of a hobby.
"I think the main thing about wrestling is that it brings an innate ability to pick yourself up after you have been knocked down. You learn a lot of lessons, so when you get out in the real world and you need to perform, it's nothing compared to a wrestling mat."
Peter, a 4.0, student, said receiving a scholarship offer from Stanford was the most exciting moment of his life. He's already mapped out his path — a focus on computer science and economics as he readies for a a career in investment banking.
"Stanford is not the easiest place to get into but I was up for the challenge," Peter said. "I know it's going to be a lot of work."
He's talented no-doubt, an excellent scrambler with savvy aggression, but the secret to Peter's success is his routine. 
"While other wrestlers are sleeping, Peter has been up for three hours to work out or wrestle," Brusato said. "He lifts every day, sometimes twice a day."
Since failing to crack the varsity lineup as a freshman, Peter has spent nearly each morning working out from 5:15 to 7:30 a.m. His parents installed a mat in the family barn, and he will also grapple whenever he can.
After he cracked the Elk Grove lineup as a sophomore in 2018, Peter used three consecutive pins to guarantee state qualification in the semifinal round of the SJS Masters. He was 1-2 at state as a sophomore (170 pounds), but earned lots of attention by nabbing a fourth-place finish at the Freestyle Cadet Nationals later in the year.
In 2019, Peter was runner-up at Masters to Oakdale senior Cody Golding. However, he won the match that mattered most by edging Golding 6-3 in the CIF quarterfinals before ending sixth. Peter went on to take fifth at the USA Wrestling  Junior Nationals. 
After two trips to the state tourney in Bakersfield, Peter has a distinct plan for his return trip.
"The goal is to win the whole shebang," Peter said. "For me, it's just cleaning up the details, working on my positioning."
Peter was third at the Doc Buchanan tournament on Jan. 5 at Buchanan High in Clovis. The event is arguably the toughest prep tournament in the nation. To earn bronze, Peter twice beat Florida IA State Champion Matt Kaplan, 8-3 and 6-3. Ming also edged Pitman-Turlock star Juan Mora (NorCal No. 3), 4-2. Peter's only loss was to New Jersey talent PJ Casale of Delbarton.
Elk Grove, runner-ups at the 2018 SJS Masters, have thrived since Pat Coffing took the reins in 2002. The Herd has dominated the Delta League/Delta Valley League and earning 11 top-two finishes in the SJS Team Dual Championships (Div. I) in the last 16 years.
With Peter scoring big points at 220, Elk Grove could surprise the section's elite teams (Vacaville, Del Oro, Oakdale, Pitman). To do so, wrestlers like Kevin Lopez (106), Manton Berner (126), Hezikiah Endsley (138), Ledgar Petracek (160) and Jacob Hudson (285) must meet their potential by February.
Brusato made a point to credit Coffing for the recent success. He said the coaching staff was elated to see Peter make his commitment to Stanford.
"We want Peter to be a successful wrestler moving forward, but to do that at Stanford is life-changing," he said. "I'm proud of him, not just in wrestling but in his grades and his extra curricular work.
"He has set himself up to be very successful in the future, and it's something that as a program, we are really proud of."
Like the rest of kin, Peter will probably return to the sawdust one day. Perhaps when his college career is over. No need to dust off the schwingerhosen. It's supposed to look like that.