Pittsburg Football: Jerry Johnson Leads Week Zero Pirate Raid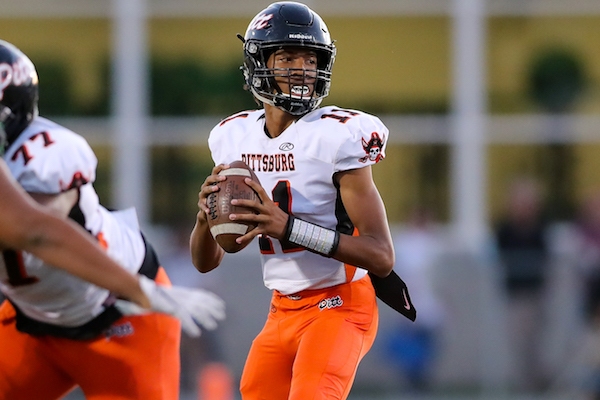 Delivering One Of Pittsburg Football's Best Ever Quarterback Performances, Jerry Johnson Helped No. 6-Ranked Pirates Win Season-Opening Shootout •
One week into the 2019 football campaign and the Pittsburg Football record book is already being re-written. 
Making just his second start at quarterback for Pittsburg High, senior Jerry Johnson tied the school record with a career-high six touchdowns. In doing so, he led the NorCal No. 6-ranked Pirates to a 42-35 Week 0 road victory over St. Mary's-Stockton on Aug. 23.
"I've never done that before," Johnson said. "It's crazy and I'm a little amazed myself."
The senior gunslinger hit seven different receivers Friday night and finished with 385 yards through the air, completing 20-of-28 passes, according to Pittsburg's official stats. Johnson's 385 yards ranks second in Pittsburg football's storied history for a single game. Christian Young holds the record with a 407-yard effort in 2015. Johnson shares the school single-game touchdown record with Justin Boyd. Boyd accomplished the feat in 2017.
_______________________________
GET CONNECTED:
Follow SportStars on Twitter & Instagram | Like us on Facebook | Subscribe!
_______________________________
He capped the night with his sixth TD pass late in the fourth quarter – a fourth-down completion to running back Avant Muldrow, who scampered four yards and collided with defenders in the end zone as the Pirates extended their lead and hung on for a big road win over the seventh-ranked Rams. The Pirates will look to go 2-0 for the first time since 2016 in a 1 p.m. game at No. 7 Serra-San Mateo this Saturday.
"We have a high-powered offense (this year) and we have a lot of receivers who can make plays," Johnson said. "They open up the field for our run game as well."
Johnson's lone mistake — his only interception — came midway through the first quarter when a tipped ball was picked off. But he rebounded with a near-flawless second-half performance, missing just four targets and helping his team secure their first victory of the season.
"I want to give a shout-out to my line, because without them I wouldn't have made those plays," Johnson added.
Pittsburg's offense managed to rack up 482 yards in the season-opener despite committing a litany of penalties. The Pirates were called for 13 infractions for 165 yards, but rarely did those penalties negate drives. 
Johnson's ability to find open receivers, avoid the rush and distribute the ball on time helped the team overcome long down and distances. Senior receiver Johnny Blackmon was the primary beneficiary of those timely passes as he finished a team-high nine catches for 108 yards and three touchdown catches. It was evident the duo had a history together.
"We have a strong bond," Johnson admitted. "We go out nearly every day and build up that chemistry. The last two years, we've really practiced hard together."
On the other side, St. Mary's senior signal caller Noah May overcame a rough start to put together a big night. After an initial completion, he missed on seven-straight passes and threw a pick on fourth down that led to a Pittsburg TD. But May bounced back with a huge second half, throwing for 192 of his 262 yards and two of his three touchdowns.  
The home squad answered every Pittsburg score in the first half and even took a one-point lead into halftime thanks to a 38-yard touchdown catch and run from receiver Jadyn Marshall. The score came on the same play call as his 56-yard catch in the first quarter, but this one ended up in the end zone and gave the Rams a 21-20 lead.
"I was a little nervous, and I don't know if you saw but I tripped myself," Marshall admitted. "It was my first play on varsity and I knew if we came back to that play, I knew I was going to score."
But in the third quarter, the Rams' offense sputtered as Pittsburg's defense clamped down. The Pirates sacked May twice and picked him off on the Rams' best-looking drive near the end of the third. 
Meanwhile, Pittsburg found the end zone on its opening drive of the second half — a drive all through the air that ended with a 23-yard touchdown pass from Johnson to Blackmon. 
"It was a simple corner route — just get open and catch it," Blackmon said. "(Johnson) has been my quarterback since freshman year, and we're tight. If we see the same thing pre-snap, we'll look at each other and he'll likely throw it up for me to go get."
A successful two-point conversion to Brian Pierce, who made a diving catch, put Pittsburg in front 28-21. Pierce is new to Pittsburg football this season, a transfer from El Cerrito.
May's second thrown interception late in the third period led to a short field for the Pirates and Johnson found Blackmon for his third touchdown of the game on a quick out route. 
Down two scores, the Rams' offense re-emerged in the fourth quarter. May found Marshall on an 80-yard bomb over the middle of the field as the junior wideout collected his third touchdown catch of the game. The score cut the lead to 35-28, but the Rams needed a defensive stop. 
They nearly got it. 
The Pirates marched down the field and faced a fourth-and-goal from the four-yard-line. And instead of opting to kick a field goal, the Pittsburg coaching staff called on Johnson. The senior QB faced a stiff pass rush, but was able to find his running back on a swing pass. Muldrow put the visitors back up by two scores with less than three minutes to play. 
"That was huge," Johnson said. 
But St. Mary's wasn't done. When they got the ball back with 2:43 left in regulation, they quickly narrowed the gap. 
"We already called the play before we got on the field," Marshall recalled. "It was the same play as the 80-yarder, but I went in motion. So Coach said it was going to be wide open again."
It was open, and it resulted in a 45-yard completion. The Rams capped the 20-second drive with a 13-yard touchdown pass from May with 2:23 to play. It gave St. Mary's a glimpse of hope. But that faded quickly after a failed onside kick.
"Pittsburg couldn't stop us in that last quarter," Marshall said. "They knew if they gave the ball back to us, we would have went to overtime, and I think we would have won in overtime. But that's just the what-ifs, and we have to move forward."
After the game, Pittsburg football coach Victor Galli told his team he was proud of their effort, but added that they had a lot of things to clean up, citing penalties, injuries and mistakes. That will start against Serra.