Placer BloodLINE: Capra Brothers Power Hillmen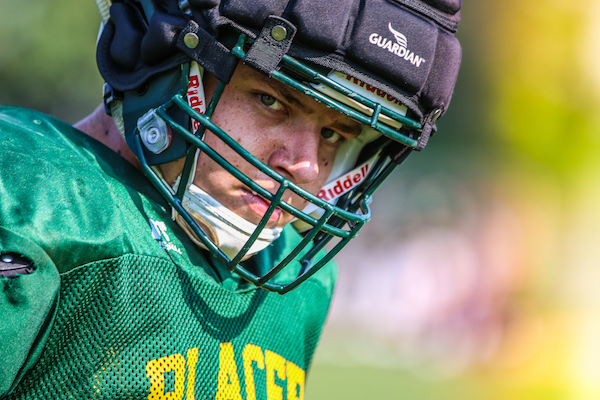 Joey Capra Is The Last Of A Trio Of Linemen Brothers Who Have Brought A Pac-12 Sparkle — And More Than A Few Banners — To Placer Football •
Legends linger a little longer in Auburn, home to the world's oldest 100-mile trail race, California's longest-lasting prep basketball tournament and a 45-ton concrete statue of the prospector whose gold discovery led to the town's founding in 1888.
Seven years ago the town struck gold again, when parents Janine and Joey Capra Sr. rolled into town with a new job and a new community for their three young boys to embrace. The brothers, who grew up snowboarding the slopes of Truckee, needed a new activity to help acclimate to life in the foothills — and football became the new way of life for the Capra family. The rest isn't history, but it will be.
Linemen Johnny, Jacob and Joey Capra helped bolster a dynasty at Placer High and have aided in five league championships, two section title appearances, an SJS and NorCal title (2017) and 57 wins over the last six seasons. This isn't counting the unbeaten start to the 2018 campaign that Joey is enjoying at right tackle this year.
Football has given back to the Capra family. Each brother committed to Pac-12 football scholarships. Johnny (Utah junior) was first to depart. He was slated to start on the Utes offensive line this year, before a torn shoulder labrum spoiled his 2018 campaign. Jacob (Oregon sophomore) earned a start against UCLA last season and is fighting for playing time this year.
Joey (Placer senior) has built a reputation as one of NorCal's premier athletes. He verbally committed to accept a scholarship from Arizona State in July, but decommitted from ASU to nab an offer from his dream school, Oregon, the same month.
Joey Sr. doesn't have a great explanation for the football pedigree. At 6 feet, 2 inches and 5-11, respectively, Joey Sr. and Janine are in the shadows of their sons, and neither played competitive sports.
Keeping the boys well-fed sure helped.
"I'm not sure how big the bills have been, but grocery trips require massive amounts of food," Joey Sr. said with a laugh. "It's still pretty expensive, but after Johnny and Jacob went to college they took nutrition a lot more seriously."
Three Pac-12-caliber offensive linemen will also do wonders for your ability to sustain a drive.
"This is a rare and unique situation," Placer football coach Joey Montoya admitted. "You are lucky to get one Div. I athlete, let alone three brothers in a row. All three have been monsters on the field and top-notch citizens off the field."
Joey's off-the-field game is on-point.
The 4.0 GPA student is polite and friendly, humbly promotes himself via Twitter and mastered the recruiting game by watching his brothers do it. It helps that the Capra Family was mentored by the parents of Hillmen alumni Eddie Vanderdoes (Oakland Raiders) and Stone Sander (Sacramento State alum).
It was "Big Eddy" who really opened the families' eyes for what a small-town player could achieve on the national stage. Vanderdoes was one of the top recruits in the state, and became an instant star at UCLA. When he left for NCAA stardom in 2013, the Capras intentionally walked in his footsteps.
All three boys became mainstays of the Linemen Win Games Off-Season Technical Program at American River College. LWG alumni include Raiders rookie starting tackle Kolton Miller (Roseville) and a host of other collegiate and pro talent.
Joey said he improves his games every weekend by going over his game film with his older brothers. "They will always tell me what I need to do to become a better football player," Joey said. "They always tell me to get lower, have fast feet and angle to the (linebacker)."
The tutelage, combined with Joey's physical attributes (6-4, 280 pounds) and strength (he bench presses 300, squats 430), make life easy for the backs that trudge behind Placer's double Wing-T offense.
Through the first five games of 2018, Placer averaged an incredible 562 yards per game and amassed more than 2,350 yards rushing. A backfield with elite runners like Hans Grassmann, Marshall Chapman and Brad Bishop certainly helps, and three-year varsity quarterback Michael Stuck has mastered Montoya's offense.
"It's a great combination of talent mixed in with grit and competitive attitudes at the highest level," Montoya said.
Placer football also has outrageous community support.
Past and present Hillmen line the bleachers of LeFebvre Stadium, legendary cross country coach Randall Fee reliably greets visitors at the north end of the field and onlookers are treated to a neighborhood spectacle that showcases the work of athletic director Mark Lee, leadership teacher Mike Sabins, cheer coach Kristine Lee and famed music director Dave Lawrensen.
Joey was raised in the same environment — and dreamed of playing in it since the fifth grade.
"It's amazing to be a part of this football community with a small-town vibe," Joey said. "It's great to play under the Friday night lights and see your neighbors and your family in the stands, where everyone knows each other."
Joey was a waterboy for Johnny's teams, and a ballboy for Jacob's. He took his rightful place on the Placer line as a sophomore, and settled for runner-up Sac-Joaquin Section status when Manteca ousted the Hillmen 50-28 in 2016.
A year later Joey's team was section and NorCal champions, and runner-up in the Division 4-AA CIF bowl game. His encore season could be even better, as Placer approaches the 2018 postseason with enormous potential.
Joey said the program isn't distracted by those expectations.
"Coach Montoya talks about avoiding the noise," Joey said. "It's always on to next week and then the next week, and the team we are about to beat."
Every week also brings a new adventure for the Capra parents. Joey Sr. and Janine will typically catch Joey's game on Friday and drive through the night to arrive at Johnny's or Jacob's game. They may catch a few hours of sleep on the road, but it's been a whirlwind since the first brother began to pick up recruitment momentum in 2013.
Truckee's snowy slopes must feel like a past life.
"Janine and I are so thankful to the Hillmen football program and coach Montoya in particular." Joey Sr. said. "This community has been really supportive and encouraging. We have been very fortunate to have this happen to our family.
"When you hear people talk about 'never in a million years' they are talking about this, the football family life we didn't see coming."
You don't always have to prospect for gold to find it.