Preseason NorCal Team Wrestling Rankings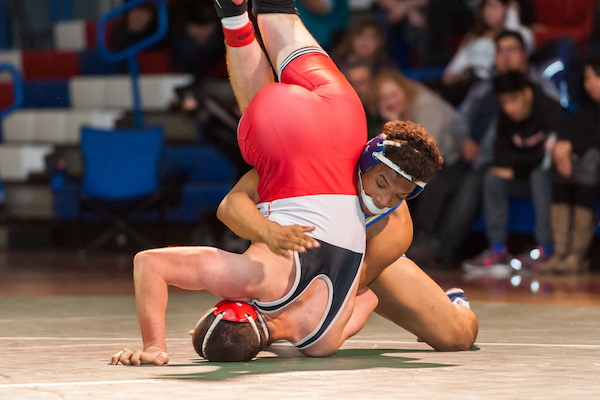 Gilroy Is Set Up For A Historic Season — Can It Go Wire-To-Wire, Or Will A Sac-Joaquin School Spoil The Quest? •
Welcome to the first set of our NorCal Team Wrestling Rankings for 2017-18. The rankings go hand-in-hand with our weight-by-weight wrestler rankings. A wrestler ranked No. 1 among our Top 20 wrestlers for a given weight class earns 20 power points for his team. No. 2 earns 19 points, and so on. We'll update our rankings every two weeks during the regular season. The next set is scheduled for Dec. 15.
1. Gilroy (12 ranked wrestlers, 218 power points) — Only national powerhouse Buchanan boasts a better CIF lineup than Gilroy. The Mustangs have 10 wrestlers ranked in the NorCal top four. Gilroy's "B" team will out-point most varsity opposition throughout the year. Coach Greg Varela is looking at a historic season on the mat.
2. Oakdale (13-174) — Runaway favorites to win the Sac-Joaquin Section, Oakdale got a lot better thanks to four sensational freshmen. The squad also has elite upper-weight talent still competing in the CIF football playoffs. Expect at least 11 state qualifiers from this group and several CIF medals.
3. Vacaville (9-105) — The Bulldogs have only a few medal favorites, but Vacaville always produces tremendous talent in time for the SJS Masters. Vacaville is deep and could surprise the field with a handful of freshman wrestlers with strong club pedigree.
4. Oak Ridge-El Dorado Hills (8-102) — The Trojans have moved up a proverbial fiddle position after consecutive years behind Folsom and Del Oro-Loomis in the juggernaut Sierra Foothill League. The Trojans have a bevy of talent across the weights and should finish in the top tier of SJS teams at Masters.
5. De La Salle-Concord (8-100) — The top North Coast Section program by far, De La Salle got a lot better when Kyle Parco transferred from San Ramon Valley. The Spartans have four in the NorCal top five and sport one of the best middleweight corps in the state. Expect this team to thrive in the postseason.
6. Del Oro-Loomis (6-86) — Del Oro wrestling fans were dismayed to learn two-time returning state medalist Antonio Lorenzo had moved to Southern California and joined an elite squad at St. John Bosco-Bellflower. It got worse when returning state qualifier Willie Costanzo left the team, but the Golden Eagles have some tough freshmen and lots of returning talent.
7. Pitman-Turlock (5-79) — Isaiah Perez's growth could inspire a "Stranger Things" episode. The 220-pound senior, ranked atop his NorCal weight class, won his first state match as a 113-pound freshman. He took two more from Rabobank Arena as a 138-pound sophomore and finished fourth in California at 170 last year. He will thrive, wherever he competes.
8. Foothill-Palo Cedro (6-78) — The top team in the Northern Section has five in the NorCal top 12, including returning CIF medalist Dalton Lakmann. 2017-18 Foothill wrestlers have already appeared in seven NS finals. Expect the Cougars to avenge last year's runner-up finish to Chico in the NS Championships.
9. Benicia (6-61) — A perennial Div. II SJS power, Benicia returns medal favorite Ryley Boutain and a deep squad to soften the blow of graduating brothers Fernando and Alejandro Lanza last spring. Benicia and Ponderosa-Shingle Springs  (five ranked) will overwhelm the Div. 2 field.
10. Turlock (5-60) — The seventh SJS team in the top 10 has some of the state's best lower-weight and upper-weight wrestlers, but is a little lacking in the midsection. Brothers Brock and Mike Jeffus will be point-scorers this season as they pin their way through 195 and 285 brackets, respectively. William Giron is also a state medal favorite at 106.
THE NEXT 10: 11. Elk Grove (4-57). 12. Folsom (5-52). 13. Liberty-Brentwood (4-51). 14. Evergreen Valley-San Jose (5-38). 15. Alvarez-Salinas (3-38). 16. Corning (4-37). 17. San Benito-Hollister (3-36). 18. Las Lomas-Walnut Creek (2-36). 19. Anderson (2-35). 20. Granite Bay (3-33).