Pleasant Valley, Campolindo Football Drop Into NorCal Ranks At #21-22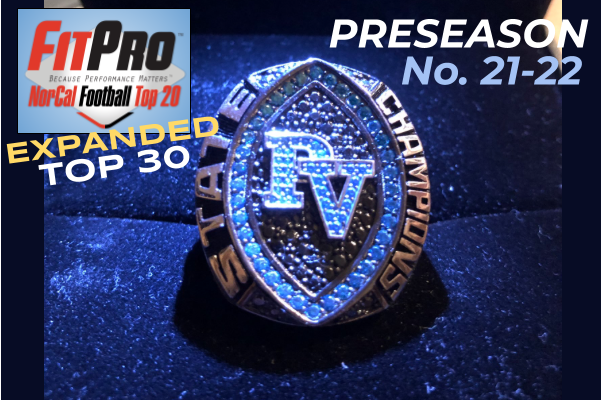 A Pair Of 10-Win Teams In 2018, Campolindo And Pleasant Valley-Chico Both Come Into 2019 With Key Returners And High Expectations •
This is the fifth of five releases this week debuting the opening 10 teams to our expanded 2019 Fit Pro Go! NorCal Preseason Top 30 Rankings. Pleasant Valley-Chico is the defending Northern Section Division II and CIF 4-AA State Bowl champions. Campolindo-Moraga returns one of the top passers in the East Bay and has built a reputation as a perennial contender.
22. PLEASANT VALLEY-CHICO (10-3)
FINAL 2018 NORCAL RANK: 29
OUTLOOK: Fresh off their second CIF state bowl victory in three years, the Vikings will look to a pair of Aidans to set the tone this time around. Whoever takes over for graduated QB Tanner Hughes will have the benefit of 6-foot-7, 290-pound OL Aidan Finney. Finney will lead the way in the trenches before heading to Arizona State while Montana State-bound LB/RB Aidan Parks will play a key role on both sides of the ball. Nathan Paddock, son of Pleasant Valley girls varsity basketball coach, Bob Paddock, will also factor into the offense after scoring 5 rushing TD a year ago.
KEY GAMES: @ Del Oro-Loomis, 8/23; @ Valley Christian-San Jose, 9/6; RANCHO COTATE-ROHNERT PARK, 9/20; CHICO, 11/1.
21. CAMPOLINDO-MORAGA (10-3)
FINAL 2018 NORCAL RANK: 27
OUTLOOK: Turnover in personnel has hit head coach Kevin Macy's squad once again as the Cougars look to replace their entire offensive line in 2019. The one place Macy won't need to look for answers is under center as UC Davis-commit Grant Harper returns to call the shots. Many of his receivers will be new, but RB Ryan O'Neil returns after rushing for 10 TD in 2018. Campo will also be able to turn to a college-bound senior to lead the way on defense with LB Mason Mastrov set to join SMU after one more season in red, white and blue. Senior linebackers Charlie Craig and Will Windatt should both have impact roles for the Cougars as well.
KEY GAMES: @ McClymonds-Oakland, 9/13; RANCHO COTATE-ROHNERT PARK, 9/27; @ Las Lomas-Walnut Creek, 10/25; MIRAMONTE-ORINDA, 11/1