San Ramon Valley, Del Oro Football Join NorCal Ranks At #27-28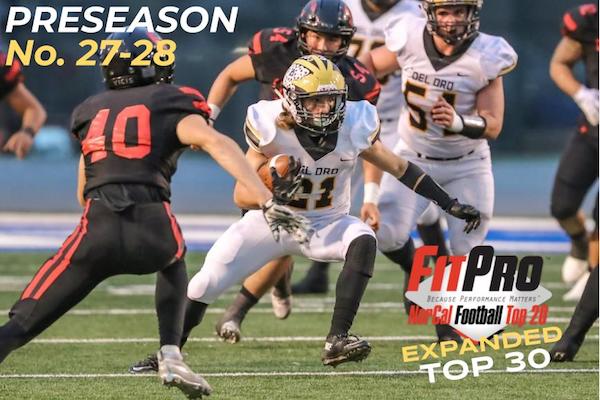 Del Oro, San Ramon Valley Continue Our Expanded NorCal Preseason Ranks As Defending Section Champions Facing Holes To Fill And Questions To Answer •
This is the second of five releases this week debuting the opening 10 teams to our expanded 2019 Fit Pro Go! NorCal Preseason Rankings. Defending Sac-Joaquin Section Division II-champion Del Oro-Loomis was hit hard by graduation and returns just six starters. San Ramon Valley-Danville has some key pieces back from its surprising North Coast Section Div. I title squad, but has a new QB.
28. DEL ORO-LOOMIS (12-2)
FINAL 2018 NORCAL RANK: 4
OUTLOOK: Jeff Walters enters his third season as the coach of his alma mater, and is looking for a third consecutive SJS title game berth. With just three returning starters on each side of the ball, the Golden Eagles will need players to step into leadership voids left by a senior class that helped Del Oro reach the CIF 2-AA State Bowl last season. The 2019 squad will look to a trio of seniors as it sets a new course. Sheldon Conde will be the primary offensive source after rushing for 1,141 yards and 14 TD as a junior. Senior linemen Tucker Black and David Veske will be counted on to open up holes for Conde and be the first line of defense. A schedule loaded with league, local and regional powers could prepare the team for another deep run.
KEY GAMES: INDERKUM-SACRAMENTO, 8/30; GRANITE BAY, 9/20; @ Oak Ridge-El Dorado Hills, 10/11; Folsom, 11/1.
27. SAN RAMON VALLEY-DANVILLE (9-4)
FINAL 2018 NORCAL RANK: NR
OUTLOOK: The Wolves were a perfect 5-0 on the road en route to a surprising 2018 NCS Div. I title run, but games at East Bay Athletic League powerhouses this year may reverse that trend. SRV will again be a run-first team led by senior RB Jacob Himan, who rushed for an effective 735 yards and four TDs in 2018. When the offense goes to the air, returners JP Murphy and Jered Kenny will be primary targets. Murphy is a junior TE who found the end zone on four of his 14 catches a year ago. Kenny averaged 34 yards per catch on offense, but had more receptions on defense than on offense. He had a team-high six interceptions. The 6-foot-5, 285-pound Colin Moroney will lead the Wolves up front. Sophomore Jake Quigley is expected to start at QB.
KEY GAMES: @ Monterey Trail-Elk Grove, 9/6; @ Clayton Valley Charter-Concord, 10/11; @ De La Salle-Concord, 10/18; MONTE VISTA-DANVILLE, 10/25