River City Girls Soccer, Zero Postseason Wins to Division Champs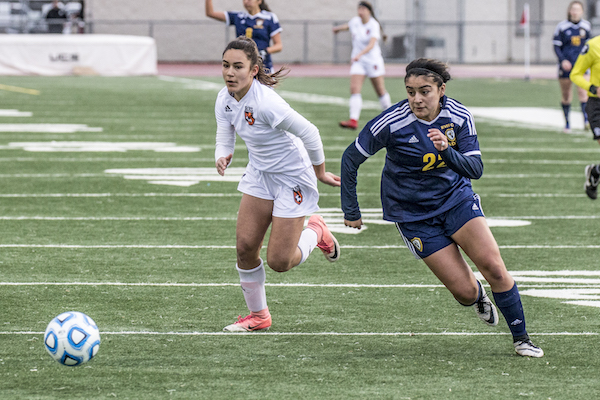 How River City High Went From Zero Postseason Wins In Program History, To Sac-Joaquin Section Div. II Champs •
Leading up to the biggest game of her career, River City Girls Soccer-West Sacramento senior Sydney Schultz practiced the ideal shot in what became the deciding factor of the Sac-Joaquin Section Div. II girls soccer championship.
Kick after kick, the forward lined up 20 yards out, from the right side of the box and drilled the ball to the top-left corner of the goal.
Although she probably didn't know it would come into play like it did, Schultz was the benefactor of a penalty, called against her opponent and defending section champion Roseville, midway through the second half of the March 3 title game.
As she lined up for the free kick, she thought back to that extra practice session.
"It's all about confidence on free kicks," Schultz explained. "My dad, he actually helped me and took me out after Thursday's practice, just after the (semifinals), and we worked for about an hour, just on that free kick, right in that same spot. So it felt so familiar."
Schultz's routine paid off as she converted the kick in the same, familiar spot to give River City a 1-0 lead over Roseville, and thanks to a stellar defensive performance, the Raiders held on for their first-ever section championship win and a berth into the inaugural CIF Northern Regional tournament.
"Words can't express how excited I am," River City coach Kamal Singh confessed. "Honestly… You see it on TV all the time (that they're) speechless — literally, I'm speechless. The way the girls worked, the grit, they wanted it so bad. We all wanted it, not only for the school but for the city. We've never had (a) girls championship to hang on, so we really felt like we had the city behind us and we wanted to bring this home for West Sac."
Singh, a 1991 graduate of River City, took over the Raiders' girls soccer program ten years ago and began crafting a champion.
It took six years, but for the first time in school history, River City reached the section playoffs in 2015. For three-straight years, the team reached the first round, but as the low seed the Raiders faced stiff competition and failed to advance — until this season's magical run.
"We got better with every game, and our team started to believe it," Singh said. "Once we got that very first playoff win in school history against Elk Grove, it gave us a sense of confidence, like, 'Hey, we can do this.' And we didn't look back after that."
Last postseason, the team squared off against Roseville — the eventual section champions — and dropped a 5-2 decision on the road. But Saturday's rematch between the teams brought with it a little redemption.
"Roseville is an amazing team," Singh added. "It took everything we had in our arsenal to stop that team. (There were) opportunities where it could have gone (either) way — they had their chances, and we had our chances. Our gameplan was to just not let them cross midfield."
Prior to the matchup, Singh and his fellow coaches emphasized defensive pressure with their players. River City fought hard for 50-50 balls and made it a point to limit Roseville's opportunities on goal.
The Raiders took advantage of wet conditions and rolling downpours in the second half of Saturday's matchup. Schultz converted her free kick with nearly 40 minutes left in regulation, but the team's defense stepped up to the challenge and held the shutout.
"The rain didn't really affect us because we're used to it," senior goalkeeper Karla Leal pointed out. "We've played in these conditions multiple times and our defense shut everything down. We gave it our 110 percent and worked our hardest."
With less than 10 minutes left in regulation, Leal made the save of the game as she stifled Roseville's last chance at overtime. The Tigers had a break-away and a pass from Mackenzie Gill crossed right in front of the goal.
If it wasn't for a diving deflection from Leal, Roseville's Sidney Atchison would have had a chance to tie the game.
"The last one was a big one for me and a great way to end the day," Leal added. "To win it like that just feels amazing — I'm speechless."
The victory ensures the Raiders one more game. They advanced to the CIF Northern Regional championships as the No. 6 seed and travel to No. 3 Branson-Ross — winners of the North Coast Section's Div. IV.
"I'm just so proud of my team," Schultz stated. "We put our hearts into this and it's amazing to get this far."
Before taking out the defending Div. II champion, River City knocked off Elk Grove, last year's Div. I runner-up, Woodcreek-Roseville and 17-win Armijo-Fairfield.
There was added motivation for each of those wins, too.
Coach Singh promised his team a celebratory trip to Disneyland if they won it all.
"Like I said, we never won a playoff game, let alone a section title game, so I said, 'Why not?'" Singh said. "These girls deserve the world, and I told them, 'If we win this whole thing, I promise (a trip) to Disneyland.'"
That motivation paid off, and now the team will get a trip of a lifetime to the happiest place on earth, regardless of what happens in NorCals.
Story by STEVEN WILSON | Photos by DAVE LAWICKA