Rocklin Volleyball: Erlandsen, Crane Fuel High-Flying SJS Favorite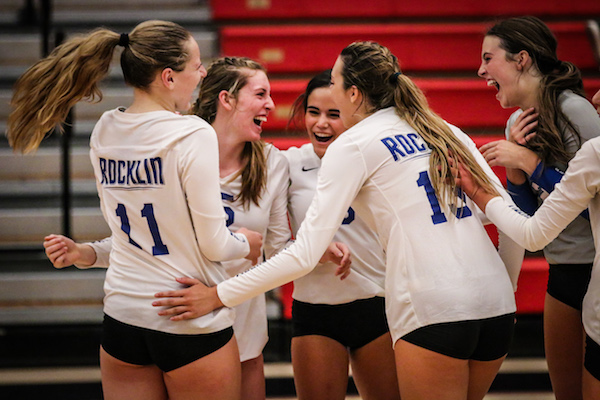 THUNDER STRIKE: 
Ivana Erlandsen's Acrobatic Style And Kennedy Crane's Steady Lead Are Two Of Many Reasons Rocklin Is Ready To Take Flight In 2019 •
Long before she climbed over 30,000 feet en route to Kamehameha's Labor Day Volleyball Classic on Hawaii's Big Island, 6-foot Rocklin senior Ivana Erlandsen learned to fly for SynergyForce Volleyball Club and Rocklin volleyball.
"During our first game this year, at some point I looked at my assistants and asked 'so she is getting up even higher now?'" longtime Rocklin volleyball coach Dave Muscarella (21st season) said. "When she is in full transition, she just flies."
Erlandsen isn't even the heralded kill specialist on Rocklin's 2019 squad, but her aerial performances are works of art.
As Rocklin receives the serve or digs up a would-be kill, she creeps away from the net, hiding in the shadows of nearby bleacher seats. Erlandsen reemerges when setter Gracie Adams launches a pass seemingly destined to strike the opposite out-of-bounds antenna. That's when she takes flight, exploding in a backwards bend as she soars above the net. She seems to almost touch her heels and hands before uncoiling for a thundering kill over the arms of outstretched blockers, into the court of play.
_______________________________
GET CONNECTED:
Follow SportStars on Twitter & Instagram | Like us on Facebook | Subscribe!
_______________________________
"Getting in the air is just my favorite thing about the sport," Erlandsen explained. "It feels like you are flying, and then when you hit down, it's a really fulfilling feeling.
"It also really elevates the whole team and brings everybody together."
Rocklin seems to celebrate a little extra when Erlandsen delivers one of her high-flying kills. The team is poised for lots of revelry this year, after returning key players from a squad that won a 2018 league title in perhaps the toughest volleyball conference in Northern California, the Sierra Foothill League. 
Rocklin ended the year at 25-11 after a 3-2 upset loss in the Sac-Joaquin Section Division I quarterfinals to eventual section champs, Oak Ridge-El Dorado Hills (an SFL rival Rocklin beat twice before the playoffs). The Thunder would go on to beat SJS Div. II runner-up St. Mary's-Stockton in the state playoffs before falling 3-1 to NorCal's No. 1 seed, Foothill-Pleasanton.
The squad returned five players that played in nearly every set last year, but also lost three key seniors to graduation. Setter Taylor Melchiori plays for Dominican University, while defensive specialist Morgan Spears competes at San Francisco State. Outside hitter Raquel Castro is now a rower for San Diego State. Muscarella's program also took a hit in the middle when his 6-3 senior blocker ended her season before it started after suffering a concussion.
Rocklin accumulated immediate hype heading into 2019 thanks to last year's finish and some year-round accolades by club players like Erlandsen and 6-1 middle blocker Kennedy Crane. The junior star smashed 422 kills last year in 1,256 attempts, committing 184 errors on hits. Crane is a quiet leader who seems to conceal a lot of excitement after big points.
"I just try to move the ball around so I can help my teammates," Crane said. "We all work together to get the point, so it feels really good when I get it, like my family can count on me."
Crane was the leading hitter in the SFL last year. She also landed 218 service points, a team-best 47 aces, blocked 11 hits, nabbed 183 digs and received 411 serves. She is a year older and bolstered by a big-time rep from a sterling SynergyForce offseason.
"Her height helps, but it's her athleticism that makes her stand out," Muscarella said. "She moves well, can play both sides of the ball and is a very good offensive player."
Muscarella said Crane is entertaining serious interest from a bevy of colleges, but has yet to make a commitment.
Several players in the Rocklin volleyball lineup have the same aspirations, including Erlandsen, who looks to build upon her 155 kills and 45 blocks from 2018. She beefed up her explosiveness by training in the sand this summer, also adding box jumps to her routine when she wasn't practicing or playing. She admits that she is proud of her hops.
"Ivana is by far the hardest worker we have," Muscarella said. "She has a high motor, great stamina and unbelievable work ethic and confidence."
The Rocklin volleyball lineup also returns 6-1 junior middle hitter Allison Mick and 5-8 junior libero Lulu Leppek. Mick had 94 kills, 152 service points and a team-high 60 blocks last season. Leppek led the SFL in digs (443).
"In my 21 years of coaching Rocklin, I think I have maybe only seen one other girl that was as good a defensive player as Lulu," Muscarella said. "She is a phenomenal athlete with great vision. She reads the ball well and has lateral movement as good as anyone."
The offense rolls through 5-7 senior Gracie Adams, setter and floor captain. She champions both roles for the Thunder, despite playing in only 35 sets last year.
"I think her strengths are her leadership on the floor and her athleticism at the setter position," Muscarella said.
Adams' voice on the court helped Rocklin rally back from an early 1-0 deficit at St. Francis-Sacramento on Aug. 28, though the host Troubadours and senior killing sensation Alexa Edwards flexed their savvy and speed in a 3-1 win.
"I think the loss can make us stronger," Adams said. "We realize our weaknesses and we know what we have to do.
"It's a good starting point for us and we can definitely improve. I think we can be the underdogs and give people more than they expect."
The two remaining holes in the lineup are occupied by lanky underclassmen with big aspirations at outside hitter. Alexa Watts, a 5-10 freshman, and Georgia Remmers, a 6-0 sophomore, may have struggled to keep pace with St. Francis, but should thrive in November after a gauntlet of nonleague and conference opponents.
"I'm super excited to see what Alexa and Georgia can do," Muscarella said. "The speed of the game has picked up for them."
Quick lessons will be needed whilst facing the likes of Oak Ridge, Whitney-Rocklin and Folsom (combined record of 62-37 in 2018). Perennial power Granite Bay was last in the SFL last year, but went 10-2 in the conference in 2017 and is just six years removed from a CIF title and a No. 2 national ranking in 2013. Del Oro-Loomis reached the SJS Div. II semifinals last year and went 1-1 in the state playoffs, despite going only 3-7 in the SFL.
Of course, the SFL is also blessed by Rocklin's yearly aptitude for success on the court. Muscarella won his 500th match in Hawaii on Aug. 29, then sporting a career mark of 500-214.
"I feel very lucky at Rocklin because we have had the support of administration from the beginning," he said, speaking by phone from the team hotel in Hawaii. "Our campus is one to be proud of and the whole school backs us.
"I feel pretty fortunate to be where I am."
He's also lucky to coach a program that can garner enough donations and parent support to send a squad to The Big Island.
"In all my years of coaching, this is the first time I have been able to do something like this," Muscarella said. "This is a once-in-a-lifetime trip for a coach."
The itinerary included a flight from Sacramento to Maui, a "hopper flight" to The Big Island and a two-hour bus ride around the Island to the team hotel and Kamehameha Schools Hawai'i. Coaches arranged for players to alternate seat buddies and roommates to expand the team relationships.
"We want everyone to get an opportunity to be with a different teammate on this trip," Muscarella explained. "Our intentions are to bring this team closer together."
Sometimes it takes an ocean. The wave crashes back into the SFL Sep. 19.