Rugby is Religion in New Zealand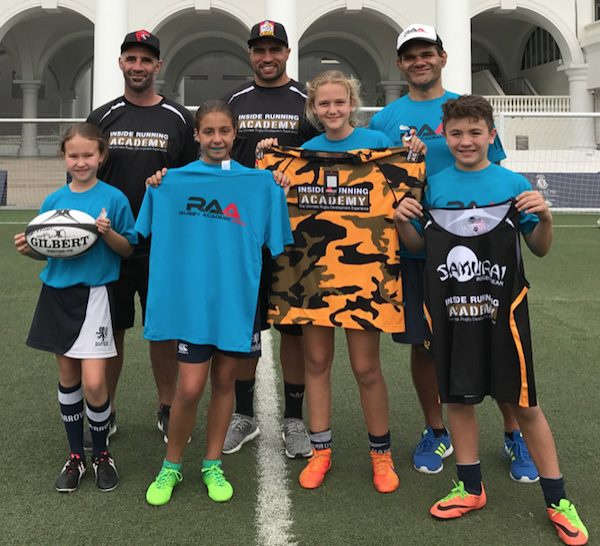 Train, Sleep, Eat, REPEAT!
LIVIN' THE DREAM @ Inside Running Academy. Story Mike Rogers and The Rugger's Edge
"The thing that really blew me away when first arriving in New Zealand was that rugby is more than a game here, it is more than a passion or a past-time. I guess the best way to describe it would be to say that it is a religion.
Rugby is so ingrained in the New Zealand psyche and culture that it is literally everywhere. Everyone doesn't just know about rugby, they have an opinion on it, whats topical and current." Inside Running Academy Graduate, Chris Turner from Southern California speaks frankly about his first impressions when arriving at New Zealand's leading International Rugby Academy.
"The Inside Running Academy is based on a typical training week for a Super 15 professional team, with players also playing in the local club competition. "The Academy was a fantastic experience for me. I was able to train following the same type of plan as a professional rugby player in New Zealand, as well as compete in the local Bay of Plenty club competition. The club that I was placed with, Rangataua, is a proud local team with strong Maori heritage and roots. I got the opportunity to learn the club's haka, and enjoy a traditional Maori feast (hangi)."
Beach capital of New Zealand
The Inside Running Academy is based in Mt Maunganui, New Zealand, potentially the best place in the world for a rugby academy according to Academy Director, Mike Rogers. "Mt Maunganui is the beach capital of New Zealand, and our natural training environment with our beaches and famous mountain (Mauao), with warm climate make for the ideal location for an International Rugby Academy.
We are fortunate to have some of New Zealand's best training facilities in terms of Blake
Park (home to the All Blacks 7s team) and our new high performance training facility, The Athlete Factory."
Travel, Train Abroad
The basis of the Inside Running Academy is to live, train and experience the life of a professional rugby player. The Academy schedule is designed to mirror that of the teams in New Zealand. Coaches are former and current professional players, current ITM Cup coaches, NZ 7s coaches etc. Players are effectively translated into a professional training environment in the heart of New Zealand's rugby culture and in one of the most beautiful locations in New Zealand.
Have you ever thought about how amazing it would be to be a professional rugby player?
Have you ever wondered what it takes to be as good as the All Blacks?
Inside Running Academy is NZ's leading private International Rugby Academy. The academy attracts up to 100 players per year from over 20 countries globally.
Why are players flocking to this Academy? We asked Inside Running Academy Director, Mike Rogers. "It really is quite simple. If you love the sport, what could be better than living the dream as a full-time rugby player— in New Zealand no less? Players can train full time in the world's best rugby nation without the distractions of school, family, friends, etc.  It really doesn't get much better than that!"
At Inside Running Academy the players take part in four dedicated gym programs per week, six on-field training sessions and are supported with physiotherapy, recovery sessions and holistic education, all designed to improve the players on and off the field.
"Our program is all based on the type of training load that the All Blacks would typically have in a week. We have aligned our program with how All Blacks and Super Rugby teams are training."
Players also take part in local club and school competitions where they are able to measure themselves against New Zealand players of their age. "The club and school component of the program is vital for players to be able to put into practice what they are learning at the academy in a competitive environment. It is also great for the players to meet and play alongside New Zealand players and experience New Zealand rugby culture first hand".
Inside Running Academy is world renowned for assisting players to reach their goals.
When asked about this piece, Rogers went on to explain that it was all about developing a player development plan. "I am often asked what happens to players once they leave the Academy. The short answer is that our entire philosophy at Inside Running Academy is to give the players the tools so that they can continue with their development after they leave us. Before players leave, they are required to present a personalized 'Player Development Plan' to us which clearly outlines what they are going to do when they get home to continue with their development. This is vital for us, as ultimately it is all about what players do to continue their development when they leave us."
Insights from recent Inside Running Academy grads:
"I can't emphasize enough how much of a life-changing experience attending Inside Running Academy has been for me. I have learned how to train like a professional and the development and growth in my game has been amazing. I have loved every minute of it!" Stan Van Den Hoven, 18, Netherlands
"Attending Inside Running Academy is literally living the dream! What could be better than playing rugby player in New Zealand. Mt Maunganui is definitely an amazing place to be based for a few months, the beaches, the rugby culture and people are all pretty phenomenal. Being at the academy has really set me up well for the next chapter of my rugby career, heading to University in the US."  Grant Bourdon, 17, Singapore.
"I have attended Inside Running Academy as a player in 2013, and more recently in 2017 as an intern. Mike and his team are great at identifying a player's strengths and weaknesses and developing a plan to empower players to grow their game. My experiences have really set me up for the future, both as a player and coach." Chris Turner, 27, California.
You Can Go.
The Academy operates from the 7th of January 2018 – 9th of September 2018. Players can attend for camps  and training from two weeks to the full 35-week program. The average duration of stay is around six weeks. Six weeks in New Zealand? Nice.
To find out more, visit their website – www.rugbyacademy.global or get in touch with Academy Director, Mike Rogers direct – mike@insiderunning.com