Sac-Joaquin Section Wrestling: Pitman Poised To Pounce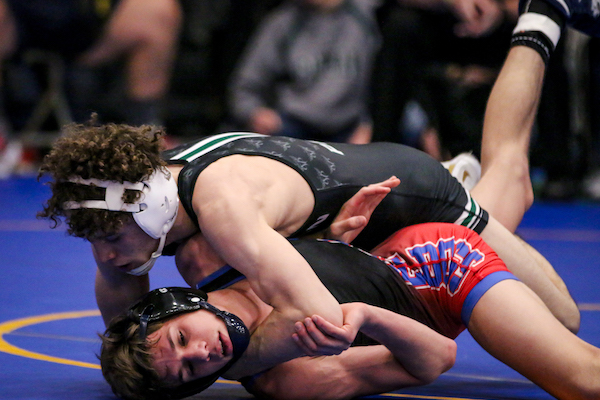 2019-20 WRESTLING PREVIEW: Pride Out To End Sac-Joaquin Section Wrestling Reign Of The Usual Suspects •
Coaches often call them "The Big Three." In Sac-Joaquin Section wrestling, that's Vacaville, Oakdale and Del Oro-Loomis. 
No other team has won a Masters wrestling title in the last 13 years, and the three combine for 30 top-four finishes across that span, including top-three finishes in each of the last three seasons.
That's all about to change.
Southern challenger Pitman-Turlock is poised to crowd the medal podium when SJS wrestling returns to the Stockton Arena Feb. 21-22. The Pride is hungry, loaded with talent, surrenders few points and fights aggressively for falls.
Del Oro and Oakdale each return a core of state qualifiers and Vacaville soundly whipped the field last year with a section record 262.5 points, sending 11 wrestlers to the CIF state championships in Bakersfield. The Bulldogs are favorites to defend the Sac-Joaquin Section wrestling throne for a fourth straight season, but will be deadlocked with Pitman at No. 2 when the first FitPro GO! NorCal wrestling team rankings release on Friday. Both will be just behind Gilroy.
_______________________________
CONNECT WITH US:
Follow SportStars on Twitter & Instagram | Like us on Facebook | Subscribe!
_______________________________
"We don't have the biggest names, but our kids work hard and we are deep," Pitman coach Adam Vasconcellos said on Dec. 1. "If we can keep everybody healthy and on the mat, we will be exciting come February."
Prying a title from Vacaville won't be easy. The Bulldogs have won twice as many banners (18) as any other team, and own 13 of the last 17.
"We have a superstar or two, and we have kids hoping to make a mark, but we have some coaching to do in other spots," Vacaville coach Clint Birch said. "This year, more than others, it may come down to a pretty tight race."
The Bulldogs are bolstered by a strong sophomore class that includes Isaiah Medina (106), Logan Valledor (113), Erik Almarinez (126), Jason Brauning (132) and Ethan Birch (145). The four should elevate special senior years for Chris Island (285), Eric Hayward (220) and Coulter Malone (170).
"It's an exciting year with many new kids in the lineup," Coach Birch said. "Our seniors are hoping to finish their career with us on a high note,"
Pitman and Vacaville won't meet in a regular season tournament, but the two teams will collide in a big showdown at the Division II championships the week before Masters. Head-to-head alignments in a bevy of weights will make a huge impact on seeds heading into Stockton.
In preseason rankings, the teams split higher spots in the four weights where they collide. It gets real interesting in the upper weights, where rising Pitman star Juan Mora could face Hayward, a returning state qualifier who is dropping to 220 after a clutch tournament at Masters last year. He's making the move because Island is bumping up to heavyweight, where he anticipates wrestling in college.
Island could draw Pitman's Emilio Gutierrez. Gutierrez placed top-five in a fantastic Division II bracket last year. However, a concussion forced him to miss the Masters tournament.
Two injury forfeits played a pivotal role in Pitman's seventh-place finish, but the squad returns nine Masters qualifiers, including 138-pound champion Sammy Silver and 120-pound champ Izzy Tubera (pictured at top of story).
Silveira will drop to his new weight after winning the SJS at 145 last year. Vasconcellos expects him to be monstrous at a lower weight class.
Kendall LaRosa (170) is also a returning SJS finalist. He, along with Mora, round out Pitman's four biggest hopefuls for state gold. Tubera won state bronze last year while the other three took two wins apiece in Bakersfield.
"We might not be on everyone's radar, but I think we are going to surprise some people," Vasconcellos said. "It's super exciting."
Pitman is also the home of national star Lilly Freitas, who handily won the girls state title last year as a freshman, before capturing gold at the US Cadet National Championships in Irving, Texas. She also competed in Ukraine at the World Cadet Championships, finishing 1-2.
Vasconcellos said freshman Alana Ontiveros has already beaten the returning Masters champion in her weight, a third-place state finisher. He expects Freitas, Ontiveros and standout freshman Lilly Avalos to all challenge for state titles this season.
They are Pitman's own version of the "Big Three."