Sacred Heart Cathedral: Irish Volleyball Not Waiting On Luck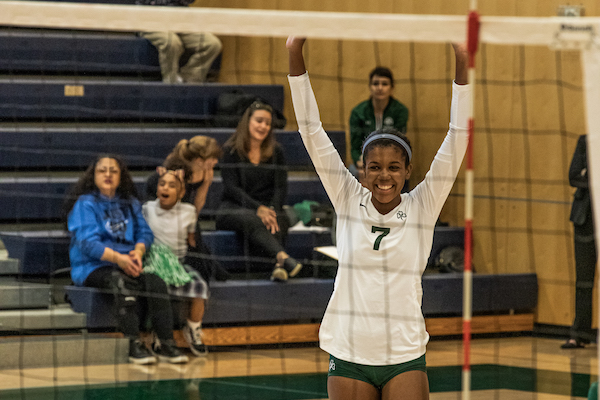 Experienced Sacred Heart Cathedral Showcases Clout As West Catholic Athletic League Volleyball Schedule Gets Underway •
The final point was almost anti-climatic, with Sarah Cheng spiking the ball to finish off a 25-27, 25-20, 25-19, 25-12 win for Sacred Heart Cathedral-San Francisco over visiting Valley Christian-San Jose on Sept. 18. The Fightin' Irish had been challenged in their West Catholic Athletic League opener, only to take control as the match went on.
Megan Lenn had 20 kills for Sacred Heart Cathedral, which improved to 9-2 on the season. Skylar Canady had 15 kills with three aces and Cheng finished with seven kills.
"I think we really did well in the serve and pass game," Canady said. "We did a good job incorporating everyone in the offense as well. I think there was definitely more confidence in ourselves (as the match went on), playing together and believing that we could actually win, even though we did lose that first set."
The Fightin' Irish are coming off a 31-7 season which ended with a loss to Central-Fresno in the California Interscholastic Federation Open Division second round. Sacred Heart Cathedral entered the state playoffs as the top seed in the Northern Regional, so there's some unfinished business for the Irish.
"Of course we have high goals, because we are defending WCAL and CCS Open champs," coach Margi Beima said. "That being said, every season is a new season and you have some new personnel and you're really trying to gel. We're really trying to stay patient because it's still a process. We still have growth, we still can be better, we can still develop our offense, be better on serve-receive. Being patient with the process and enjoying that is really, really important. And staying present. Not thinking too much about what happened in the past and not looking forward too much.
_______________________________
GET CONNECTED:
Follow SportStars on Twitter & Instagram | Like us on Facebook | Subscribe!
_______________________________
"I want the kids to enjoy the game and enjoy playing with each other. The goals, the three words that we're kind of going for are grit, confidence and also fun. Fun is one of our goals."
Fun, and positivity are keys for Sacred Heart Cathedral.
"She's very positive on the court," Lenn said of her fellow senior Canady. "She helps us all out a lot. She really supports you. And for me, she tells me where to hit and it usually scores when she does."
Countered Canady, "Megan is the most positive person I have ever met. And she's so modest. She gets a kill and she's like, 'Oh.' And I'm like, 'Yes, Megan!!!'"
In case you couldn't tell, Canady is the more fiery of the outside hitters while Lenn is a little bit more low-key. They both love their teammates. Senior setter Alden Standley, who had three aces and two blocks in the win over the Warriors?
"She's a big contributor to our offense, the person who distributes the ball in order for us to get it over the net," Canady said.
Alyssa Taylor is a junior defensive specialist.
"She's one of the younger ones on our team but she contributes a bunch of energy and is always positive on the court," Lenn said.
How about senior libero Alyssa Lee, who had 18 digs against Valley Christian?
"She's taking a lot of space, taking a lot of pressure off of me and Megan in the back row," Canady said. "Covering some ground on defense, getting the tips and deep hits."
The match with Valley Christian showed off all of Sacred Heart Cathedral's strengths. Early on, the Warriors looked the equal, especially with the blocking up front by their talented frontline of Izzy Marshall, Sonte Stewart, Logan Manley, Victoria Li and Kaylee Zhang. The first set was nip and tuck with the Irish going up 13-8 at one point, but Valley Christian rallied back.
Sacred Heart had a 25-24 lead late, but the Warriors scored the final three points with Marshall blocking a Canady kill attempt for the winning point.
The second set was tight but Sacred Heart Cathedral led most of the way. Sophie Seljeseth scored two key points in the late going for the Irish, including the winning point on a soft kill.
By the third set, Sacred Heart Cathedral was in control. Three consecutive points on Canady's service was soon followed up  by a five-point run on Standley's. Lenn was firing on all cylinders by this time, scoring a pair of kills each during both runs. After building an 18-9 lead, the Irish won it when Valley Christian's Annique Aarts sent a serve into the net.
The final set was all Irish as they quickly built a 9-3 lead. A six-point run on Taylor's serve extended the advantage to 16-4. Canady had three consecutive kills during that spurt. Amaya Keiper came off the bench and held serve for five more points and it was 22-6.
Lenn added 16 digs and three blocks on the night.
"Our passing got better as the match went on," Beima said. "When we're passing well, we're able to run the offense the way we want."
Said Warriors coach Ron Whitmill, "We have a relatively inexperienced group and our confidence sometimes goes up and down. The positive thing is we're growing, getting better every day."
Said Lenn, "We all connected well as a team. We were all talking a lot. Our blocking mostly (tightened up). We went inside more for the block and (left) the line open so we can dig it. We did more placement (hitting) over power, so that helped a lot."
Whitmill was impressed with the Irish.
"They have a little bit more experience than us," he said. "They have great ball control, play great defense, and have two really good outside hitters that can do a little bit of everything. It makes it difficult. They have good setting.
"Mainly, all around, they have a lot of kids that are just really confident. Very well-trained, well-coached. They know exactly what to do to win. They don't make a lot of mistakes. If we can keep our errors down, we can play with teams like that. Obviously, we didn't do that that well as the match went on. They kind of wore us down. But Sacred Heart's a very good team. It's no issue losing to them."
Beima may want her team to stay in the moment. But there is a very clear goal, according to Canady and Lenn.
"State," Canady. "Getting to state, getting there. Definitely winning WCAL, CCS Open."
Added Lenn, "Having a fun senior year!"
Just as their coach drew it up.