Saint Francis Volleyball Sweeps Oak Ridge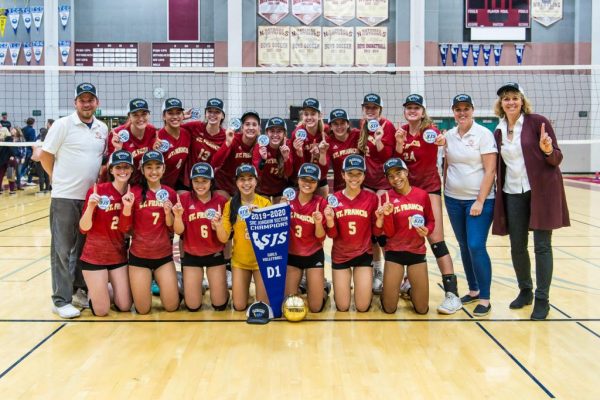 Saint Francis Volleyball Wins Section Title 3-0 Over Oak Ridge
The top-ranked Saint Francis volleyball team swept No. 3 Oak Ridge 25-21, 25-18, 25-13 to win the school's first Sac-Joaquin Section title in volleyball since 2012 and 13th in school history.
"I am super proud of them," said Head Coach Alynn Wright. "They have been working hard every single day and they set their sights on this match from the beginning of the season. The match on Thursday with the fight and determination to come back the way they did gave them a lot of confidence coming into this match."
St. Francis (36-2) fell behind by four 7-3 in the first set but Julia Zara served the Troubadours back in the set, eventually prevailing 25-21.
_______________________________
CONNECT WITH US:
Follow SportStars on Twitter & Instagram | Like us on Facebook | Subscribe!
_______________________________
Coach Wright from Saint Francis Volleyball
"Even though we started slow, once we settled down and started to get in their rhythm, it was going to be pretty hard to stop them," said Wright.
St. Francis defeated No. 17 Enochs (3-0), No. 9 Turlock (3-1) and No. 5 Cosumnes Oaks (3-1) on the way to the finals. In addition, they avenged a loss to reigning champion Oak Ridge in 2018.
Senior Alexa Edwards led the Troubadours 16 kills and 10 digs playing in her third Section championship match.
"She is finally back. And it is pretty impressive with her surgery and how hard she has had to work physically and mentally," said Wright. "She is back on form."
Furthermore, junior Ellie Eichhorn dished 23 assists with eight digs and eight kills from her setter position.
"The key tonight was picking up the tempo," said Eichhorn. "I tried to speed up my sets to Alexa. And she was just teeing off on those to beat the block on the other side."
Also, Jesiree Moral and Danica Nelson each had double-digit dig totals to help the defensive effort.
Saint Francis will await the CIF Northern California Regional bracket announcement Sunday night as they continue their season.