Saladhin Farukh: Sacramento's Wrestler Of Fortune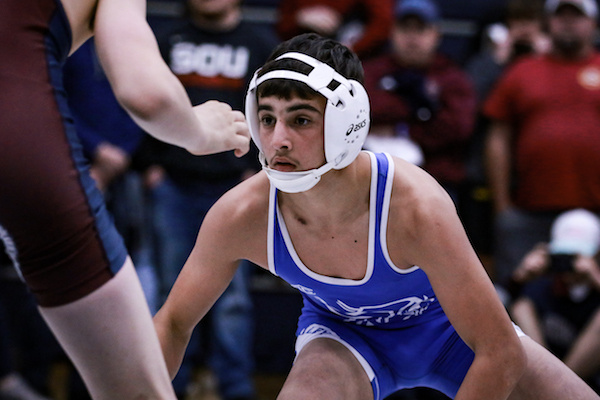 Valley High's Salahdin Farukh Left War-Stricken Afghanistan To Chase Sac-Joaquin Section, CIF Wrestling Glory From California Capital •
Perhaps the only wrestler in CIF history to go 0-3 at the state championship tournament, Valley-Sacramento junior and Afghanistan native Salahdin Farukh is determined to take advantage of the fortuitous opportunities that have opened for him.
Two years before limited mastery of the English language allowed him to wrestle the wrong Clovis wrestler at state — thus getting a second shot at the round that eliminated him — Farukh began his second life in America. Memories of his first one are never far.
"It was a suicide bomb, a little bit far away… about that far," he said, gesturing to a nearby line of trees following a tournament in late December. "Afghanistan is war, and you don't know when you are going to die, you just know it's going to come.
"America is like… so chill."
Farukh knew he wanted to wrestle when he landed at Valley in 2017, but he barely spoke English.
_______________________________
CONNECT WITH US:
Follow SportStars on Twitter & Instagram | Like us on Facebook | Subscribe!
_______________________________
His first lesson — don't lock your hands.
They don't teach folkstyle wrestling in Afghanistan. Weaned on freestyle, Farukh struggled with the new discipline his freshman year, and went 0-2 in the Sac-Joaquin Section Divisional round, missing a Masters qualification. Last year, he was a Division IV champion at 103 pounds, and an unknown name at Masters.
Lacking in his ground game, but dangerous from his feet, Farukh attacked the 32-man bracket at Delta College with quick shots and continuous movement. He beat Tracy's Anthony Nunes 15-2 and stunned Vista del Lago-Folsom's Ethan Cota 23-12 in a second-round flurry.
After slipping 12-6 to SJS runner-up Dylan Maples (Bella Vista-Fair Oaks), Farukh beat Yuba City's Keola Abreu 18-9 and stuck Patterson's Jesse Cota in just over two minutes to guarantee a top-six finish and CIF qualification.
Farukh lost his next match 7-2 to Vacaville stalwart Isaiah Medina, setting the stage for his best match of the tournament, a fifth-place showdown with Union Mine-El Dorado's Michael Mallot. The bout featured constant scoring over five thrilling minutes, leaving Mallot with a 23-21 win to close the tournament.
Despite the narrow loss, Farukh became Valley's first state qualifier since 1995. A week later he lost three matches by points at state, slipping in a close bout to Clovis wrestler Matt Torrence in his second match, before tourney officials realized Farukh should have toed the line against Noah Arsitio of Clovis North-Fresno. He waited 45 sheepish minutes before wrestling Arsitio, losing just 5-2 to end his season.
DEAR OLD DAD
Farukh's mom, dad, brother and sister are all thriving in Sacramento.
They have dear old dad to thank for it.
Bashir Farukh worked as a translator and contractor for the U.S. Army during the war in Afghanistan. His 12 years of service made his family eligible to receive a Special Immigrant Visa to move to the United States.
Bashir said the opportunity became an urgency after rumors of U.S. withdrawals from Afghanistan forced him to fear for his family's safety.
One harrowing 2015 day in the Afghanistan capital city, Kabul, he was forced into action.
"Right across the place where we were living, right across the street there was a suicide bombing," Bashir said. "We saw pieces of human beings fall down in front of our wrestling club.
"I was really concerned with what was going on, even just the kids going to school or the wrestling club. It's not like here, where I feel safe."
Soon after the bombing outside the wrestling club operated by Bashir's brother, he applied for the Special Immigrant Visa.
Now Bashir gets by as a ride-hail driver for Uber and Lyft. Even though he contracted with the U.S. Army, he said construction opportunities in California are difficult because of expensive and arduous requirements to secure proper licensing. 
The dream is to own a construction business and see his sons and daughters achieve success in America. Salahdin wants to be a firefighter after school and wrestling.
"Every father wants the best for their kids, based on their unique talents," Bashir said. "I try my best to provide for them and afford what they want."
Bashir doesn't hate his current schedule, which allows him to help coach the Valley wrestling team alongside eight-year head coach, David Caldwell.
"Coach Bashir has really helped, especially with the language barrier, because three of our wrestlers speak Farsi (Persian)," Caldwell said. "Luckily, physicality is the same language anywhere, so I think wrestling has helped them fit in."
FORTUNE AWAITS
Salahdin's remarkable improvements have transformed his career on the mat. The wrestler who struggled to win only one match at many of his tournaments in 2018 is ranked No. 4 in Northern California (113) by SportStars and No. 14 in the state by the California Wrestling Newsletter.
His big jump between freshman and sophomore seasons looks like a bunny hop compared to the leap to his junior campaign. As of Jan. 13, Salahdin is 22-1 with three tournament titles. His only defeat was 8-2 against Palma-Salinas' Zachary Thompson, ranked No. 2 in Nor Cal and No. 8 in California with four CIF wins under his belt in two trips to Bakersfield.
That defeat came in the finals of the prestigious Tim Brown Memorial Classic at Cal Expo Jan. 11.
Three weeks prior, Salahdin won the Marty Manges Tournament at Casa Roble-Orangevale. In the finals he drew Mallot, who beat him in that 23-21 thriller last year. This time, Salahdin took a 14-4 lead before pinning Mallot with a minute remaining in the bout.
"I showed that I had more improvement than last year," Salahdin said. "I have been working real hard. He was hella cocky but I didn't care, I just wanted to go beat him."
Salahdin will wrestle at the Overfelt Classic in San Jose on Jan. 25. 
NorCal No. 1 and state No. 5 Brayden Abell of Oakdale is a heavy favorite to win the SJS title at 113 pounds and a second straight state medal. If Salahdin can capture SJS gold before he graduates, he will be Valley's first section champion since heavyweight Anthony Cook captured a bracket in 1992. This year, Salahdin wants to win a state medal.
Since Salahdin's younger siblings also wrestle, Valley should prosper from the blessings of the Farukh family and the urgency of coach Bashir.
A year after the family emigrated, The New York Times reported that 26 wrestlers were killed and another 91 were wounded when the Islamic State bombed another wrestling club in Kabul, home to many of the country's champion wrestlers.
It's the kind of fate the Farukhs escaped by moving to America.
The grind of a wrestling season — muscles straining, sweat leaking — seems trivial in comparison, but it's the kind of suffering the Farukhs embrace.