Salesian Girls Basketball: Pride Powers Way To Diamond Delight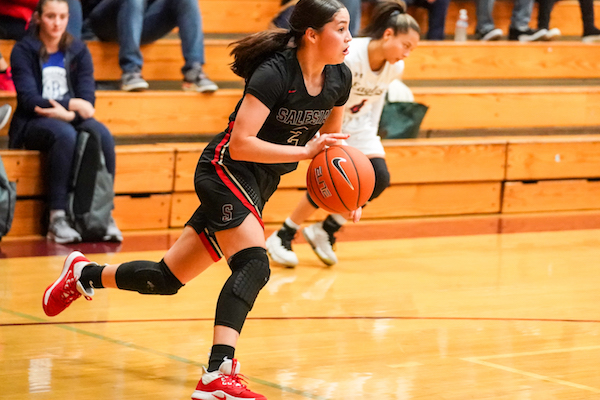 Richmond Power Showcases Its Talented, Balanced And Grit-Filled Roster En Route To Winning West Coast Jamboree's Diamond Division •
There was a moment during the Salesian girls basketball game with Miramonte-Orinda when the raucous crowd fell silent. 
It came as guard Alexsandra Alvarado went down on the Las Lomas High court, visibly and audibly in pain, grabbing her right ankle. After taking a few breaths and collecting herself, she hobbled off the court with 2:13 left. You figured her night was over? Wrong. 
Alvarado returned during the final stretch to fend off a Matadors team that put up a fierce fight in the second half. It took lots of grit and toughness for the Pride to emerge with a 75-65 victory in the West Coast Jamboree Diamond Division championship. 
Emblematic of that toughness, tournament officials awarded Alvarado the Diamond Division's Scoop Jackson MVP Award. She scored eight points, one of nine who scored in a true team effort.
"She is the straw that stirs the drink," Salesian girls basketball coach Stephen Pezzola said following the Dec. 30 championship win. "Our girls love her; she is one of our captains. All of our players go hard. No one goes harder than Alexsandra."
_______________________________
CONNECT WITH US:
Follow SportStars on Twitter & Instagram | Like us on Facebook | Subscribe!
_______________________________
Alvarado said she actually rolled her ankle twice during the final.
"I had been through a lot of ankle injuries on my left before, so I knew I could try and walk it off or it might be something worse," she said. "Coach P told me to breathe, take a breath and slow it down. When I got up I was just like, I can try and walk it off now." 
Pezzola's immediate reaction to her wanting to play? 
"She came to me and I said, 'OK, thank you, but sit.' She said, 'No, I'm playing.' I said 'You're gonna sit.' She walked down, she tightened it up. And she said I'm going to play. So I figure ball-handling, I am going to give to my captain." 
To hold off the Matadors (10-1), the Pride capitalized late in the game in getting the ball to the mighty force that is Silvia Fonongaloa. A strong 6-foot-1 sophomore with athleticism to boot, she scored eight of her 18 points in the final quarter. 
Fonongaloa saw scant playing time as a freshman, but it was at practice where she evolved. That's where she consistently went up against McDonald's All-American Angel Jackson, now at USC.
"Every day at practice, Via went against Angel," Pezzola said. "The first month was not very fun for her. Then she learned. We worked on some moves for her. She has great hand-eye coordination. We got her footwork down. Now you see it, when she gets the ball in the key. Her footwork is flawless. She senses where the weakness is coming — even if it is a double — which is the weak side to go to. And she is so strong she powers through it. Because she had to do it every day at practice against Angel."
Fonongaloa credited the win to teamwork.
"When I was on the bench I was cheering; when I was out there our bench was cheering," the sophomore post said. "That gave me extra energy to keep playing. We always have got to play hard. Finish hard, play hard, all game. Get your man, don't let them shoot and just play hard. We have got to pass and find a good shot, don't force a shot."
Salesian (10-1) started out on fire against the Matadors, who entered the game ranked fifth in SportStars NorCal rankings but struggled early to find its vaunted 3-point shooting game. The ninth-ranked Pride led 22-1 at one point and Miramonte's first field goal came with 35 seconds left in the first quarter when Leah Sopak hit a 3.
"When they pressed us, we were really good at breaking their press. So their press was like our fast break," Pezzola said. "We only called two offensive plays in the first quarter because we broke the press. And we played really good defense on their 3-point shooting. Because they are lights-out 3-point shooters."
That defense kept Miramonte star Mia Mastrov to 15 points, with 11 coming on free throws. Though Salesian led 50-28 midway through the third quarter, the inevitable Matadors surge began with an 11-2 run, followed by a 5-0 run to start the fourth. When Jordan Allred stole the ball and hit a layup for two of her game-high 28 points, it was suddenly 60-56 with 4:30 remaining. But the Pride didn't fold.
"I told them 'We got this, just keep your composure,'" Pezzola said. "We have four freshmen, four sophomores, two juniors and two seniors. And we are really composed. It's amazing. The No. 1 thing is to keep your composure, at all times. So they didn't get rattled." 
Confidence was already high after the same Salesian girls basketball team delivered an impressive Nike TOC showing in Arizona. After a 59-46 loss to Shadow Mountain-Phoenix, Arizona's fifth-ranked team, they rattled off wins over Dillard-Fort Lauderdale (Florida), Seton Catholic-Chandler (Arizona) and Mountainside-Beaverton (Oregon).
Back in the East Bay, they opened the Jamboree by beating Del Oro-Loomis 58-45. A stunning 63-48 semifinal win over Chaminade-West Hills followed. The Eagles were the team many figured would face Miramonte in the Diamond finals.
Pezzola recognizes the significance of wins like the one over Miramonte and last year's NorCal win over Archbishop Mitty-San Jose.
"For this year, it is our biggest win," he said. "No one expected we would do as well as we did in Phoenix or to win this division. We looked at beating Mitty in the NorCal Open last year as … those are the wins, that's our goal. To get to the NorCal Open and do some damage there."
Nothing will be easy.
The Pride face St. Joseph Notre Dame-Alameda on Jan. 11 in the Elite is Earned showcase at Miramonte. One week later the Pride will match up against La Jolla Country Day-La Jolla at the Jan. 18 MLK Bishop O'Dowd Showcase. La Jolla Country Day finished 2019 as the No. 2 ranked team in the nation.
"It will be tough for us," Pezzola said. "Because those are experienced teams, really good teams, and ranked way ahead of us. But I think our girls aren't worried about rankings, they just want to play their best." 
And so they can savor the big wins.
"It feels really great, the intensity. Everyone was there, everyone was watching," Alvarado said. "The relief of knowing that we could be up there, too. And that we could beat a great team."