San Ramon Valley Girls Lacrosse On The Hunt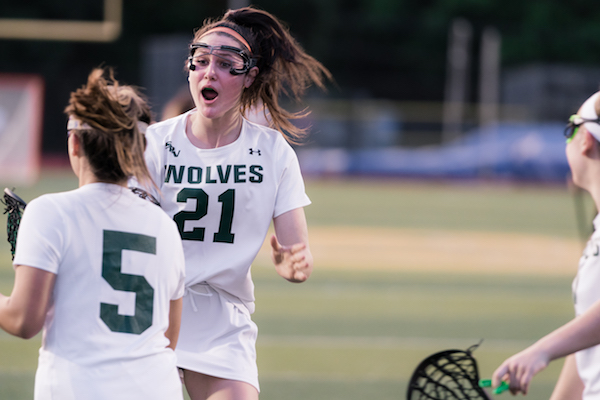 With A Talented And Extremely Tight-Knit Roster Bent On Redemption, The Wolves Have Established Themselves As The North Coast Section's Team To Beat •
As the sun set on the first seasonably warm April evening in Danville, the San Ramon Valley girls lacrosse team took the field to host Granada-Livermore. 
After 25 minutes of relentless attack, the Wolves led the visiting Matadors 18-0. 
It was a good night for San Ramon Valley. There have been several during the 2019 season. 
The Wolves' 23-0 shutout win over Granada was the team's 15th straight overall and their seventh straight with a margin of 10 goals or more. As of April 19, there were no losses on their record.
With just three regular-season games remaining before the North Coast Section playoffs begin May 7, that zero in the loss column grows even bigger by the day.
"We just use that as motivation," sophomore Annie Kuester siad. "Keep working hard. Keep being our best. …  Playing each other is the best team we're ever going to play."
It's not the only thing motivating the Wolves.
Regardless of how the team's final three regular-season games play out, the last loss that truly mattered for this team came on May 15, 2018 — in the North Coast Section Division I semifinal. That night, in the waning seconds of the game, Oak Ridge-El Dorado Hills scored the game-winner in a 14-13 victory. 
"How we lost in the semis last year made us really want to work to win this year," said senior captain and San Diego State-bound midfielder, Makenna Nichols said. "You can tell that by our Oak Ridge game this year."
That was a 20-4 win for San Ramon Valley on March 2, just the second game of the regular season. Through mid-April, Oak Ridge had only lost twice more since then.  
"When we beat them like that, we knew we were going to just keep getting better," Georgetown-bound junior midfielder Tatum Geist said. 
Confidence is not in short supply on the Wolves. Neither is chemistry. 
Six players were interviewed for this feature — three juniors, two sophomores and a senior. Each and every one raved about the bond that had been formed among the team. 
"The culture of our team is really a family-oriented one," junior Becka Baker said. "We treat each other like sisters instead of friends or teammates. It makes us really want to be here and work together."
Catie Grace Carrington is a junior attacker in her ninth year of playing lacrosse. This team stands out more than any previous one. 
"Definitely one of the most fun teams I've ever played with," Carrington said. "It's one of the most talented teams for sure, but I've never had a team with this much chemistry between every single player."
Second-year San Ramon Valley girls lacrosse coach Tess Kevorkian saw that chemistry developing as early as tryouts in February. Kevorkian, who was a four-time All-East Bay Athletic League selection at SRV before attending and playing at UC Davis, says all 27 players contribute to that cohesiveness. 
"If they didn't buy in and have that expectation of themselves then it (that chemistry) wouldn't come together so easily," the coach said. "Their attitudes and the way they treat each other allows chemistry to take off. When they feel supported, they feel part of the team. … It really is 1 through 27 that have allowed us to be successful." 
But as Carrington mentioned, it's a pretty gosh darn talented roster, too. 
Six players have already committed to play lacrosse at the next level. In addition to Geist (Georgetown) and Nichols (San Diego State), senior captain Bailey Smith is bound for Oregon and senior goalkeeper Mikayla Thornburg will head to Colorado. Another senior captain, Mel Evans, will play for Colorado-Mesa and senior Avery High is ticketed for Chapman.
That list doesn't even account for the sophomore class that includes Carrington and Alannah (like "Banana", she said) Scott. The two lead the team in goals after 15 games. Scott has netted 46 and Carrington 43. 
"She's one of the best sophomore players I've ever seen," Geist said of Scott. "She works so hard. Watching her play is so much fun. She's such a beast."
It's been the development, and overall leap, of this sophomore class that has helped propel this Wolves team to the next level, according to Kevorkian. 
"As young freshmen last year they were competitive and excited," Kevorkian said. "But this year they're just lights-out. They really came back for year two ready to go."
Scott is in her sixth year of lacrosse after her former nanny introduced her to the game. She has a team-best 65 points when calculating in her 19 assists. It's three better than Geist's 62 points (23 goals, 39 assists). 
"As a freshman I was a little nervous but I couldn't really find my place," Scott admitted. "This year I'm trying to make a bigger impact on the team, like assisting and not just scoring. I'm really trying to step up and fill some big shoes … I can't wait to compete at NCS and hopefully go farther than we did last year."
San Ramon Valley closes out the regular season with three road games, including two against strong opponents in Foothill-Pleasanton and St. Ignatius-S.F. If the Wolves' current trend continues, they'd enter the NCS Div. I field as the top seed and the favorite to win the title. 
While the San Ramon Valley boys program has four titles, including last year's, an NCS crown would only make the second overall for the girls — and their first since 2006. 
"The biggest key the rest of the way is to simply have no drama," sophomore Annie Kuester said. "Staying on task and having fun at the same time. Working hard and grinding. That's what it will take."
Said Nichols: "We just need to stay together. Stay strong. Keep working hard and not slow down. We're hitting such a high right now, we just need to keep riding it."