Wrestling Championships: CCS, NCS, Northern Previews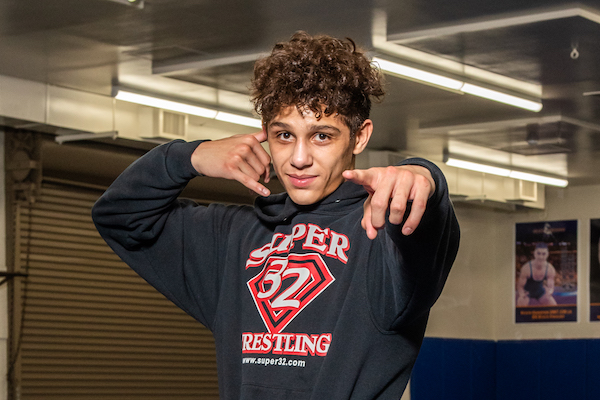 There Will Be 112 CIF State Championship Berths On The Line As Central Coast, North Coast And Northern Sections Hold Their Wrestling Championships On Feb. 15-16 •
The roster of NorCal wrestling talent that will vie for state glory will be shaped this weekend. Eight total qualifications for each weight class of the boys California Interscholastic Federation State Wrestling Championships are up for grabs this weekend when North Coast Section (three seeds), Central Coast Section (three seeds) and Northern Section teams (two seeds) collide at their section championship tournaments.
Below is a quick look at the big match-ups that will highlight thrilling competition across Northern California.
NCS WRESTLING CHAMPIONSHIPS
NorCal No. 4 De La Salle-Concord is the pride of the NCS and should roll to a 10th team title in 11 seasons. But while the Spartans earn another accolade for the rafters, NCS individuals will battle in 14 highly-competitive brackets.
Overwhelming favorites exist in only a few weight classes. The biggest stalwarts are probably at 113 (Blake Fredrickson, Windsor), 132 (Kyle Parco, De La Salle), 182 (Jack Kilner, Granada-Livermore), 195 (Adrian Chavez, Liberty-Brentwood) and 220 (Tyler Winslow, Sonoma Valley-Sonoma).
Four NCS wrestlers are represented in the SportStars NorCal Wrestling Top 15 at 106. They are No. 4 Devin Garcia (James Logan-Union City), No. 6 Bobby Cuevas (De La Salle), No. 11 Nick Trave (Petaluma) and No. 12 Lorenzo Gunn (Benicia).
At 126, NorCal No. 5 Riley Hilt (De La Salle), No. 9 Dakota Unpingco (Freedom-Oakley), No. 9 Marco Ruffinello (Las Lomas-Walnut Creek) and No. 13 Cole Gregerson (Liberty) will battle for only three state seeds.
Four stalwarts also lurk at 138 pounds. That quartet is No. 6 Dwayne Guerrero (De La Salle), No. 7 Josiah Monjares (Las Lomas), No. 8 Cole Sanchez (Northgate-Walnut Creek) and No. 15 Johnathan Nguyen (Granada).
It's a three-way battle for dominance between No. 7 Nate Paulson (Liberty), No. 8 Trent Silva (Windsor) and No. 8 Logan Sumulong (De La Salle) at 145.
At 152, No. 8 Gage Metter (Northgate), No. 11 Casey Cox (San Ramon Valley-Danville), No. 10 Connor Pederson (Petaluma) and No. 12 Mario Franco (De La Salle) square off.
Section Best
The 160 pound field is perhaps the section's best wight class. The division should promote No. 2 Ankhaa Enkhmandakh (De La Salle), No. 4 Cody Pruis (Heritage-Brentwood) and No. 6 Alex Garcia (Kelseyville) to state.
The tournament's deepest weight may be 170s. Fortuna unbeaten Adam Medeiros (No. 8) is seeded second and has a host of quality opponents to overcome. His gauntlet may include No. 12 Isaac Morris (Castro Valley), No. 12 Ceasar Borela (Heritage), No. 14 Tate Bossert (Las Lomas) or No. 15 Hussien Abbushi (Arroyo-San Lorenzo).
Five-seed Lance Hackett (De La Salle), six-seed Nic Le Sieur (Northgate), seven-seed Ethan Williams (Healdsburg) and eight-seed Callen Ivy (San Leandro) are all tough here.
No. 10-ranked heavyweight Ben Roe (De La Salle), No. 11 Wyatt Word (Liberty) and second-seed Jacob Sartorio should entertain at 285.
CCS WRESTLING CHAMPIONSHIPS
Gilroy began the season as a cagey favorite to challenge Buchanan-Clovis for a state championship. However, the Mustangs suffered a major blow when Jayden Gomez failed to make his postseason weight class at 113 pounds.
Still NorCal wrestling's top team, Gilroy will easily win the CCS championship. And the program could still see 12 wrestlers make the state tournament. That's how many top-three seeds they own this weekend.
Gilroy could win it all 120 (Donte Lopez), 126 (Victor Jacinto), 132 (Noah Castro), 138 (Chase Saldate – pictured at top), 145 (John Fox), 152 (Daniel Vizcarra), 160 (Nathaniel Villarreal), 170 (Joseph Barnes), 182 (Dallas Gutierrez), 195 (Ryan Reyes) and 285 (Nicholas Villarreal). The Mustangs earned top seeds in each of those weights.
At 106, top-seed Ryan Luna (St. Francis-Mountain View) is ranked No. 10 in California by the California Wrestling Newsletter and No. 2 in NorCal by SportStars. Second-seeded Calvin Antonio (Evergreen Valley-San Jose), a sophomore, lost just 2-0 to Luna in a prior match. He also has valuable postseason experience.
With Gomez out of the picture, the 113 crowd should come down to three NorCal-ranked grapplers. No. 3 Christian Cabaug (Monte Vista Christian-Watsonville) is the likely favorite. No. 9 Mike Bigler (Archbishop Riordan-S.F.) and No. 11 Zachary Thompson (Palma-Salinas) will also challenge.
Victor Jaquez of Bellarmine-San Jose is the undisputed king at 220. He should win a state title after suffering an upset early in the 2018 state tourney.
NORTHERN SECTION WRESTLING CHAMPIONSHIPS
Monsters lurk in the Northern Section.
Despite just two qualifying spots available at each weight, 30 NS wrestlers dot the 280 names that comprise the SporStars NorCal wrestling rankings. Fourteen are positioned in the top 10 of their weight classes.
It doesn't get much better at 152 pounds.
That's where Del Oro transfer and East Nicolaus football standout JT Stinson stands atop the NorCal ranks.
Also ranked No. 3 in California, Stinson is a two-time state qualifier who ended his junior campaign with a CIF medal (seventh) in 2018. He's the only returning state medalist in the section, and will compete in the section's best division. He'll likely meet Foothill-Palo Cedro standout Corey Williford in the finals. Williford won the prestigious Tim Brown Memorial Classic. He was fifth at the Reno TOC, seventh at Mid Cals and runner-up at Oakdale's James Riddle Classic. He's ranked fourth in NorCal and No. 18 in California.
The next best weight is probably 195 pounds. That's where 2019 tournament darling Reagan Dahle of Big Valley-Bieber has secured the No. 1 seed.
Dahle has won six tourneys and placed third at the Tim Brown. He is ranked seventh in NorCal, but earned the top seed over No. 5 Max Gipson of Sutter. He had a better outcome against a common opponent (Central-Fresno's Andrew Valdez).
The seeding barely matters. Both are far more accomplished than the rest of the division, and any dispute will be settled in the finals.
Sutter is the overwhelming team favorite. The Huskies have top seeds at 113 (No. 2 Jimmy Heryford), 120 (No. 5 Billy Thornton), and 160 (No. 8 Zac Hancock).
Elite section talent is also listed at 126 (No. 6 Callum Kremer of Chester), 132 (No. 9 Rocky Raby of West Valley-Cottonwood) and 138 (No. 9 Mere Chavez of Chico).
There's more at 170 (No. 9 Ethan Owenby of Durham), 182 (No. 7 Bobby McCoy of Chico), 220 (No. 5 Jacob Christiansen of Durham) and 285 (No. 8 Ben Allen of Chico). Anderson's Joe Carillo, Taylor Hyatt (Durham) and Briston Luschinski (Central Valley-Shasta Lake) are also tough at 285.
Dallas Stevens, another Del Oro transfer now at Gridley, is the No. 2 seed at 126. He will have difficult quarterfinal (Anderson's James Canfield) and semifinal (Pleasant Valley-Chico's Jake Mora) opposition on a potential path to the finals.
Other stout No. 2 seeds include Connor Edwards (West Valley) at 120, Chase Montgomery (Lassen-Susanville) at 113 and Zach Soto (Chico) at 160. The battle for second-place at 220 should be fierce, and feature Mark Sulzer (Red Bluff) and Travis Tedder (Sutter).