Sac-Joaquin Realignment: All Shook Up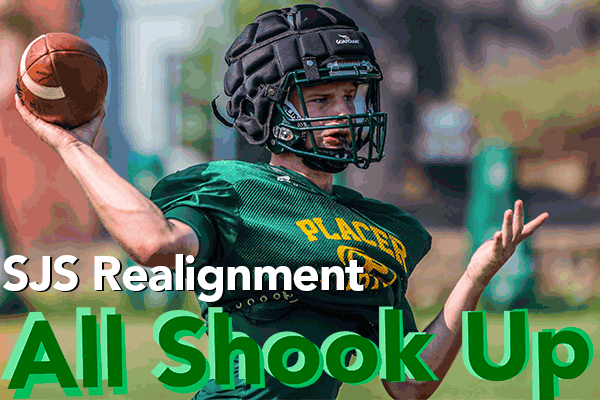 Placer's Move To Div. III-Size Foothill Valley League Among Storylines In Sac-Joaquin Section Realignment •
Michael Stuck had to crane his neck and shout to be heard on the Placer High practice field Aug. 1. 
The Auburn school's three-year quarterback kept such a furious pace during conditioning that his teammates were grouped either well behind him, or about to be lapped in front of him.
This didn't keep the 6-foot, 180-pound senior from motivating both groups as the Hillmen wrapped up a high-intensity practice in scorching heat, underneath an ominous sky stained with the smoke of northern fires.
Exhausting dedication to the gridiron is nothing new for Placer. Yet the eager energy chasing the 2018 Hillmen goes beyond the lore of one of California's finest medium-school programs.
The Hillmen are changing scenery after a 50-14 12-year tenure in the Pioneer Valley League. That stretch included six straight conference titles (2012-2017). Placer is one of 47 Sac-Joaquin Section schools (about 25 percent) to swap conferences via realignment. Placer ditches rivals from the PVL to face larger schools in the newly-formed Foothill Valley League. The new league is all Div. III schools while the PVL was primarily Div. IV-V
Hillmen players, coaches and fans will have an opportunity to show their school-wide dominance was not a product of an enrollment advantage. Placer battered the PVL on their way out, winning 17 of the 22 league championships across all sports last year.
Placer now sports the fifth-lowest public school enrollment of all SJS teams in Div. III. Once the second-largest team in the PVL behind Lincoln, Placer is easily the smallest school in the FVL.
"I love it," Stuck said of the move. "The PVL was a good league for us, and we did our business there. But I kind of got sick of everyone complaining about school size in that league.
"Now that we are the small school, everybody can shut up and we can win."
The wins are coming. Stuck is one of 17 returning starters on a Hillmen squad that went 13-2 last season. The team won league, section and NorCal championships before falling 46-43 to Crenshaw-L.A. in the CIF Div. 4-A state championship bowl game.
Aside from Stuck, Placer returns its entire offensive line (including two Div. I-committed players), three top-tier running backs and three all-league defenders.
"Our potential is through the roof," Stuck said. "Last year we never hit our full potential, though we did come close. Most of my own improvement has been in the weight room, and I also went to a camp in Oregon."
"I think we will make it far," Oregon-commit Joey Capra added. "We have been talking about this year, when we were all going to be seniors, when we were still in peewee (youth football)."
The FVL consists of Lincoln, Oakmont-Roseville, Ponderosa-Shingle Springs, Rio Linda and Nevada Union-Grass Valley. Nevada Union was a program that bested Placer last year.
"I think it's going to be a great challenge for us," Placer coach Joey Montoya said. "There is something to the great unknown."
SFL Monopoly
Section officials have made the Sierra Foothill League top-to-bottom among the deepest and most prestigious large-school conferences in Northern California. Realignment will add Grant-Sacramento and Whitney-Rocklin to SFL-mainstays Folsom, Del Oro-Loomis, Granite Bay, Oak Ridge-El Dorado Hills and Rocklin. The eight schools have claimed 38 section championships between them and appeared in eight recent CIF State Bowl games, winning five.
"It's a beast every week," Del Oro coach Jeff Walters said. "We welcome the addition of Grant and Whitney, and it makes what we believe is arguably the strongest league in Northern California that much stronger.
"Every week is going to be a battle. That definitely helps going into the postseason, having that week-in, week-out preparation locked in."
Private vs. Public
Among the loaded conferences in Division III, the SJS has used realignment to generate a sort of trial run in the public-private debate. The Capital Athletic League has three athletically prolific schools (Capital Christian-Sacramento, Christian Brothers-Sacramento, Sacramento) with distinct open enrollment opportunities, competing against four public schools (Del Campo-Fair Oaks, El Camino-Sacramento, Rio Americano-Sacramento, Vista del Lago-Folsom).
Critics of the SJS and those who allege recruitment by private schools have long called for conferences, divisions and brackets that could contain private school powers. The new-look CAL offers a small glimpse of that.
Southern Discomfort
James Burns, a reporter and editor who has covered the southern region of the SJS for 20 years, said realignment will never satisfy everyone, but he likes the new map in the south.
"It's never easy seeing rivalries changed or leagues completely eviscerated, but it's the nature of the beast," said Burns, co-founder of 2018 startup FrontRowPreps.com. "The realignment committee had to make a business decision: in order to keep leagues and teams competitive, in order to balance competition and school size, they had to shuffle teams and create new leagues.
"Given the circumstances and the challenge of it all, I believe they've done a great job."
The southern region of the SJS has bulldozed the landscape of long-standing conferences, dropping the Central California Conference into Division III (with the addition of Central Valley-Ceres and Patterson). Turlock and Pitman-Turlock, both former CCC teams, are in the newly formed Central California Athletic League (Division II) along with Modesto schools Downey, Enochs, Gregori and Modesto.
"I'm excited to see what comes of the Central California Athletic League," Burns said. "It promises to be a power conference right out the chute with Turlock and Pitman joining the best of the old Modesto Metro, and hopefully, a thorny schedule will make the south a player in the large-school playoffs."