SportStars' #CoverMadness Championship Winners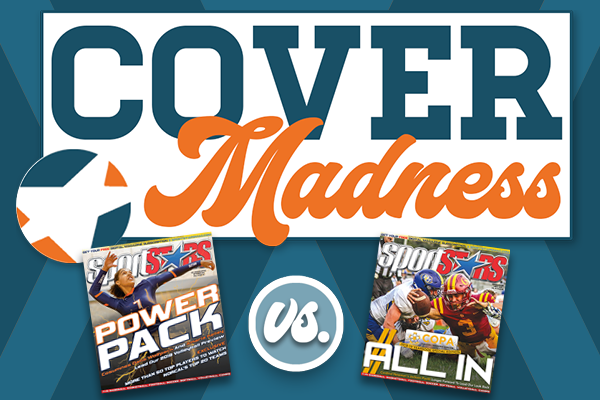 #CoverMadness Championship: A Fan-Powered Tournament To Select The Top Cover From SportStars Magazine's First Decade Results In Co-Champions After More Than 185K Votes •
SportStars will turn 10-years old on June 10, which has us feeling quite nostalgic. So for part of our celebration, our editor and production manager sifted through more than 300 covers to select 32 favorites. We then seeded a field of four 8-cover regions, called it #CoverMadness and turned things over to the fans. After 195,000 votes were cast over four days of semifinals, the #CoverMadness Championship reached 185,000 over approximately 18 hours.
The #CoverMadness Championship was set up to be a Best-Of-3 Series based on unlimited voting over three 12-hour periods. It would feature our Sept. 2018 cover of Cosumnes Oaks-Elk Grove volleyball standout, Amaria Kelley, and our June 2019 cover with Cardinal Newman-Santa Rosa football's Jackson Pavitt out front.
Game 1 on Saturday, May 30, went convincingly to Amaria Kelley and her supporters. Game 2 on Sunday, May 31, broke the system, literally. Our voting software crashed two separate times in the first six hours as both athletes topped 50K votes. When the second poll crashed, Kelley's cover led by just 360 votes.
Not wanting to crash yet another poll, the event was postponed for two days while we worked with the voting software company. On Tuesday morning, we learned that unlimited voting would no longer be an option. To start a new voting method would've meant scrapping the first 100K votes of Game 2. Also, naming Kelley the winner after just six hours instead of 12, didn't seem right either.
So after speaking with both athletes and getting their support — we are naming both winners of the #CoverMadness Championship. We will be featuring both covers with an article in the upcoming 10th Anniversary Issue releasing June 10 here at SportStarsMag.com. Have a look below at the two winning covers.
_______________________________
#NEVERSTOP STAYING CONNECTED:
Follow SportStars on Twitter & Instagram | Like us on Facebook | Subscribe!
_______________________________ 
DELTA REGION CHAMPION: Amaria Kelley (Cosumnes Oaks-Elk Grove VB), Sept. 2018
Kelley, a 2-seed, was the highest seed to win a region. She emerged from a bracket that featured our overall-No. 1 seed Najee Harris from 2016. Support for the former Cosumnes Oaks star and current Fresno State Bulldog has only grown in each round. After pulling more than 100K semifinal votes, she enters the #CoverMadness Championship as the one to beat. PATH TO FINALS: d. Darius Thomas (St. Francis-Mtn. View Track) 2015, d. Austin Jones (Bishop O'Dowd-Oakland Football) 2017, d. Carter Harris (Elk Grove Football) 2019, d. Chase Saldate (Gilroy Wrestling) 2020. 
LAKE REGION CHAMPION: Jackson Pavitt (Cardinal Newman-Santa Rosa FB), June 2019
This 4th-seeded cover is already an accomplished winner, having won a fan vote to determine our best cover of 2019. It may be our best game action photo cover ever. Support for this cover has been steady throughout as well. The semifinal result was never really in doubt. PATH TO FINALS: d. Alex Van Dyke (Cosumnes Oaks Football) 2013, d. Jake Browning (Folsom Football) 2014, d. Navid Khamush (Dublin Soccer) 2016, d. Daniel Susac (Jesuit-Carmichael Baseball) 2020.