St. Francis Senior Addie Wallace to Join Villanova Soccer Program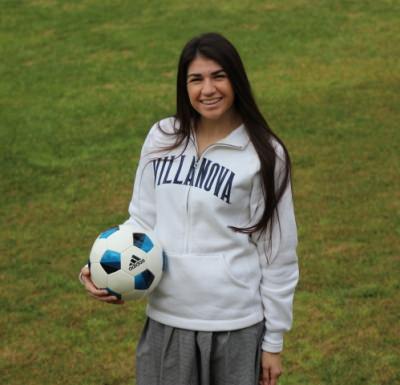 SACRAMENTO, Calif. "" St. Francis senior Addie Wallace will sign a National Letter-of-Intent to attend and play soccer at Villanova University next fall. She will participate in a ceremony at St. Francis Wednesday morning at 9 a.m.
 "I really liked the school and coaches," said Wallace about her recruitment to the Philadelphia school.  "It has been nice to know where I was going especially since I love the school."
 Wallace initiated her recruitment with the "very prestigious school" during her sophomore season. The Wildcat staff saw her play at both Surf Cup and in a tournament in Las Vegas. After a visit to the campus, she was sold on her future and the Wildcat coaches were just as impressed.
 Wallace, an Elk Grove product, will play for Head Coach Fran Kulas, who is entering his second season directing the program and fifth overall at Villanova. The Wildcats play in the competitive BIG EAST and are coming off a 5-10-4 season.
 "I really like that they have a roster of 22," said Wallace of the small roster size. "I feel like I can get playing time and the whole team travels. I really liked the coach. He is really good with the girls and protective."
 Wallace, who was also recruited by Notre Dame among other schools, plays center back.
 "I am really well known for my communication," said Wallace. "I talk the whole game. I can read the game before it happens."
 Wallace, who will play for St. Francis this season, plays for Bay Oaks as part of the East Bay United soccer club based in Oakland. It is a commitment that requires her to travel to the Bay area Monday and Wednesdays. She plays with another local player, Kyra Taylor of Franklin, who is a commit to UC Riverside.
 "At first it was a little difficult because it was during my freshmen year I decided to go there," said Wallace, who likes to hang out with friends and go to the beach and boogie board in her free time. "It has been fairly easy. I do homework in the car and have learned the great value of dedication and commitment. I really do love my team. It was worth it."
 Wallace, who has played soccer since the age of four, plays for U15-U18 director Jon Nishimoto. She has played for the club for five seasons.
 "Addie has the ability to lead the team," said Nishimoto. "It is her greatest asset. She has done a great job making her teammates better around her, while bringing her own athletic ability to the game. She is extremely fast, a hard worker and is very skilled and talented. She is a hard-nosed defender who is not afraid to go in for a tackle and sacrifice herself for the team."
 Wallace, who is a team captain this year for Bay Oaks, has helped her team to a No. 9 national ranking and three state championships (2011, 2012, 2013). They finished in first place in the United States Youth Soccer Association (USYSA) National League in 2013 and placed third at the USYSA National Championship in 2013. The club recently was a 2014 Surf Cup semifinalist and 2014 USCS West Regional champion.
 "Addie has improved greatly over her time with the club," said Nishimoto. "She has made great strides from the first moment she stepped on the team."
 Wallace is captain and a leader for a team that includes players on the U.S., Czech, Mexican and Philippine national teams.
 "Addie's commitment has been incredible," said Nishimoto. "It has been great to watch and see the growth in her leadership ability. It extends from her commitment and dedication. We know the sacrifices Addie and her family are making to be part of our team."
 Wallace will play for the St. Francis soccer program this year and hopes to have an impact on the team.
 "I hope to bring a new level and I feel like I can bring something to the team," said Wallace, who last played for the school as a freshman. "I really hope we can win our league especially against big teams like Davis and Franklin."
 Wallace will sign her National Letter of Intent on Wednesday, Feb. 4 and is one of eight potential Troubadours expected to sign with college soccer programs. St. Francis will host a celebration at the school Wednesday morning at 9 a.m.