State of Baseball Playoffs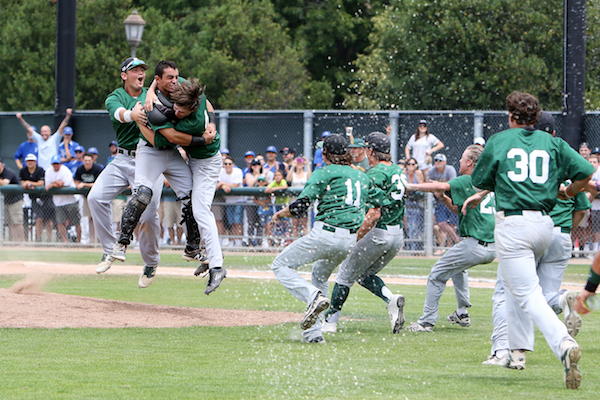 CIF Could Be On the Cusp of State Championship Event For Baseball •
The last official CIF state baseball championship was in 1922 in Los Angeles as Sacramento High blanked Franklin-Los Angeles 3-0. San Diego High won the year before over host Chico and also won titles in 1918 (the first one) and 1920. The only other school to win a CIF state baseball title was Oakland Tech, which topped Fullerton 2-1 in 1919.
Since the Boras Classic began seven years ago it's been a stated goal that it becomes an unofficial state championship.
There haven't been enough elite teams entered in the Boras Classic to truly make it a de-facto state championship. But, it has helped create momentum for regional and state playoffs to happen within a few years. During a recent visit to the CIF state office, one conversation made it seem the state championship is almost inevitable. This also is in keeping with the CIF adding more state and regional championships in all sports.
At Cal-Hi Sports, we've talked to many coaches over the years about the possibilities of state baseball championship. The consensus has always been that the season is already too long. Also, more playoffs with graduation and other activities would be too complicated.
There was a proposal for state playoffs in both baseball and softball for 2020-21 that came from the CIF Central Section. We don't know the details, but before sections weigh in there also could be changes, too.
Is the Season Too Long?
One of the concerns is the season is already too long. It's already been moved up for both baseball and softball — the CIF Southern Section championships are two weeks earlier than before on May 16-17. For a legitimate baseball playoff bracket to get added, it appears it may only require moving it up one more week.
So what would we like to see as the best aspects of a CIF state baseball format? First, let's start by envisioning what the final event should be. That would be a format similar to what they do in Texas, which is bringing the final four teams to one place for semifinals on a Friday and then a championship on Saturday. In baseball, teams can play on back-to-back nights. But you wouldn't be able to have games earlier in the week so that each of the final four teams would have its best pitchers available.
Having a final four format for CIF baseball also would make a lot of sense if the state finals were held in the CIF Central Section. This section already hosts state championships in Clovis (cross country, track & field, swimming) and Bakersfield (wrestling). With a Final Four format, the odds of a team from Clovis or another CF Central Section team being present is greater than just the usual north vs. south final. This could increase the odds of the local fans getting more pumped up for the event.
NorCal and SoCal Regions
The two top-seeded teams from the Northern and Southern California regions also could be rewarded by hosting four-team playoffs. This could quickly whittle down the brackets to just one winner advancing from each event.
Also, there wouldn't be enough time for the playoffs to be double-elimination as in the San Diego and Sac-Joaquin sections. It would be win-or-go-home, which is exciting but in baseball often results in the best teams not winning. We doubt it wouldn't take long for some team to win the title with nine, 10 or even more losses.
All of the complicating factors aside, adding state baseball would make it easier for people to learn just how great California baseball is. As we wrote in an e-book several years back: California is the baseball capital of the world. Some of the stories we'd do would bring up that history prior to the first state championships in 100 years. That would almost be worth all of the effort to get the darn thing approved.