High School Football: STRONG SIDE • Inside Football's Good Fight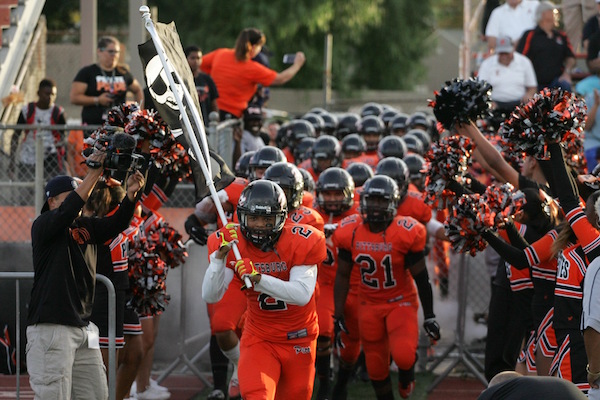 With The Risks Of Playing Driving Society's Narrative About High School Football, Many Teens Still Crave It And Several Coaches Strive To Teach It. We Asked WHY •
Tre Maronic has every reason not to play high school football.
In June of 2016, Maronic sat by his brother Toran's side as the latter laid in a medically induced coma. A freak accident during a non-contact football camp left Toran with a traumatic brain injury so severe that doctors gave him a 10 percent chance of regaining consciousness.
Eventually, Toran awoke, and the road to recovery has been nothing short of miraculous. Not only was he able to resume his lacrosse career as a senior at Bear River in Grass Valley, he is now pursuing his personal training license and has started T3 Charities to provide advice and assistance to athletes suffering from traumatic brain injuries.
But, as Tre sat by his brother's side and even though the story had a happy ending, he had his own choice to make. The game he loved so much brought the world to full stop for both he and his family. While they hoped and prayed for Toran to pull through, the natural question arose.
"I remember sitting in the hospital while he was in a coma and the doctor came in and said he's never going to play sports again," Tre Maronic said. "My parents and I looked at each other and that's when it all kind of hit us. When the doctor left, they asked me what I thought about playing football. I told them there's no way they were going to stop me from playing football, even if they didn't want me to, just because of my love for the game."
Students find high school football for a variety of reasons. For some, the game offers a way out, a path to a college scholarship and a career in the NFL. For others, the bond created by the tough, physical nature of the game forges a lasting brotherhood. And for many, high school football provides a sense of belonging for kids who might not otherwise have a place to feel welcome.
In every corner of California, those reasons continue to intersect on high school football fields in inner cities, rural towns and suburban subdivisions alike. Travel east down Interstate 80 through Sacramento on a Friday night and the lights of Grant High School illuminate Del Paso Heights. Drive down Interstate 880 through San Leandro at the same time and the lights of Burrell Field are unmistakable. 
These are community events more than displays of athletic spectacle. The field doesn't need to feature 11 recruits on offense and 11 recruits on defense to play a part in the fabric of a neighborhood. In almost every respect, individual laurels are immaterial when it comes to high school football's true value in the high school experience. 
Participation in the sport continues to decline, bringing into question the long-term health of high school football. The risks are more well known now than ever. Stories on concussions dominate the sport's headlines, and with advances in technology and more data available, those stories occupy a well-deserved spot in the narrative of an inherently violent sport.
But even with the risks associated, the intangibles that come along with the game of football continue to serve a purpose for thousands of California high schoolers.  
Kevin Macy can talk all day about the intangibles that make the sport worthwhile. He has 40 years of practice selling his program to students and parents. First as a coach in Oakland and now as head coach of one of the state's most consistent winners at Campolindo-Moraga, Macy has long had to play the role of marketer to fill out his roster.
"We tell the parents that it's the first time they're going to see that their boys believe something is important to them," Macy said. "It's a little bit different from other sports. There's an importance that goes with this sport just because of the nature of the game and the way it's played. There are no casual observers in this sport, whether it's parents or the student body."
Macy's pitch to parents might be different now than it was when he coached in Oakland, but the reason for making that speech is largely the same. In his estimation, football still provides a measure of discipline and direction that provides high school kids with benefits that will last long past graduation.
And, he understands the safety concerns that confront the game today, but can still point to Campolindo's continued success as a product of a consistency in coaching that is becoming far less common in high schools across the state.
"There's no short answers to anything, but I would say the community has to see that the kids can compete and stay safe," Macy said. "The intangibles can go on forever but nobody's going to believe those until they believe their kids can be safe playing football. That's going to come through stability in coaching."
As a high school standout at Berkeley High School, All-Big 12 performer at the University of Colorado and nine-year NFL veteran, Hannibal Navies also sees the big picture when it comes to football's value. 
These days, Navies works for The Trust, a program that runs in concert with the NFL Players Association to help NFL players transition to life after football. He also runs 360 Football Academy to provide students with information and resources given to new members of the NFL. 
As an Oakland native who found his way to Boulder, Colorado, Navies has seen firsthand football's ability to act as a social melting pot. The education he received away from the field has provided skills that benefit him professionally and personally today.
"Being able to deal with all kinds of ethnicities and ethnic demographics, different people, and personalities really molded me as a man and allowed me to be able to relate to anybody," Navies said. "Playing football with all kinds of different people and backgrounds, that's what life is. Life is not one set of people. Life is not all white, life is not all black, life is a mixture of everybody and different cultures. That's something that football gave me."
Navies is also able to see football as a means to an end rather than the end itself, which provides a purpose to the game that has little to do with touchdowns or interceptions.
"It's understanding that football is a vehicle and a tool to get you to whatever that next thing is. It's not a finite thing. If you become a Hall of Famer, it still ends," Navies said. "Wherever football drops you off, you have to be willing and ready to understand and deal with that. Let me understand the tools I am gaining from football and all the other things I can take away that will make me successful, not just on the field but in general."
And then there is Tre Maronic, whose love for the game has remained constant through a turbulent past few years. He will go on to play in college after finishing his senior season at Bear River. He points to the community support that brings packed grandstands every Friday night as something he will always remember and appreciate.
For all the Maronic family has been through, what won't ever change is a deep affinity for a game that nearly took everything away.
"I think it's really important for not just me but other people to play high school football. I don't know where I'd be without football," Maronic said. "You're required to have the grades you need, you're required to stay out of trouble. If I wasn't playing football, I could be going down the wrong path. Same with anybody. 
"It makes people mature and disciplined and I think that's a big part of it."