Why We Play: High School Football Players, Coaches Sound Off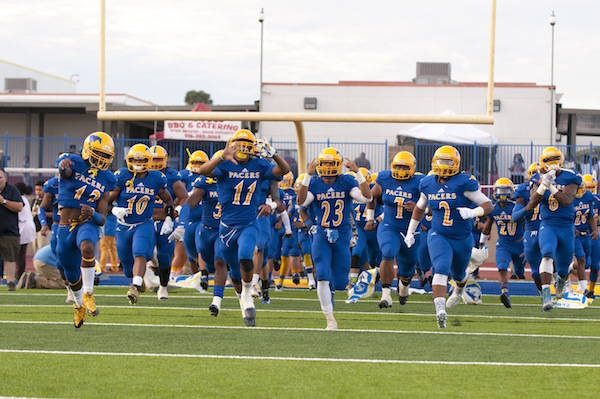 For Our 10th Annual High School Football Preview, SportStars Sought To Find Reasons Players And Coaches Still Embrace A Sport With Obvious Health Risks •
Below is our "Why We Play" collection: A list of responses obtained through the course of our reporting for the main feature of our 2019 Football Preview, "Strong Side: Inside Football's Good Fight" 
WHY WE PLAY
Cameron Skattebo, Rio Linda, Sr.
Why Do You Choose To Play?: "I play the game for love of the game, for school and community, and to get a scholarship. I play the game because I have played it my whole life and grew up around it. I also play the game of football because I would like to receive a free education at the school of my choice. I play for my community because everyone around me in the town I grew up in is very supportive of the accomplishments my team and I have made."
Isaiah Newell, Las Lomas-Walnut Creek, Sr.
What Makes Football Different?: "That's the best thing about this sport. You get to see guys come together and like each other. Some of these guys, if they didn't play football, I probably wouldn't even be friends with them. I probably wouldn't even know them."
Paul M. Rosa, Wilcox-Santa Clara, Sr.
Do You Worry About The Risks? "I've been injured, but I believe you cannot live life scared, and I believe you live life to the fullest. That's what I think. The bonds you make while playing sports, those outweigh any injuries, to me."
What Makes Football Different?: "I love it because it's the perfect team game. If one person messes up, the play doesn't work. It's a bond you will never forget. The guys I am playing with, I will know their names 30 years for now." 
Daniyel Ngata, Folsom, Sr. 
Why Do You Play?: "I play football because I love the game, and because it provides an avenue for me, educationally. It's a way I can provide for my family, because I don't want my parents working anymore. They've worked a lot for me, for all my brothers, going to Nevada, back to California and back-and-forth. So I'm trying to help them find some peace for the rest of their lives. That's my main goal – to not have them work another day in their life."
Do You Worry About The Risks: "I don't think about it, and even if you do – it's football, stuff happens, and stuff can happen anytime. I just try to do everything the coaches teach us — tackling with your head up, and by being careful. I don't think about it too much because the more you think about it, the more scared you'll play."
WHY WE COACH
Justin Alumbaugh, De La Salle-Concord
WHY DO YOU STILL BELIEVE IN TEACHING FOOTBALL: "It's my opinion that football is the ultimate team game. Football is challenging. It's challenging in ways that not all sports are. It challenges you physically, mentally and emotionally, and if forces a team to truly come together in order to be good at it. And I think that part is awesome. You have to build a community. Football is unique in that regard … Football makes you work and grow as an individual, and it makes you grow as a part of a community."
WHY THE GAME MATTERS: "New things are happening in our society where there's a lot of me-first. More kids are in front of a screen than ever before. More kids are sedentary. There's a desire for instant gratification that seeps into society. Football goes against that. It requires you to think outside of that. That's why I love the game. I wouldn't be doing it if I didn't feel that way." 
Paul Rosa, Wilcox-Santa Clara
How Do You Convince A Kid To Play Football?: "First, I try not to convince people. This is not a sport you want to go half-in on; you have to really want to do it. If you are going half-speed and or not in it all the way, those are situations when you are going to get hurt."
How Do You Work To Combat The Risks?: "It has changed the game — as it should have, but now it's as safe as it's ever been. But it is still a dangerous sport. At the NFL and college levels it is different, because it is like a mini car crash (because of the pace and speed). So it is not quite the same at the high school level."
Doug Longero, Las Lomas-Walnut Creek
WHY DO YOU STILL BELIEVE IN TEACHING FOOTBALL: "Honestly, the life lessons that you gain from football are different than any sport you're a part of. There's obviously an inherent risk in any sport you play. But I really think the game is at a safer point right now than it ever has been." 
Terry Logue, Bear River-Grass Valley 
Why Do You Still Coach?: "Well, we're idiots. I think it boils down to love of the game. We grew up loving the game and playing as kids. … Coaching is your way of staying with and connecting with the game and connecting with a group of young men that love the game. It never gets old when you come down on Friday night and you've got goosebumps. It never changes when you get that rush and that feeling on a Friday night."
Scott Savoie, Bear River-Grass Valley
Why Do You Still Coach?: "I love football. The negativity that it's getting now in the press really infuriates me. We are changing, adapting, and overcoming in HS football right now. The way we teach tackling and the way we teach blocking has changed. The equipment that we are giving our kids (all Bear River players have helmets with sensors to monitor hits and detect concussions) is way better than anything we have ever had. We baseline test every kid. It's getting a bad rap. We are doing everything we can to protect kids."
Paul Doherty, Folsom
Why Do You Still Coach? "We want these kids to get everything there is out of high school football. High school football has so much to offer in respect to team building, in terms of character building, in terms of work ethic, in terms of accountability. There's a huge lack of accountability, just in society in general these days. So we're trying to tell these kids, 'It's not about the touchdowns. It's not about the offers. It's not about the state championships.' Those things are great, and they're a part of our program, but they're well documented."
Why Is Football Important?: "John Wooden's motto of success is, 'Success is defined by giving your best effort — win, lose or draw.' And if guys can put all of that into a (football) season, and see the incredible success they're going to have — and then see that when they're 28 and put that same effort into a relationship with their spouse, with their kids, with their job, to pursue something at 100 percent, to really buy all-in. They'll see how successful that marriage will be, see how successful your relationship with your kids will be. You're learning those skills in high school football … I don't think you can find that in a chemistry classroom."
Trent Merzon, Oakdale
Why Is Football Important?: "I personally thrive on doing hard things. I love football because it is so hard. Our kids have to embrace accomplishing hard things. Just being there also isn't enough, they must go hard and allow themselves to be driven hard once they are there. Too many leaders in our society ask things of others that they won't don't or can't give themselves; kids see through that stuff. 
"Kids that survive our program know that they are a different kind of ready for the world than other kids. I don't want to just exist, I want to thrive! I want our kids to do the same thing.  Learn to be a small part of a thriving large group, business or family. The world might be changing, but I'm not and I won't. Numbers are decreasing because of poor leadership and a soft society that doesn't know how to grind. Instant gratification or highlight films aren't true measures of successful people. I love football for everything that it brings, even failing because that is as much a part of life as the winning."