Turlock High School Football: Gabriel Cordero's Corps Strength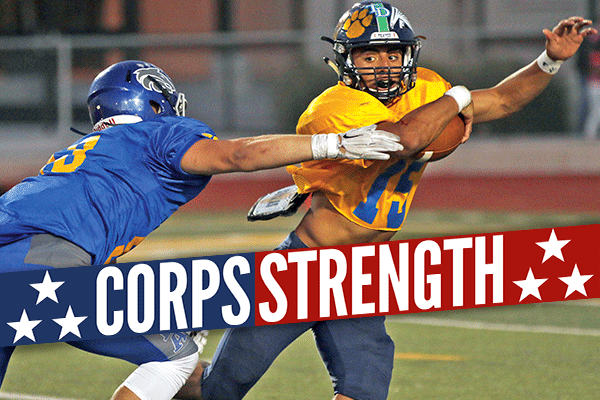 A Two-Way Turlock Football Star, Gabriel Cordero Chose Joining The Marines Over Pursuing To Play At The Next Level •
Despite the braces he sheepishly revealed with wide grins, Turlock High School  football standout Gabriel Cordero was a man amongst boys during back-to-back all-star weekends this summer.
The 18-year-old Turlock High School football grad, who amassed 26 sacks on the team last fall, was arguably the best player on the field during two games featuring elite casts in late June.
Maybe it's because unlike his peers, he isn't pursuing collegiate football glory.
Despite the eager recruitment of college football coaches, Cordero, who set the school record in the discus, harassed quarterbacks at a near-criminal level last fall. And he runs a blistering 4.4-second 40-yard dash. He will serve his country in the U.S. Marine Corps.
A Talker on the Turlock High School Football Team
The 6-foot, 185-pound linebacker and Central California Conference Defensive MVP enlisted in the Marines well before he took the field in the 45th annual Lions All-Star Football Classic at Tracy High June 16 and the 33rd annual North-South Rotary Bob Green All-Star Classic a week later.
Irik Dobbins, an all-star at rival Buhach Colony-Atwater who next will play for the Fresno City College football team, played against Cordero in September, and alongside him twice last month. He saw a completely different player.
"He was in our quarterback's face the whole game. He's a talker — it's his way of getting hyped — so it was a long night when we played Turlock last year," Dobbins admitted.
"I knew he would carry that same energy onto the field in all-star games, but I was surprised to see him carry it even more.
"He was a vocal leader and he was the dude who made the big play or got the defense rolling."
During the Lions Club game, Cordero broke into the backfield for two quarterback sacks, nabbed nine tackles and two fourth-down stops. He even scored the first offensive touchdown on a 12-yard sweep.
All of which made him an easy pick for Defensive Player of the Game.
"He is just a great leader, a great kid and one of those guys that really flourished during camp," Lions Club South coach Frank Marques of Hilmar said. "I'm also just so proud of him for enlisting in the Marine Corps and serving our country."
Cordero's decision didn't shock anyone.
He has long stated his intention to join the Armed Forces, where elite competition will really begin.
"I am anxious to see how the experience behind me compares to others, because I want to stand out," Cordero said. "When officers see me kicking butt, I think it will help me get promoted and get through the ranks. I want to score higher on physical tests, mental tests than anyone else, and I think my athleticism is going to help me."
The Marine Corps knows what it's getting from the Turlock football star too.
"We have seen in Marine Corps physical fitness tests what you have already seen on the football field and in track and field," Marine Corps Recruiter Staff Sgt. Jose Moreira said. "(Cordero) has an ability to feed off competition. If he knows the best time for a sprint workout, he is going to beat it by 30 seconds. If I tell him who has the most pull-up reps, he is going to go for the highest score — if he doesn't get it, he is going to come back for it the next day.
"Even in team dodgeball, he would want to know who the best player was. He would watch video on other kids if he could."
Moreira said the Marine Corps often recruits athletes, but they sometimes lack maturity or decision-making skills. He expects Cordero to bolster the expectations of new recruits.
"The Marine Corps bases new policies and physical fitness requirements on guys like this. Those who set the bar and prove what people in his age bracket can do," Moreira said. "It's what makes the Marine Corps tougher, harder for years to come, and that's what makes recruitment so special.
"One day I will take this uniform off, and I will be glad to know guys like him have got it from here."
Cordero's drive is unmistakable.
It's what excites his Marine Corps recruiter. And it provides relief to family and friends who have supported his decision for years.
They are a big part of his process.
"It's hard work, but when you join the Marines, it's about much more than yourself," Cordero said. "I am serving my country. Also, I know my family is safe, and I am actually involved in that."
Cordero has three older brothers and one older sister. His parents are Turlock residents Ana Maria Cordero and Carlos Cordero.
He plans to help the family when he finishes his time in the Marines.
"I love Turlock High School football. But I don't really have any money, and I was getting injured a lot," Cordero said. "I needed something I could fall back on, and the Marines became the perfect way to go."
Cordero said he has one reported concussion, but estimates he sustained four during his career. He didn't hold back in full-contact games this June, but was glad he didn't pick up his fifth in an all-star uniform.
He expects to be healthy when he begins a 13-week Marine Corps boot camp Oct. 9.
Cordero said he will return home briefly before getting his shipment date and deployment information.
He signed a four-year commitment with the Marines, and anticipates a bevy of job opportunities when he finishes his service.
"I am thinking I will be a combat engineer, out in the field working on pipelines, building bases, diffusing bombs, or an aviation electrician, working on mounted aircraft," Cordero said. "And it's not only the health benefits and the job opportunities when you get out. It's the reputation and the hard work that comes with it."
Cordero thanked his Turlock High School Football and all-star game coaches for their leadership.
His coaches all saw the same trait in him, and so have the Marines.
All that's left to practice is the "Oorah!"
Vote NOW: 2018 Football Preview Cover Vote