US Synchronized Swimmers leave You Hungary for More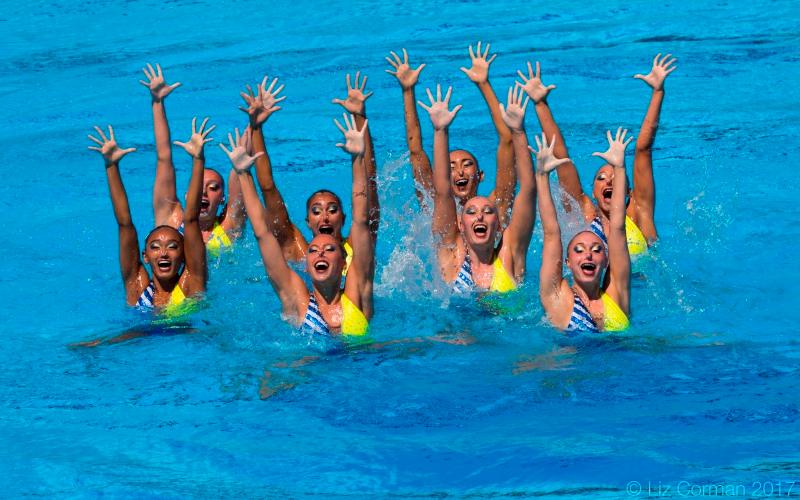 Team USA placed 11th in the team tech preliminary Tuesday at the FINA World Championships in Budapest, Hungary. (Photo by Liz Corman)
California Swimmers Dominate as US Finishes 11th overall in Team Tech at FINA World Championships  
BUDAPEST, Hungary – The U.S. synchronized swimming team finished 11th in the team technical final Tuesday at the FINA World Championships.
Team USA scored 82.8546 points in the final after scoring 82.1080 points in the preliminary on Sunday. Russia won gold with 96.0109 points, followed by China (94.2165) and Japan (93.1590).
"They had some elements better than in the preliminary," said Myriam Glez, USA Synchro's executive director and high performance director. "We're happy to have improved our score."
Competing in the team tech event for Team USA were: Elizabeth Davidson (Northridge, Calif.); Nicole Dzurko (Monte Sereno/Los Gatos, Calif.); Rachel Jager (Williamsville, N.Y); Jacklyn Luu (Milpitas, Calif.); Louisa Strutynski (Carmel, Calif./Calgary, Alberta); Karensa Tjoa (San Jose, Calif.); Natalia Vega (Guaynabo, Puerto Rico); and Monica Velazquez-Stiak (Phoenix, Ariz.). Alexandra Suarez (San Diego, Calif.) and Victoria Woroniecki (Palm Coast, Fla.) were the reserves.
Team USA will compete in the team free prelim on Wednesday.
Also Tuesday, Anita Alvarez and Victoria Woroniecki placed 11th in the duet free preliminary with 84.3000 points. Woroniecki, at 16, is one of the youngest swimmers in the competition. They advanced to the final on Thursday.
"They had a good swim. Victoria has improved a lot, and this program fits them better than tech with more power and energy," Glez said.
Russia's Alexandra Patskevich and Svetlana Kolesnichenko, who won gold in the duet tech final, placed first with 96.6333 points. 
For more on the FINA World Championships, go to https://www.fina.org/event/17th-fina-world-championships.
2017 FINA World Championships Synchronized Swimming Remaining Schedule
All times local
Wednesday, July 19
11 a.m. – Solo Free Final
7 p.m. – Team Free Prelim
Thursday, July 20
11 a.m. – Duet Free Final
7 p.m. – Free Combo Prelim
Friday, July 21
11 a.m. – Team Free Final
7 p.m. – Mixed Duet Free Prelim
Saturday, July 22
11 a.m. – Free Combo Final
7 p.m. – Mixed Duet Free Final
For more information on USA Synchro, visit http://www.teamusa.org/USA-Synchronized-Swimming.aspx, facebook.com/usasynchro and @usasynchro