SportStars All-City "V Award 2018" Denner Party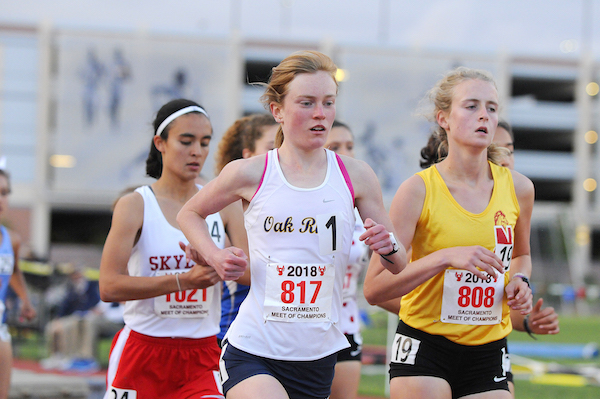 Oak Ridge Senior Maddy Denner Has Established Herself As One Of The State's Strongest Girls Distance Runners
Winning a race often takes more than speed or an ability to quickly cover distances. Strategy, mental preparation, and conditioning are just as essential, if not more important than physical training. Oak Ridge senior Maddy Denner possesses the mental and physical stamina to outlast the competition.
It's why she's the V Award Winner and the SportStars 9th All-City Female Athlete of the Year sponsored by the ARMY.
"Maddy applies her intelligence and analytical thinking to training and running," said John Mansoor, Oak Ridge distance coach and a former coach of college and Olympic athletes. "She has a calculating nature. She knows what works well for her, and sticks to it."
What has worked well for Maddy Denner — and twin sister Elena Denner — is winning races. Maddy was the 2017 Sac-Joaquin Section Masters Champion and CIF State Track and Field Champion in the 1,600 meters. She was also second in the 3,200 meters at the SJS finals (to Elena) and in the CIF State final (to Malibu High School's Claudia Lane).
Maddy turned the tables on Lane in April with a victory in the 3,200 at the Mt. SAC Relays. The victory— one of only a very few defeats suffered by Lane — was textbook Maddy Denner, according to Mansoor.
"She doesn't let other runners dictate how she runs her race," he said. "She often is mid-pack or back of the pack early in the race, but she stuck to the plan.
"Her signature move is to start punishing people in the second half of the race. She does not have exceptional speed for a sprint to the finish, but she is fast enough to pick off runners one by one."
The win in the 3,200 boosted the hopes of Denner and Mansoor for a rare 1,600-3,200 double at the 100th CIF State Track and Field Championships at Veterans Memorial Stadium in Clovis.
Denner has not only excelled on the track. During cross country season, she posted a fourth-place finish in the SJS Div. I final (two spots behind her sister) and helped the Trojans to the program's first team section title since 2009.
"She is an outstanding athlete and person, as is Elena," said Mansoor. "But what makes her stand out is an incredible work ethic that is rarely seen at the high school level."
That work ethic, along with the section and state championships, landed Maddy a scholarship to continue her running and academic success at the University of Michigan. Elena will also continue her distance running career in the Midwest at the University of Notre Dame.
"I have worked with a lot of Olympic athletes, and she has everything she needs to succeed at the next level," Mansoor said of Maddy Denner. "If she can stay injury-free, then she has the mindset to be a great NCAA athlete and help Michigan win a lot of races.
"I can see her as an All-America runner and one who could do well beyond college."