Vista del Lago Volleyball: Eagles Seniors' Time To Shine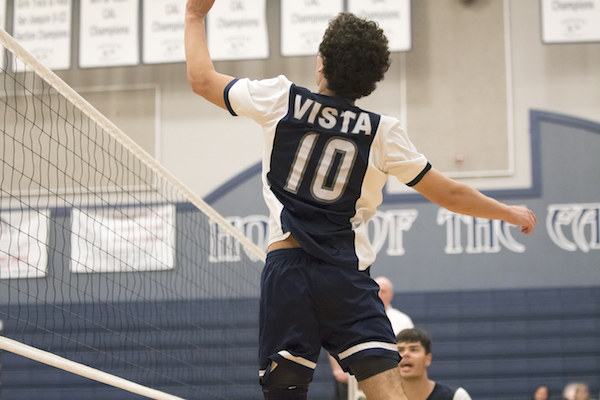 With Five Seniors Leading The Way, Vista del Lago Enters The Sac-Joaquin Section Playoffs Hoping To Party Like Its 2012 •
Timing is essential to success in volleyball. Jump too soon, set too late, or miss a hit or dig attempt by a split-second, and the point is lost. Add up enough of those lost points, and timing can turn a promising season into an early postseason exit. The Vista del Lago volleyball program has been on the right side of timing.
When the Sac-Joaquin Section created a second boys volleyball playoff division in 2011, Vista del Lago was arriving as an elite program. This despite the school's relative newness (the first school year the Folsom school had students in grades 9-12 was 2009-10). The Eagles won the first two Division II championships and advanced to the section final the following year.
Vista del Lago volleyball was regularly recording 20-plus wins and contending for league and section titles.
The program's season win totals dwindled from 24 in 2012 to just 12 in the 2017 season. But a core of sophomores that year — Dominic Baciocco, Noah Silva, Kyle Herbers, Adam Soriano, and Pierce Rexford — began to realize the timing could be just right for a return to greatness by their senior season.
As the SJS playoffs begin in full on April 30, Vista del Lago's veteran-heavy roster boasts a 22-2 record. The Eagles are the No. 2 seed in the Div. II field.
"I credit our rise to our growth as players through increased reps and to just coming to understand our roles on the team," said Herbers, an outside hitter and setter. "We settled into our positions and took pride in making our contribution to the team."
The growth of the 2019 Class has been evident in its play as well as the height chart.
GET MORE: SportStars' SJS Boys Volleyball Playoff Preview
As sophomores, Silva, a 6-foot-5 middle blocker, was the team's third option on the offensive attack. Herbers was a middle blocker/opposite hitter that was more of an afterthought for the setter. Silva now stands 6-7 as the Eagles' centerpiece at the net with 180 kills and a team-high 55 blocks. Herbers is now a 6-5 outside hitter who has become a true two-sport star. (Basketball is his first sporting love and primary sport). The 6-6 Rexford ended the regular season with a team-high 198 kills.
While Baciocco is getting back into the rotation after missing the start of the season, the other four seniors all have at least 140 kills. Junior setter Blake Fanshier enjoys a seemingly endless supply of weapons to feed.
With five seniors and six starters with varsity experience, the veteran Eagles have come into their own.
"Noah is the big, imposing captain. Kyle gives the pep talks, and I just bring positive energy to the team," said Soriano, the only four-year varsity player on the roster.
Rexford understands that the seniors form a leadership group that ensures things run smoothly.
"We have a lot of leaders on the team, and most importantly, we hold each other accountable," he said. "We stick together and make sure that there is no slacking in practice and that everyone on the roster is accountable to each other."
That accountability has been evident as the Eagles have lost to just one section foe, El Camino-Sacramento. They eventually avenged that defeat to claim the program's first league championship since the 2012 squad won the Sierra Valley Conference title en route to a section championship. The 2019 league title was Vista's first as a member of the Capital Athletic League.
The league loss and a tournament loss to Heritage-Brentwood, a North Coast Section Div. I power, both provided inspiration and instilled confidence in the Eagles.
"At Heritage, you could see the banners and that they had almost all D-1 prospects on their team," Silva said. "Even though we lost, I pointed out to our guys that we put up an awesome fight against a great team."
"When we saw that we could play against that level of competition, we realized how high our ceiling was."
The ceiling for Vista del Lago is the Eagles' first SJS Div. II Championship since 2012. Despite being seeded behind Nevada Union-Grass Valley — a longtime Div. I contender that's returned to Div. II due to decreasing enrollment — Vista del Lago is confident.
"We feel we have a real chance to win a section championship and see the opportunity to play a team like Nevada Union as a challenge," Rexford said. "What we have accomplished has been a success already, but we want to finish with a win."
Said Herbers: "We have a tough path to a title, but I have the utmost confidence in my teammates and I to win. We are hungry. And if we stick to our game and maintain our level of play, I believe that we will get there."
And the timing just might be right.