Woodland Christian Softball: Cardinals Of Crush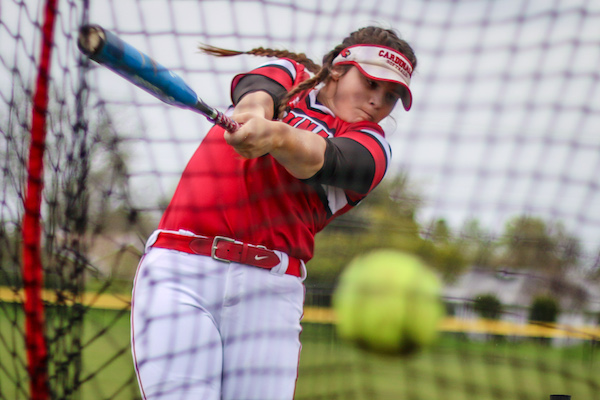 Led By Power Hitting Tandem, Jordyn Hutchins And Anna Pires, Woodland Christian Chases Toward Another Section Title One Longball At A Time •
Coach Jerry Miller doesn't play favorites with his Woodland Christian softball team.
It's not that he appreciates contributions evenly — he does make a batting order after all. He just can't pick his favorite Jordyn Hutchins homer.
Last year's California home run champion and slugging percentage national leader (Maxpreps.com) has just hit too many moonshots.
"I can narrow it down to four," Miller said with a laugh. "I just can't pick a favorite."
His top four:
A home run against violent winds vs. McClatchy-Sacramento

A longball that nearly rolled to the baseball infield at Foresthill

A four-bagger that cleared Woodland Christian's treeline. It was discovered on the street over 300 feet from home plate

A clutch dinger against Millennium-Tracy in last year's Sac-Joaquin Section championships, which Woodland Christian won
"Her contact is incredible, how it creates backspin," the Woodland Christian softball coach said. "She just hits line drives and fly balls that carry. She generates a ton of power and incredible bat speed.
"It's been really fun to coach her."
Hutchins led the state as a sophomore by belting 18 home runs in 25 games. She also grabbed 18 doubles and three triples, creating that remarkable 1.885 slugging percentage that more than 100 points higher than the National No. 2.
"It's about discipline, being selective," Hutchins said. She had seven home runs on the season through April 11. "I make sure I have full potential to drive the pitch."
She opened 2019 with five home runs in her first seven games. She also has great motivation to keep knocking balls over the fence — her best friend and classmate, Anna Pires.
"Anything that we do together becomes competitive," Hutchins explained. "We will even compete to see who can get the best grades, which has been nice for our academics."
"I think growing up together we have truly tried to make each other better," Pires added. "I think it's preparing us for college ball."
Hutchins has committed to play at Stanford, while Pires will compete for Sacramento State.
Until Hutchins homered in a 10-0 shutout against Encina Prep-Sacramento on April 1, the two were deadlocked at four home runs apiece.
"Those girls were friends long before they were ever on a high school team together, and they really have each other's backs," Miller said. "It's been a lot of fun coaching them."
After 16 games, Pires led Woodland Christian softball in runs (19), hits (20) and doubles (7). Hutchins led the Cardinals in average (.576), homers and RBI (23). The two are separated by no more than three in all of those statistical categories but average. Pires is hitting .526 but has played in three more games than Hutchins (who missed a few due to travel ball). The Cardinals began the week of April 15 with a 13-2-1 record.
The two combined for 98 hits, 84 RBIs and 93 runs last year.
"I just go out there and try to hit the ball hard," Pires said. "I'm just lucky to have the group of girls that we have to play with and we have such a great coaching staff."
Despite a school-wide enrollment of just 210 students, Woodland Christian sports a steady softball roster of 14 players, graduated only three players from last year's SJS championship squad, and will only lose three more seniors this season.
Best of all, Hutchins and Pires are coming back.
"We are really blessed by the quality of kids that we have," Miller said. "It's a fun group, and it doesn't hurt when you have a couple of Div. I athletes on the team either."
Miller won the school's first section championship for softball in 2015. That was in Div. VII. Last year the program won its first banner in Div. VI, and can begin creating some dynastic tendencies by repeating that feat in 2019. With his top players coming back in 2020, the Cardinals could be forced into a higher division by 2021.
It wouldn't be a wild jump considering Woodland Christian beat Div. III No. 4 playoff seed Pioneer-Woodland last season. The Cardinals don't play a particularly beefy schedule, but could get tested in the postseason by the likes of Millennium, Stone Ridge Christian-Merced (2018 Div. VII runner-up) and Foresthill. The Wildfires may have the best pitching staff among the section's small-school programs.
Having two of the best hitters in the state will help any struggles at the plate, but it's a focused effort when Woodland Christian is at bat.
"We need everyone on the team to sustain rallies," Miller explained. "Teams can pitch around one person."
The approach is also different for high school play. Like the rest of their peers, Hutchins (Universal Fastpitch) and Pires (All-American Sports Academy) play high-level travel ball during the summer.
While prep stars may enjoy a more relaxed regular season in high school, travel ball requires even more discipline at the plate, with the ability to suddenly pull the trigger.
"Sometimes you may only get one pitch to drive," Hutchins explained.
The travel ball success is what earned the Woodland Christian softball sluggers their college scholarships. Experiencing that journey together has made the duo even closer, but not so close that their competitive nature will be stymied by Stanford vs. Sac State softball games.
When asked if she would feel bad about belting home runs over Pires' head in a college game, Hutchins said "absolutely not."
"I would make faces at her around the bases," Pires added. "I might say something like 'Did you just see that? Because I saw that.'"
Home runs are hard to miss. It's how a school of 210 students can make so much noise.
Ready For More NorCal Softball Coverage? GET IT HERE