Zach Larrier: Monterey Trail's Three-Sport Star Hits TOP GEAR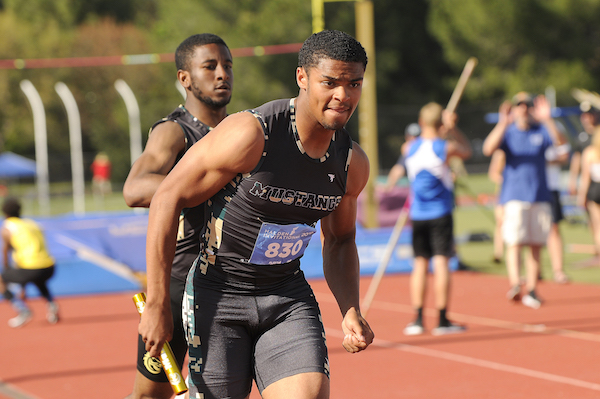 Monterey Trail-Elk Grove Senior Zach Larrier Has Blazing Fast Speed, And Zooming Toward Even More Hardware •
Everything in Zach Larrier's life is fast.
From the gridiron to the track, the classroom to his life at home; there are times when it's all a blur. In the fall, his alarm is set early for football conditioning. In the winter, he's moved on to basketball season and he's working on his jumper at night. When spring comes, he's setting records on the track. Due to his work habits, Larrier is no stranger to speed.
"Zach is extraordinary," Monterey Trail football coach TJ Ewing said. "He raised the bar for us and was one of the most complete young men we've ever had in our school's history. His work ethic, persistence, consistency and commitment is unparalleled. He embodies everything you need from all student-athletes."
Larrier showcased his track speed this past April at the Arcadia Invitational in Los Angeles. That's where he became the state's leader in the 400-meter race.
After clocking in at 47.1 on the same track in last year's race and taking home first place, Larrier sped up this season to claim a California-best 46.49, yet he couldn't manage to beat Justin Robinson of Hazelwood West-Hazelwood (Missouri). Robinson ran a 46.22. Larrier left the meet with the nation's second-fastest time in the 400 meter dash.
"My goal is to hit 45 at some point this year," Larrier said after that record-setting race. "I was able to knock seven-tenths off my time since competing in this race last year, so I definitely think it's possible."
His track coach Robbie Longan says that 45-second mark has been on their minds and has been a goal for them for a while now. He also knows Larrier is a serious contender to finish the year as a state champion, with a good chance to finish on top in more than one event.
"Zach defines what hard work and effort mean, and how the everyday effort translates to great feats on the track," Longan said. "Being a three-sport athlete, Zach doesn't get as much time on the track early in the season, so he has been grinding every day to hit these times at very competitive meets."
This past week, Larrier helped Monterey Trail claim the CIF Sac-Joaquin Section Championship banner in Div. II as he took home first place in the 4×100 relay, the 4×400 relay, the 200 yard sprint (21.78) and the 400 yard dash (46.7). The three-sport athlete's accomplishments are starting to pile up, and just in time. Larrier will be the top seed in the 400 when the SJS Masters Championships open May 17. He'll be the third seed in the 200, just 27-hundredths of a second back of Ryan Mulholland's (Del Or0-Loomis) top qualifying time of 21.51. Barring injury, he'll enter the 101st CIF State Track and Field Championships on May 24-25 at Buchanan High's Veterans Memorial Stadium in Clovis.
But for Larrier, life in the classroom is just as fast.
Courses at Monterey Trail last just nine weeks. That's less time than collegiate semester (13-15 weeks) and quarter systems (10 weeks). Just four days after he potentially competes in a state final, he'll need to complete a few finals on campus.
"You have to learn at a fast pace, especially for a math class or a Spanish class. You don't get a lot of time for studying," Larrier pointed out. "But it's something I'm used to."
Larrier was a state-qualifier in track and field last year as a junior and came close to earning first place in a handful of events. In fact, he battled through a 104-degree temperature at the state meet and still managed to complete all of his events. Nothing was going to stop him from racing that day.
"Of course (I raced). It's the state meet," he admitted. "I actually only missed the finals by three, or four-tenths of a second. I was that close."
Unfortunately, Larrier's luck took a turn for the worse. He tore his hamstring muscle in his second-to-last race of the day – the 200 meter dash.
"It was a rough day," he said. "I didn't know it was a tear in my hamstring until later. I thought it was just a strain, so I ran the four-by-four later that day. It was rough. But I still knew it was my junior year. It would have been much worse if it was my senior year."
This was an excerpt of a larger story on Zach Larrier that will run in our June issue scheduled to release on SportStarsMag.com on May 20.