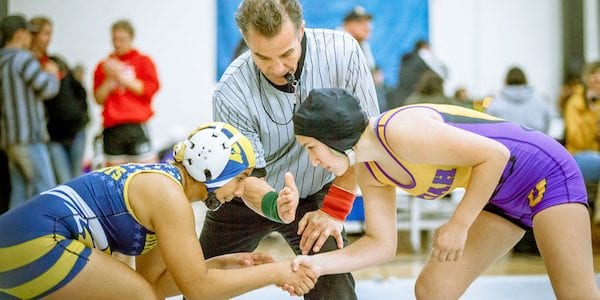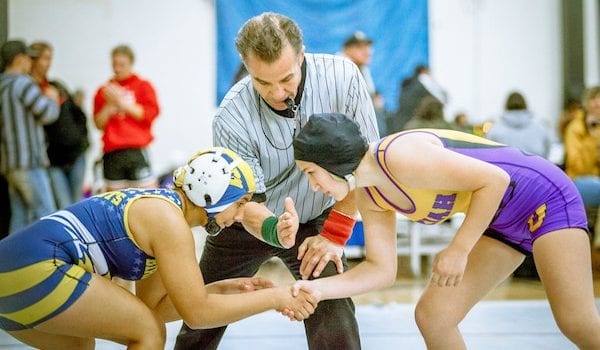 Rocklin's Hardwood Palace will Host Huge Women's Wrestling Event on Dec. 15-16 as both high school and college female wrestlers compete at the Women's...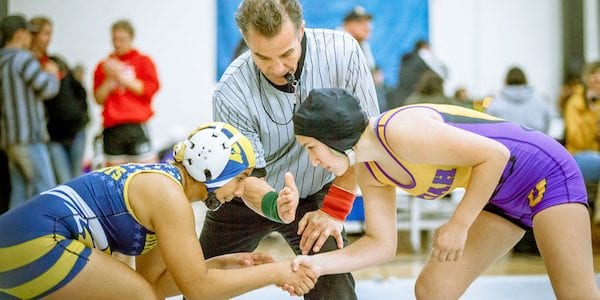 Rocklin's Hardwood Palace will Host Huge Women's Wrestling Event on Dec. 15-16 as both high school and college female wrestlers compete at the Women's West Coast Tournament Of Champions.
The Women's West Coast Tournament of Champions (WWCTOC) is returning for the third installment on Dec. 15-16 and this year is going to be the biggest one yet! This incredible all-female wrestling tournament will take place at Hardwood Palace in Rocklin with a high school and college division. Placer Valley Tourism (PVT) is thrilled to be partnering with Sacramento Area Wrestling Association (SAWA) and Cliff Keen Wrestling, who once again will be the title sponsor, for this exciting event.
The tournament will kick off on Friday, Dec. 15 with the college women wrestlers hitting the mats for their duals. The high school varsity and junior varsity wrestlers will start their competitions that same day. The college open round will take place on Saturday, Dec. 16 and the high school athletes will wrap-up their final individual matches. 
The WWCTOC is the only all-female tournament in the nation that features both college and high school wrestlers plus a college showcase. Coaches will have the opportunity to observe, interact and recruit top female high school wrestlers from the West Coast and the wrestlers themselves will be able to meet with college coaches to gain first-hand insight to many different college wrestling programs and the recruiting process. 
"We have 14 colleges coming out recruiting and 11 of those colleges will also be bringing girls to compete; the WWCTOC has already grown so much in just three years," commented SAWA President Don Martinez III. "Last year we had 42 high schools competing and this year we have 70!"
Adding to the excitement of this tournament is the fact that there will be teams from every section in the California Interscholastic Federation (CIF) participating. Plus the highest ranked girls wrestling high school teams in the state will all be there including: Selma, Birmingham, Del Oro, Enochs, Tokay and Northview. Clearly it will be a fight to the finish to see who will be crowned this year's WWCTOC champion!
The full list of 2017 high schools includes:
Northview     South (Bakersfield)     Helix     Monache     Atwater     Tulare Union     Walnut
Biggs     Pleasant Grove     Lindhurst     Castlemont     Newark Memorial     Edison
Bella Vista     Golden Valley     Ayala     Baldwin High
Amador     Birmingham     Davis     Espiranza     Inderkum     Monterey Trail     Pioneer
Ripon     Santa Teresa     Ukiah     Wheatland     Argonaut     Casa Roble     Del Oro
Franklin     Jesse Bethel     Natomas     Ponderosa     River Valley     Selma     Upper Lake
Yuba City     Bear Creek     Christian Union     Dublin     Freedom     Johnson     Oakdale
Prospect     Rodriguez     Stagg     Valley Christian     Enochs     Benicia     Cordova     Elk Grove
Galt     Lincoln     Oakland     Reed  (NV)     Rosemont     Tokay     Vista del Lago
2016 Team Scores follow.
Team Scores:      (For Individual Results, link here)
1. Selma 162.5     2. Del Oro 149.5
3. Tokay 135.0     4. Birmingham 111.0
5. Benicia 55.0     5. Franklin 55.0
7. Elk Grove 54.0     7. Reed 54.0
9. Johnson 49.0     10. Upper Lake 46.0
11. Rodriguez 35.0     11. Ukiah 35.0
13. Bear Creek 34.5     14. Freedom 31.5
15. Oakdale 30.0     16. Ripon 28.0
17. Vista del Lago 22.0     18. Monterey Trail 21.0
19. Amador 20.0     19. River Valley 20.0
21. Argonaut 18.0     22. Stagg 17.0
23. Jesse Bethel 15.0     24. Cordova 14.0
24. Prospect 14.0     26. Valley Christian 13.0
27. Inkerdum 12.0     28. Lincoln 11.0
28. Ponerosa 11.0     28. Santa Teresa 11.0
31. Espiranza 10.0     32. Davis 8.0
32. Dublin 8.0     34. Casa Roble 5.0
35. Natomas 4.0     35. Rosemont 4.0
35. Yuba City 4.0     38. Galt 3.0
39. Christian Union 0.0     39. Oakland 0.0     39. Pioneer 0.0     39. Wheatland 0.0
Mark your calendars and come down to Hardwood Palace in Rocklin located at 1091 Tinker Road to see these women wrestlers leave it all on the mats!
Our partners at Placer Valley Tourism (PVT) is made up for the 23 hotels in Roseville, Rocklin and Lincoln, California. PVT recruits and supports hundreds of annual events with grants, marketing, volunteers and other services as needed. To learn more about how PVT can help bring your event here, visit www.playplacer.com or call 916-773-5400.