SportStars 2019 Football Preview Cover Vote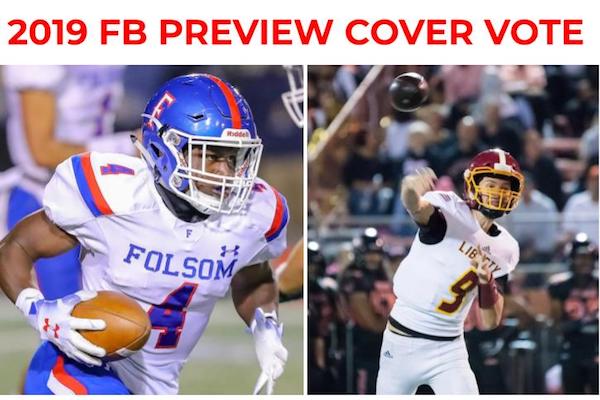 SportStars Football Preview OFFICIAL Voting
Welcome to the 2019 Cover Vote! Tell us who should grace our SportStars Football Preview covers next month.
We'll have our two covers, Bay Area and Sac-Joaquin. So tell us who you believe are the most deserving players for each region. GOT A WRITE-IN VOTE? EMAIL our editor with name and school. Once we receive 10 unique email nominations for the same player, we will add them to the official vote. You DO NOT need to email a vote for a player already featured below. Just click their photo every six hours.
SportStars reserves the right to make the final decision on the covers, but will definitely take the voting into account. 
COME BACK EVERY 6 HOURS TO CAST ANOTHER VOTE!
Voting will close on July 31st, 2019 at 11:59 pm (PST). Your previous votes will NOT be lost. Winers will be revealed when we publish in August.
10th Annual Football Preview beginning August 12th 
Recent High School Football Stories:
North All-Stars Win 45th Charlie Wedemeyer All-Star Game 34-17
Zach Larrier: Monterey Trail's Three-Sport Star
Cast Your Bay Area Vote Below For:
Jay Butterfield | Liberty Brentwood
Shamar Garrett | De La Salle-Concord (DLS)
Fresh Ison | Moreau Catholic-Hayward
Isaiah Newell | Las Lomas-Walnut Creek
Paul M. Rosa | Wilcox-Santa Clara
Cast Your Sac-Joaquin Vote Below For:
Elijhah Badger | Folsom
Aaron Espero | Inderkum-Sacramento
Hans Grassmann | Placer-Auburn
Daniyel Ngata | Folsom
Cam Skattebo | Rio Linda
Follow California National Guard on Facebook, Instagram, and Twitter.