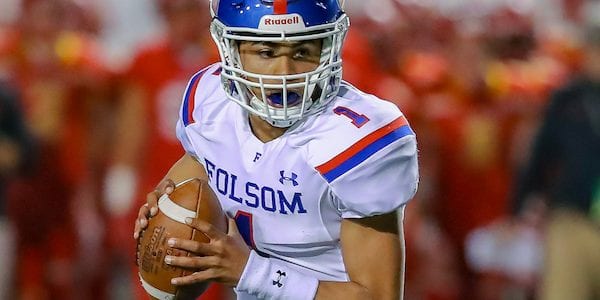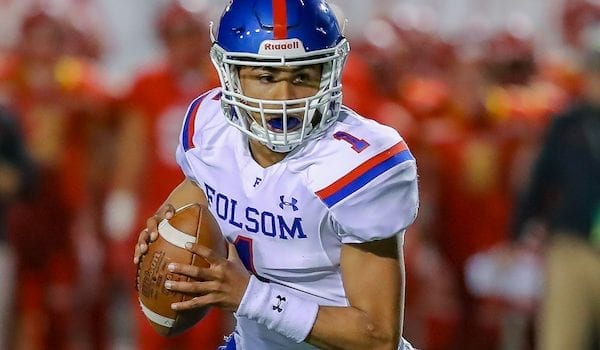 Folsom's Offense Was A High-Octane, Well-Oiled Machine — And The Boise State-Bound Dual-Threat QB Was The Rocket Fuel Making It All Go • No...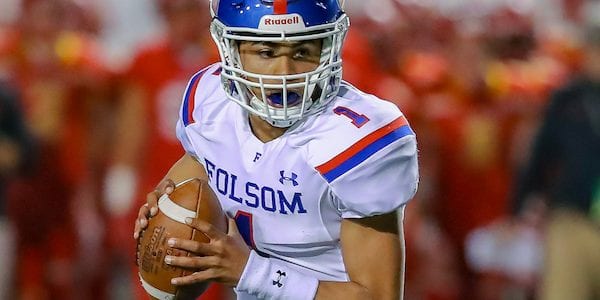 Folsom's Offense Was A High-Octane, Well-Oiled Machine — And The Boise State-Bound Dual-Threat QB Was The Rocket Fuel Making It All Go •
No player was more potent in 2018 than Folsom High's Kaiden Bennett. 
In his second year as the varsity starter, Bennett accounted for 75 touchdowns — second most in the state. He completed a career-best 73 percent of his passes while posting more than 4,000 yards in the air and 568 yards on the ground. 
He accounted for more rushing yards in his career than any other Folsom quarterback (2,137). But he proved he could sling it with the best of them, too. He leaves the school as the second-leading passer all-time (11,049 yards) behind Jake Browning (16,775). Much of that success came in 2018. 
Bennett had his best season in the pocket. He threw for 62 touchdowns and had just five interceptions in 301 attempts. His 19.2 yards-per-completion topped his junior season mark of 16.8. His 148.3 quarterback rating was 18 points higher in that same span.
But beyond the stats and accolades, Bennett was most satisfied with his team's final outcome: A second-straight state bowl championship.
"I felt like I played a big part on one of, if not the best team in school history with our back-to-back state championships," Be
nnett said. "So I feel like that was a big accomplishment for me and that I left my mark on Folsom."
Bennett threw for 261 yards and two TDs and added 137 yards and a third score on the ground against Cathedral Catholic-San Diego in the CIF D1-AA State Bowl. His big night led to him becoming the first player in CIF State history to earn MVP honors in two-straight state bowl games.
"There were a lot of people that doubted us, and didn't think we were as good as we knew we were," Bennett acknowledged. "But I feel like at the end of the season people knew what type of team we were and what kind of players we had."
Bennett is one of a handful of Division I-bound players from this year's Bulldogs' squad. He joined the Boise State program and is one of the few players whose journey is already underway.
"I'm actually already here," Bennett said in a phone interview from Boise. "It's a big jump, but I feel like it's the right jump and the right decision for me."
A three-star recruit according to 247sports.com, Bennett had offers from 11 schools. He signed with the Broncos just a few days after claiming his second state championship ring. 
The transition to Idaho takes Bennett back to his roots. The young QB is originally from Reno, Nevada. Which makes him used to snowy conditions and cold winters. He's training with his new team now, getting set to play against a new level of competition. 
"I'm not focused on the roster or anything like that – I just want to see myself getting better," he admitted. "That's all I'm really concerned with right now – getting reps and preparing for spring practices."
— Steven Wilson
SEE MORE ALL-NORCAL HONORS
Player Of The Year — Sione Vaki (Liberty-Brentwood)
Defensive Player Of The Year — Henry To'oto'o (De La Salle)
All-NorCal Offensive Roster
All-NorCal Defensive Roster