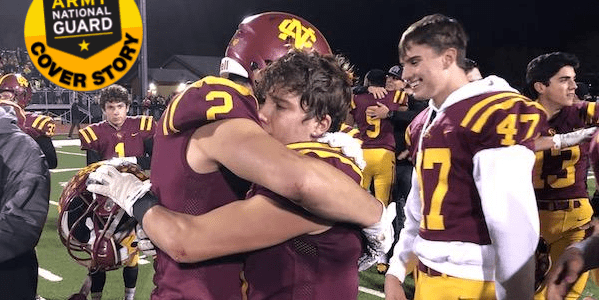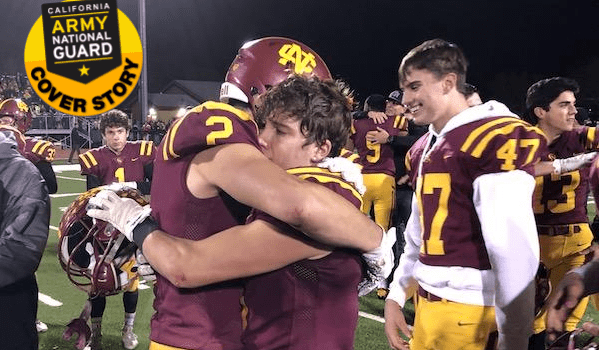 Two Years After The Tubbs Fire, And One Year After A Coin Flip Ended Its Season, Cardinal Newman Football Wasn't Going To Waste Its...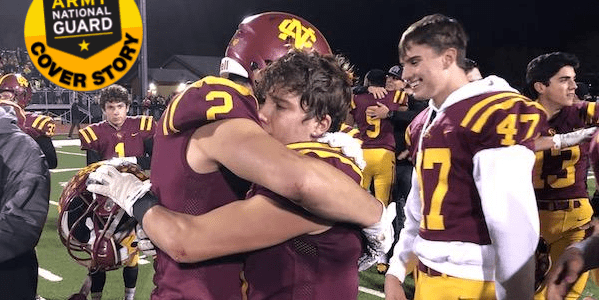 Two Years After The Tubbs Fire, And One Year After A Coin Flip Ended Its Season, Cardinal Newman Football Wasn't Going To Waste Its Shot
Jackson Pavitt stood near midfield teetering on the edge of being emotionally wrecked.
The Cardinal Newman High quarterback had just delivered another one of his signature multi-faceted efforts to lead the Cardinals to their first CIF State Bowl Championship.
"Happy, sad, excited, still a little nervous," Pavitt said ticking off his emotions. "Mostly I'm proud. Proud of my team."
Players, fans and coaches comprised a sea of crimson and gold bliss across the Cardinal Newman football field in the wake of the school's 31-14 CIF 3-AA victory over El Camino-Oceanside on Dec. 14. The 6-foot-2 Pavitt was taking in the scene when another reporter's question snapped him back into focus. 
"What does this win mean to you?," the reporter asked. 
_______________________________
CONNECT WITH US:
Follow SportStars on Twitter & Instagram | Like us on Facebook | Subscribe!
_______________________________
"Me? I have no idea," the senior said with a nervous chuckle. "All I know is I don't have practice tomorrow, and that's a really weird feeling. I'll have to figure out what to do with myself."
It's the type of thing one says after holding a singular focus for as long as Pavitt and the rest of his teammates had. For the past 11 months, this win had been the goal. Some had been grinding toward it even longer than that. 
Since October 2017, Northern California wildfires have seared themselves into the very fabric of the Cardinal Newman football program. 
Pavitt was a sophomore and the varsity's backup quarterback when the Tubbs Fire raged down from the Napa Valley foothills and wiped out entire Santa Rosa neighborhoods, claiming parts of the Newman campus and the homes of 90 students (1 out of every 7). One year later, smoke from November fires in Butte and Solano Counties caused an air quality crisis that wreaked havoc on the North Coast Section postseason schedule. Because time was running out to fit the games in, the NCS was forced to make schools choose: Play for your section title but sit out the CIF State Bowl playoffs, or leave the title vacant and a coin flip will decide who moves on to the CIF regionals.
Cardinal Newman and Eureka opted for the flip. The Cardinals called tails. It was heads.
Newman coach Paul Cronin and his players understood the risks, but chose the coin flip option believing it deserved an opportunity to play for a state bowl title.
"It is what it is," Cronin told the Santa Rosa Press-Democrat at the time. "Knowing that, we chose to go to the coin flip, and we're OK with living with the result."
Which is exactly what Cardinals players did when offseason work began, a little more than a month later. They lived with it. 
"We felt like we didn't get to go out on our own terms," Pavitt said "We had all offseason to work again with that goal."
The Cardinals cruised through the regular season with just one nonleague hiccup, a 17-13 road loss to defending CIF 1-A State Bowl Champion Liberty-Brentwood on Sept 21. The team then won 11 straight to close out its season, including a 13-10 rain-slogged NCS Div. 4 Championship victory over Marin Catholic-Kentfield — a win that avenged a 59-56 NCS finals loss that ended the 2017 team's inspiring story of resiliency.
"You have the fire, and that team battled their tails off," Cronin said. "That was the tightest group we may have ever had. Then the seniors come back and they want it so much, and you have the coin flip. This year's seniors had a great message to the juniors and sophomores."
It was about finishing on their own terms. If the team had its chance for redemption, it was going to be ready. 
"It's been a long two years," senior receiver and defensive back Giancarlo Woods said. "This year, all the hard work and dedication. We did it for those seniors last year who didn't get a chance with the coin flip."
The win over Marin Catholic assured the Cardinals a spot in the state bowl playoffs. The team was placed in the 3-AA division (the fifth-highest of the CIF's 14 state bowl playoffs). It hosted Los Gatos in the Northern regional and built a 35-0 first half lead before cruising to a 42-7 win. 
That set the stage for a state bowl final with El Camino, a San Diego Section champion that reached its showdown with Newman thanks to a six-game winning streak in which it averaged more than 43 points a game. The Cardinals defense forced turnovers on the Wildcats' first two possessions, the second coming on the first of two interceptions on the night by senior Justin Lafranchi. 
The pick gave the Cardinals the ball on the El Camino 23. Running back Shane Moran scored on a 3-yard run just three plays later. 
The 7-0 lead didn't last long. El Camino scored on a 78-yard pass play two plays into its next possession. Then Pavitt's big night really got rolling. He put Cardinal Newman right back on top with a 58-yard touchdown run. 
"We knew when they get in man coverage they're susceptible to big runs, especially if you can make a move on the safety," said Pavitt who rushed for 176 yards and two touchdowns in the win. "When I got in that open field and saw the safety coming over, I knew I had to make a move. I cut inside and things turned out how they turned out."
El Camino tied it once again, but Cardinal Newman closed the half with 10 unanswered points and never really looked back. That was thanks in large part to a defensive effort that held the Wildcats to just 27 total yards in the second half. 
"We play hard every play," Lafranchi said of the Cardinals defense. "We play every snap like it's our last, and we love playing football. We've got to do our jobs, and if we do our jobs it should look like that every single night.
"And to get Paul Cronin his first state championship is a blessing. He deserves that."
Cronin took two other teams to state bowl finals in 2006 and 2008, both losing in tight games.
Every coach will tell you that each team is unique and difficult to compare to others. Cronin is no different, but he had little trouble speaking about the drive of his 2019 squad. 
"They really focused from day one in January," the coach said. "You just knew they were going to play their tail off. You didn't know what it was going to end up like (tonight). It was gonna be a tough game, but you knew they were going to play hard.
"We just had a good group of kids. If you work 11 months at something and really dive your whole heart into it, and the seniors are selling the right message, that's the result you get."
Pavitt's quest for something new to do with himself may start soon. But there's a good chance he slept in the following morning. He and the Cardinals earned it. 
"It's the most hard work I've ever put into one thing in my life," he said. "And to have it come out to something like this, it's just amazing."