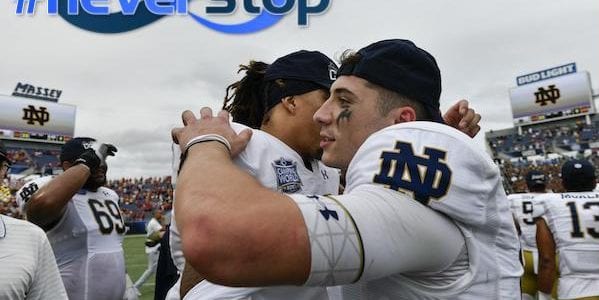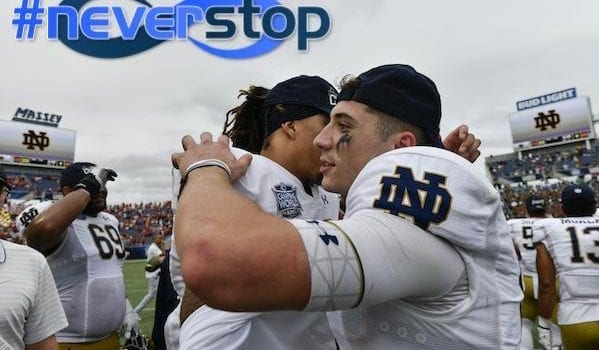 Oak Ridge High Grad And Notre Dame Quarterback Ian Book Delivers A #NeverStop Tip Of The Helmet To Teammates Past And Present • I...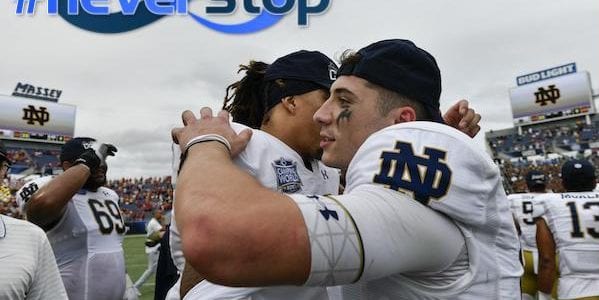 Oak Ridge High Grad And Notre Dame Quarterback Ian Book Delivers A #NeverStop Tip Of The Helmet To Teammates Past And Present •
I have had the opportunity and privilege to play with teammates at Notre Dame that have gone on to play in the National Football League and done great things in college football. Ever since I arrived in South Bend, the bond that was formed with the entire offense was special.
Notre Dame has a great offensive line culture and have sent more than a few great linemen to the NFL. It's obvious to think that a quarterback's best friends are his linemen. They fight to protect you and keep you upright, but they are also some of the best friends that I have made in college.
I also have had the chance to throw to some outstanding receivers in my time at Notre Dame. I've had guys like Miles Boykin, who made the game-winning catch in the 2018 Citrus Bowl. He made more the following season before he was drafted by the Ravens. And this past year, I was able to throw to Cole Kmet, Chase Claypool (pictured at top) and Chris Finke. I believe all of them can and will make an impact in the NFL. Those guys make great catches and great plays, and have been great friends and teammates.
Probably the best friend I made in college was my fellow quarterback and main competition for the starting job, Brandon Wimbush. We pushed each other every day to become the best that we could be and became best friends. We had a quarterback competition, and when things went the way they did, he could have quit. But he showed the kind of guy he is, and always supported me and the team. Our friendship remains strong even now, and he will be a friend of mine for the rest of my life.
Those bonds are special and have made my time at Notre Dame an amazing experience. One beyond what I could have ever imagined. College football and my experience at Notre Dame has exceeded my expectations and grown my love for the game. 
_______________________________
STAY CONNECTED:
Follow SportStars on Twitter & Instagram | Like us on Facebook | Subscribe!
_______________________________
While I am excited to continue to build friendships with my brothers at Notre Dame, there is nothing like the bonds and experiences of high school football. There is nothing like the Friday night lights. Nothing like the experience of playing high school football with some of the best friends that you've had growing up. College football is great, but when it comes to just the pure joy of playing with childhood friends in the fall, nothing beats high school football.
I was lucky to have my three best friends as my wide receivers at Oak Ridge. Kevin Kassis, Brock Martin, and Tommy Dunnigan were my best friends in high school and remain my best friends to this day. Any time I've been home from school, they are here for me to hang out with or throw to.
With the COVID-19 situation I have to stay in California until we are allowed to return to South Bend. Yet, I still have these same teammates to help me train and make it fun. We have a whole El Dorado Hills-Folsom crew working out now. Jake Browning and Josiah Deguara from Folsom High working with us, too.
But it's still the guys that have been by my side longer than anyone outside of my family. They mean the most to me in my life and football journey, and they will forever be my go-to guys on and off the field.
TOP PHOTO CREDIT: Roy K. Miller/Icon SMI via ZUMA Press