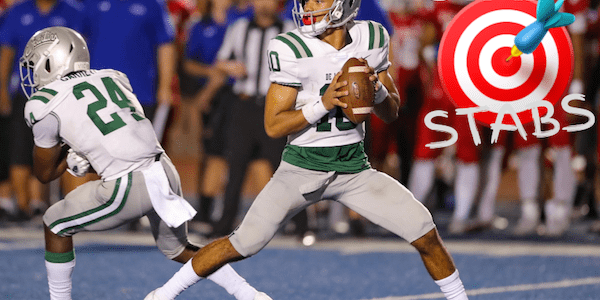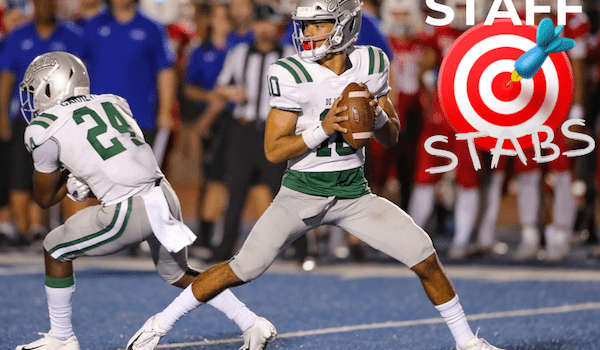 As We All Nervously Await December, SportStars Is Using Each Thursday Of October To Reveal The Early 2021 Football Predictions Of Different Staff Writers...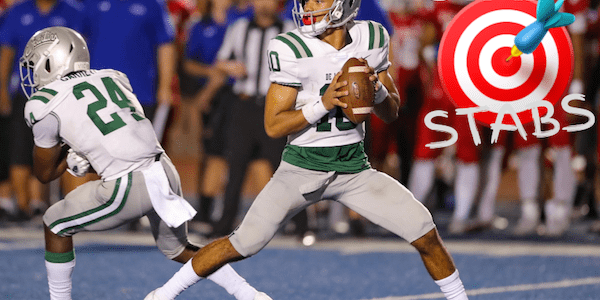 As We All Nervously Await December, SportStars Is Using Each Thursday Of October To Reveal The Early 2021 Football Predictions Of Different Staff Writers •
We've officially entered our NorCal football 2021 Season Preview mode. Because it's not like anything else is happening. So it's time for some early 2021 football predictions.
Before we start our deep research dives for this very strange winter football campaign, we asked some of our writers to take some "educated" guesses on a few things. We're calling the series "Staff Stabs." It will be a mix of lightheartedness and early analysis with the intent of spreading good vibes and conversation about the upcoming season. 
We'll post a new one every Thursday in October. Ike Dodson kicked off the series last week. This week, editor Chace Bryson's takes his turn on the hot seat. Here we go! 
TOO-EARLY PRESEASON TOP 10
1. DE LA SALLE-CONCORD 
Because: This is the way.
No, really though: Led by three-year starting QB Dorian Hale (pictured at top, and more on him later) and two-way WR/DB standout Lu Magia Hearns, the Spartans should have an arsenal the Mandalorian could appreciate. With a handful of new faces in key defensive spots, Hale's offense will be key during a demanding first month of action. Even during winter, the near-30-year unbeaten streak versus NorCal opponents is unlikely to end. When it comes to 2021 football predictions, this was probably the easiest of them. Now it gets dicey.
_______________________________
SportStars NOW
Get the New App in the Apple Store & Google Play
_______________________________ 
2. OAK RIDGE-EL DORADO HILLS
Because: Justin Lamson.
No, really though: I considered four teams for this spot, and only one had a Syracuse-bound 3-star quarterback ranked among the state's Top 100 senior recruits (247sports.com). The Trojans came out of 2019 as the Sac-Joaquin Section's No. 1 team — and there's enough returning starters to give them the slight edge over the immediate teams below. That core of returning starters includes senior All-NorCal linebacker and MIT-offered brainiac Ryan Enney.
3. SERRA-SAN MATEO
Because: Their Saturday afternoon home games may actually carry a climate advantage during a winter season.
No, really though: The Padres finished No. 2 in our final 2019 rankings after narrowly missing out on a second CIF state bowl title in three years. The team's upside starts with dual-threat QB Dominique Lampkin who played a good portion of last season filling in for injured senior Daylin Mclemore. Lampkin completed 70 percent of his passes for 8 TDs while also rushing for more than 400 yards and four more scores. Last season's leading tackler, Fynn Williams, returns to lead a re-loaded defense.
4. MONTEREY TRAIL-ELK GROVE
Because: I'm starting a rumor that members of the MTHS choir are using Zoom meetings to record a version of Wilson Pickett's "Mustang Sally" that changes the title to "Mustang Prophet" for the team's USC-bound speedster, Prophet Brown.
No, really though: There's no slowing that Mustang down. Brown is an electric presence on both sides of the ball, and is arguably his section's fastest player. But he's also not alone. Coach TJ Ewing has a three-pronged running attack that includes Brown, Otha Williams Jr. and Chris Lands. Together, the three combined to rush for more than 2,000 yards, averaged 10 yards per carry and scored 33 TDs. The defense also returns four of its top six tackle leaders from a year ago.
5. CLAYTON VALLEY-CONCORD
Because: Even in winter, and potentially without fans, the Ugly Eagles will win the swagger game.
No, really though: This program has never had a shortage of confidence during Tim Murphy's first eight seasons at the helm. I expect that to ramp up exponentially as the program returns several starters from its first CIF state bowl championship team. Talent plus confidence is an explosive combination, and Murphy knows how to utilize it. Senior QB Jake Kern's passing ability also makes this offense as balanced as ever. Another scary thought for opponents.
6. FOLSOM
Because: My wife is a distant relative of Johnny Cash. And I hear that train a comin'.
No, really though: Key playmakers have moved on, but Stanford-bound QB Ari Patu should help keep any blues away from the Bulldogs this season. Also, a hungry Bulldog seems a lot more dangerous than a full and happy one. Folsom surely didn't like being knocked from its pedestal in 2019, and I really don't think it's going to be happy seeing two SJS teams listed above it here. So, watch out for that train.
7. PITTSBURG
Because: Coach Victor Galli was rejuvenated on an Alaskan commercial fishing boat.
No, really though: Galli, who really did spend part of his socially-distanced summer hauling salmon aboard in the great north, does claim to be refreshed by his involuntary break from coaching. However, his gushing positivity may also be affected by a roster that's overflowing with promising quarterbacks (Eli Brickhandler, Jaden Rashada, Christian Aguilar) and a number of heavily-recruited playmakers.
8. VALLEY CHRISTIAN-SAN JOSE
Because: No team has probably put Zoom to better use due to junior QB Jakson Berman's dad being the online meeting company's president.
No, really though: The Warriors won't just be virtually formidable though. Chase Laubach (900 yards, 7 TD) returns to lead the rushing attack, and Jurrion Dickey is back after leading the team in receiving (541 yards, 7 TD) as a freshman. However, defense has been this program's calling card in recent seasons, so it also helps that LB Will Cuddie (116 tackles, 7.5 sacks) is back to lead the front seven.
_______________________________
STAY CONNECTED:
Follow SportStars on Twitter & Instagram | Like us on Facebook | Subscribe!
_______________________________
9. COSUMNES OAKS-ELK GROVE
Because: You don't put Mater Dei-Santa Ana on your schedule just because.
No, really though: The Wolfpack is good. It knows it's good. And it wants to show how good it is. Will it shock the Orange County national power on Jan. 29? Probably not. Could it upset one of the two previous SJS Div. I finalists (Oak Ridge or Monterey Trail) earlier in January? You betcha. Cosumnes Oaks is flush with playmakers, but it will all start with senior QB Anthony Grigsby Jr.. As he goes, so will the Pack.
10. CARDINAL NEWMAN-SANTA ROSA
Because: I want to look smarter than Ike Dodson.
No, really though: Ike caught a little good-natured flack from Cardinals Twitter after leaving the defending CIF 3-AA State Bowl champs out of his Staff Stab Top 10. He pointed to his reasoning for this being that Newman's need to replace SportStars' 2019 NorCal Offensive Player of the Year, Jackson Pavitt. That's understandable, but there's still plenty of top-shelf talent on this roster. It includes Washington State-bound WR/DB Tsion Nunnally and RB/LB Shane Moran, a Long Beach State baseball commit. Furthermore, a strong returning defensive core will help buy time for the team's new QB to acclimate.
NORCAL SURPRISE TEAM OF THE YEAR: Sheldon-Sacramento
No, we're not confused by the season and think this is a basketball preview. These are indeed 2021 football predictions, and the Huskies have flirted with a breakthrough in recent years. Now they've added new head coach Chris Nixon — the architect of some powerhouse Elk Grove High teams from 2009-2017. He'll have the benefit of his son, Sean, behind center as well.
MOST SUCCESSFUL NEW COACH: Dave Perry, Bishop O'Dowd-Oakland
After close to 15 years of being a valued assistant on championship-winning staffs, Perry has been given the reins to one of the Bay's more prestigious middle-division programs of the past 25 years. Perry was the defensive line coach for the Dragons the past two seasons, which included an NCS title in 2018. However, the majority of his coaching career has been on the offensive side of the ball. He'll start his tenure with a three-year starting QB in Jesse Madden, and also inherits two-way talent Harrison Jenkins.
NORCAL PLAYER OF THE YEAR FAVORITE: Prophet Brown, Monterey Trail
If Brown can repeat or better his 2019 totals of 1,500+ all-purpose yards, 12.2 yards per carry, three interceptions and 18 TDs (scored in at least four different ways) — and Monterey Trail reaches another SJS Div. I final — it would be hard to select anyone else for this award.
NORCAL OFFENSIVE PLAYER OF THE YEAR FAVORITE: Dorian Hale, De La Salle
Three-year starting QBs don't come around very often at De La Salle. When they do, it usually leads to a special season. Bart Houston was the last three-year starter for the Spartans, He accounted for 35 TDs as a senior (16 passing, 19 rushing) en route to leading DLS to 13 wins and the 2011 CIF Open Div. State Bowl title. I expect Hale to come close to matching that kind of TD total, perhaps a few more by air and a few less by ground.
NORCAL DEFENSIVE PLAYER OF THE YEAR FAVORITE: Will Schweitzer, Los Gatos
The 6-foot-4, 220-pound Notre Dame commit can do it all from his outside linebacker position. Last season he racked up 130 tackles while posting two sacks and three interceptions for a Wildcats team that went 12-2 and claimed the CCS Div. II title. There's no reason to think he won't repeat or improve upon those numbers this winter. He may also take on a larger offensive role as well.
PLAYER I MOST CONSIDERED BUT DID NOT LIST ABOVE: JP Murphy, San Ramon Valley-Danville
There's a good chance that San Ramon Valley (7-4 last season) could wind up being the East Bay Athletic League's best team outside of Concord this winter. If that's the case, it will have a lot to do with the play of the two-way TE/DE. The 6-4, 230-pound San Diego State commit was the Wolves' leading receiver and pass rusher a year ago.
CAN'T MISS SEASON-OPENER: Serra-San Mateo at Pittsburg, Jan. 8
There's a very good chance the renowned Pirates Stadium atmosphere won't be present for this one due to COVID precautions. However, those lucky enough to get inside the gates should be in for a treat. There is never a shortage of talent on either of these well-coached rosters. The programs have clashed in nonleague play each season since 2016. The combined score of the first four games: Pittsburg 149, Serra 146.
PERCENTAGE OF CONFIDENCE I HAVE THAT SEASON WILL RUN UNINTERRUPTED: 51
NUMBER OF GAMES I'LL COVER THAT INCLUDE FANS: Most of them, though extremely limited at first. 
NUMBER OF GAMES I'LL COVER IN EITHER RAIN OR SNOW: At least 5, and I reserve the right to be grumpy about it.