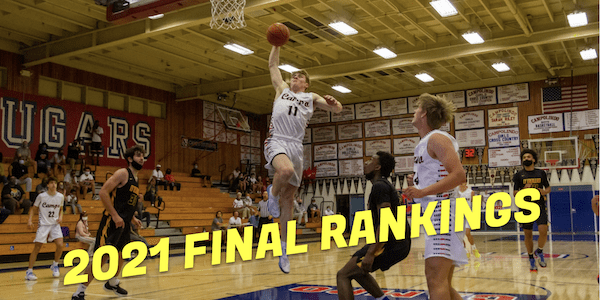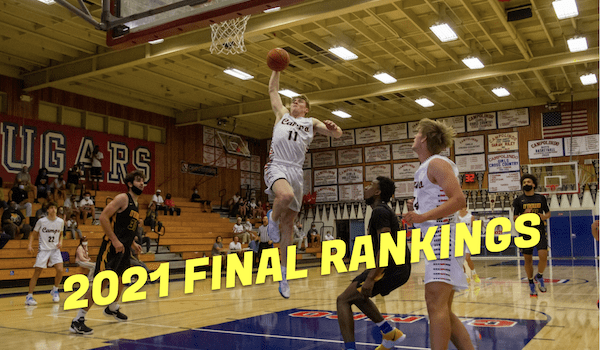 Campolindo, Archbishop Mitty Finish Abbreviated Season As Clear No. 1 And 2 In Our Final NorCal Boys Basketball Rankings • Spring 2021 Final NorCal...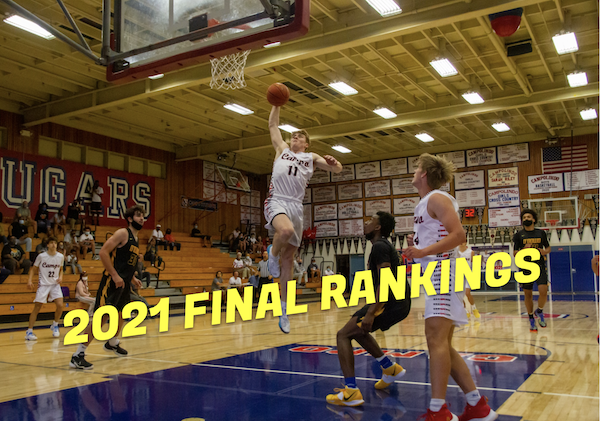 Campolindo, Archbishop Mitty Finish Abbreviated Season As Clear No. 1 And 2 In Our Final NorCal Boys Basketball Rankings •
Spring 2021 Final NorCal Boys Basketball Rankings. Previous rank in parenthesis
1. (1) Campolindo-Moraga (15-0)
The Cougars took over No. 1 in early April and never relinquished it. Of their 15 wins, 11 were by double digits and only one was within five points. Campolindo finished with eight wins over final ranked teams, including four over teams inside the Top 6. With just four grads leaving the program, the Cougars are a favorite to begin the 2021-22 season in this same spot come November.
2. (2) Archbishop Mitty-San Jose (17-1)
After a two-point loss to Capital Christian-Sacramento on May 1, the Monarchs closed the season with 15 straight wins to claim West Catholic Athletic League and Central Coast Section Open Division titles. Mitty defeated final-ranked No. 4 Archbishop Riordan-S.F. in both championship games.
3. (3) Modesto Christian (15-0)
Due to early COVID restrictions, the Crusaders were limited in their ability to schedule any Bay Area or Sacramento powers. However, they were absolutely dominant against the opponents they did face. Modesto Christian won its 15 games by an average of 33.5 points.
4. (4) Archbishop Riordan-S.F. (14-4)
With just two seniors on the roster this spring, Riordan may just very well begin next season as the WCAL team to beat. Three of the team's four losses were to Campolindo and Mitty.
5. (5) Salesian-Richmond (13-2)
The Pride lost its first two games of the season to Campolindo and final-No. 22 Miramonte-Orinda. Coach Bill Mellis's team then proceeded to finish the year on a 13-game winning streak that included wins over No. 8 Bishop O'Dowd-Oakland and No. 12 De La Salle-Concord.
_______________________________
CONNECT WITH US:
Follow SportStars on Twitter & Instagram | Like us on Facebook | Subscribe!
_______________________________
6. (6) Clayton Valley-Concord (12-3)
Frank Allocco Jr.'s first season leading the Ugly Eagles was a clear success. Wins over final-ranked teams included a 63-57 defeat of the Capital Christian team that accounted for Mitty's only loss.
7. (7) Capital Christian-Sacramento (12-2)
A close-contact quarantine for Campolindo in mid-May wiped out Capital's shot at the No. 1 team. However, the Cougars' resume was still plenty good enough to keep them inside the Top 10.
8. (10) Bishop O'Dowd-Oakland (9-4)
Our Preseason No. 1 team got off to a rocky start, but still finished with four wins over final-ranked teams. All four losses were to teams ranked above them.
9. (9) Jesuit-Carmichael (16-0)
Similar to Modesto Christian, the Marauders were also a bit hamstrung by their strength of schedule. Isa Silva and Co. still took care of business every time out and notched wins over three ranked teams, though only one (Elk Grove) finished in the final 25.
10. (8) Dublin (11-3)
After a COVID quarantine delayed their season before it even started, the Gaels' efforts were nothing short of remarkable. Dublin played its 14-game schedule over a 17-day span and went 4-3 against final-ranked teams.
11. (11) Elk Grove (10-1)
Junior Ameere Britton announced his presence with authority this spring, averaging 18.5 points, 6.2 rebounds, 3.4 assists and 2 steals a game for a team that suffered its only loss to Jesuit.
12. (14) De La Salle-Concord (10-6)
Five of the Spartans' six losses — all to final-ranked teams — were by single digits. They were the only team to play Campolindo to within a single possession, losing 56-53 on Cade Bennett's buzzer-beating 3-pointer.
13. (15) Folsom (11-2)
The Sierra Foothill League champs earned early-season wins over Rocklin and Vanden-Fairfield when both teams were ranked. The Bulldogs closed the year with an eight-point loss to Capital Christian.
14. (NR) University-S.F. (13-2)
The first of two teams to save their rankings debut for the final list of the season. University had a double-digit win over final-ranked Piedmont, and its only losses were single-digit defeats against Riordan and Bishop O'Dowd.
15. (NR) Half Moon Bay (21-4)
HMB's season-long resume earned a massive boost over the final two weeks, thanks to the CCS playoffs. The Cougars finished with victories over three section champs, and two of their four losses came against the Open Division finalists.
16. (13) Piedmont (11-5)
Somehow the Highlanders played six games in six days from May 24-29 — with three of the games against final-ranked teams — and managed to go 4-2. That's a good basketball team.
17. (NR) Piedmont Hills-San Jose (18-5)
The Pirates closed the year by winning 10 straight and claiming the CCS Div. I title. One of their five losses was a narrow 66-61 result to Mitty early in the season.
18. (16) Gregori-Modesto (10-0)
After he averaged over 20 points this spring, we're excited to see what 6-foot-2 guard Kyle Monk can do in a full year as a senior next season.
19. (19) Cardinal Newman-Santa Rosa (14-1)
After a season-opening loss to De La Salle, the Cardinals won 14 straight to close the season. Thirteen of those wins came by double digits.
20. (NR) Granada-Livermore (9-3)
The Matadors made a few appearances in the ranks this season, and overtake Monte Vista-Danville as the third East Bay Athletic League team inside the Top 20. Granada had two wins over MV, as well as a late season victory over Dublin.
21. (18) Monte Vista-Danville (9-7)
Coach Nick Jones's squad rode the roller coaster all spring, finishing on a downward tilt with back-to-back losses to Dougherty Valley-San Ramon. However, the Mustangs still earn a spot in the final NorCal boys basketball rankings thanks to wins over Clayton Valley, De La Salle and a good Liberty-Brentwood squad.
22. (NR) Miramonte-Orinda (10-5)
Miramonte forced folks to take notice early in the spring when it upset Salesian 69-63. Three of the Mats' five losses were to Campolindo (twice) and Clayton Valley.
23. (20) St. Joseph Notre Dame-Alameda (9-3)
Though San Leandro snapped the Pilots' eight-game winning streak on the final game of the spring, SJND can still claim an earlier win over the Pirates as well as victories over Oakland Tech and Half Moon Bay.
24. (17) Independence-San Jose (13-2)
The 76ers split with Piedmont Hills in league play and were the top seed in the CCS Div. I field. However, they missed their chance at a third meeting with the Pirates when Homestead-Cupertino upset them in the quarterfinals.
25. (12) Lincoln-Stockton (7-1)
It's awful hard to evaluate a team over just eight games, but the Trojans were rather impressive in their seven wins — which included victories over St. Mary's-Stockton and once-ranked Manteca. The lone loss came against Modesto Christian.