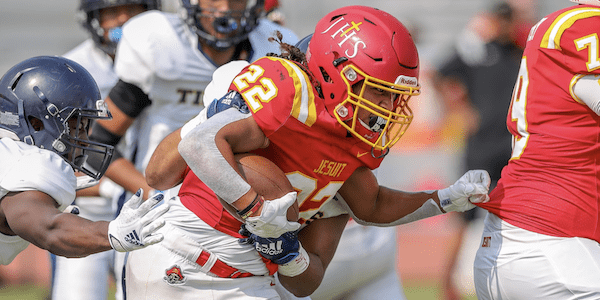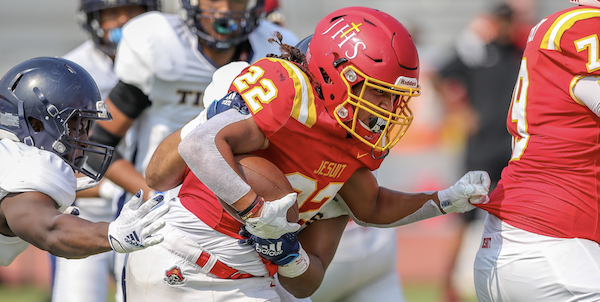 Will A Top Seed Fall? Sac-Joaquin Section Playoffs Capsules And Predictions Highlight The Season's Best Matchups • PICTURED ABOVE: Jesuit-Carmichael All-Purpose Back, Kai Santos....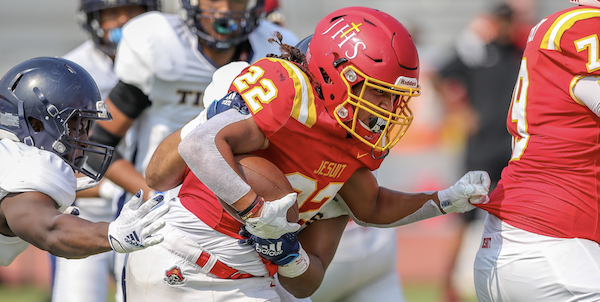 Will A Top Seed Fall? Sac-Joaquin Section Playoffs Capsules And Predictions Highlight The Season's Best Matchups •
PICTURED ABOVE: Jesuit-Carmichael All-Purpose Back, Kai Santos. (David Gershon photo)
The Sac-Joaquin Section football playoffs continue this weekend by adding dynamic semifinal matchups in Divisions I-IV to an already thrilling postseason.
If you end up stunned by any of the outcomes, you just aren't paying attention. SJS seedings have helped land incredibly even matchups in nearly every game, and at least one top seed is predicted to fall in the capsules below.
"In all four of our top divisions, those (semifinal) games could go either way, and in the championships next week, you could say the same thing," SJS Assistant Commissioner Will DeBoard said Tuesday. "It certainly isn't because of what we did as far as seeding goes, but it just seems like teams are a lot more even this year, and honestly it's just a matter of parity.
"It doesn't happen very often, so let's enjoy it."
Teams didn't get here by mistake. They earned practices in mid-November by scheduling tough games, rising to the occasion with game-winning plays and executing better than all the rest.
Below is a deeper look at the top four SJS football playoffs brackets, the storylines behind these marquee matchups, histories of postseason success and the statistics that separate these teams from those already hosting award banquets.
_______________________________
CONNECT WITH US:
Follow SportStars on Twitter & Instagram | Like us on Facebook | Subscribe!
_______________________________
DIVISION I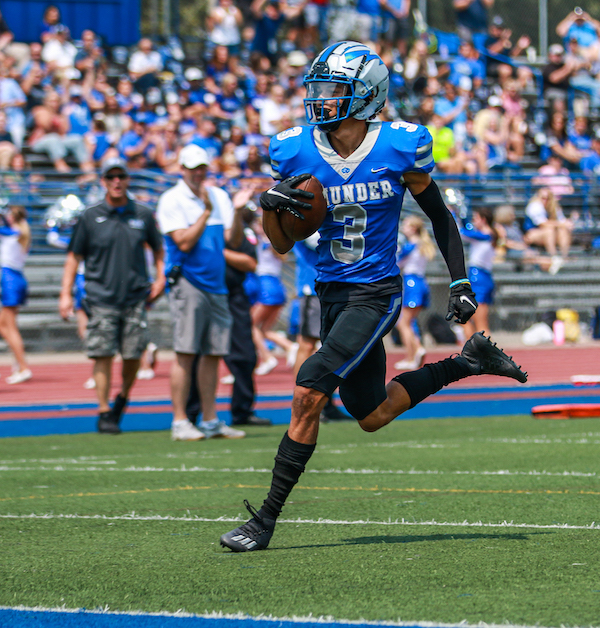 THE MATCHUPS: No. 4 St. Mary's-Stockton (10-2) @ No. 1 Rocklin (11-0), Friday, 7 p.m.; No. 3 Folsom (8-3) @ No. 2 Jesuit-Carmichael (10-1), Saturday, 1 p.m.
KEY STORYLINES: Folsom star quarterback Tyler Tremain returned just in time for Folsom to outlast Lincoln last week, though he did show some rust with three interceptions. Tremain obliterated the Jesuit secondary on Aug. 27 (six touchdowns, one pick), but the Marauders are highly motivated, and have been sensational since that loss. Rocklin faithful are still awaiting the return of quarterback sensation Kenny Lueth (14 touchdowns in his first four games), but it won't be Friday. Rocklin Offensive Coordinator Tim Kenney confirmed that Lueth will miss the match-up against St. Mary's, despite progress made from his Sept. 24 knee injury. The Thunder defense is still one of the state's best, and will give St. Mary's QB-RB duo (Cruz Herrera, Asante Carter) plenty of trouble. Also, the less times Rams RB/WR/KR Jadyn Marshall touches the football, the better off Rocklin will be.
PLAYOFF HISTORY: Jesuit players weren't even born the last time the Marauders won a section title (2002), but top-seeded Rocklin has the fewest titles in this field (just one in 2009). St. Mary's hopes to return to glory for the first time since 2016, while Folsom (nine titles) hopes to reclaim the prestige earned after consecutive championship appearances from 2010-2018. The Bulldogs won seven banners across that stretch.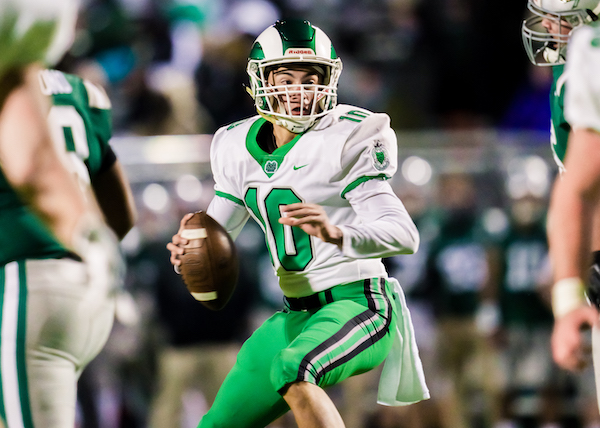 INSIDE THE NUMBERS: Rocklin is second in the state and first in the SJS with 23 defensive interceptions. That's more than any SJS team grabbed in all of 2019. Sierra Foothill League MVP Elias Mullican and Austin Adams have five apiece. Passers beware. You know Folsom quarterback Tyler Tremain, and you should know his twin brother, linebacker Josh Tremain, but did you know their cousin, kicker Jake Tremain, is No. 2 in the section with 70 points scored? That's 6.4 points a game. He's booted field goals in three of Folsom's last five games.
STAFF PICKS: Chace Bryson (Rocklin, Jesuit), Ike Dodson (Rocklin, Folsom), Ben Enos (Rocklin, Folsom)
DIVISION II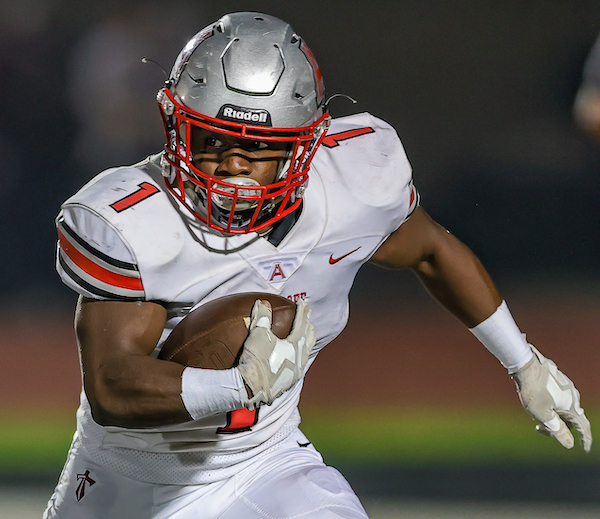 THE MATCHUPS: No. 4 Antelope (10-0) @ No. 1 Central Catholic-Modesto (10-1), Friday, 7 p.m.; No. 7 Monterey Trail-Elk Grove (7-5) @ No. 6 Elk Grove (8-3), Friday, 7 p.m.
KEY STORYLINES: Upsets lofted Elk Grove and Monterey Trail into an unexpected crosstown rivalry semifinal. The Mustangs may sport the lesser seed, but they played arguably the toughest preseason schedule of any SJS team. Central Catholic nearly dropped a game at No. 8 Lodi last week, and will have to play extremely disciplined to not be scalded by Antelope's fiery run or run-pass option offense. The Div. II banner is completely up for grabs.
PLAYOFF HISTORY: With 19 section titles, Central Catholic is the winningest team in SJS football playoffs history. Competitive equity will keep the Raiders in Div. II for at least two more years, and Central can show it belongs by winning its first title in this division since 1982. Across the field — despite 11 straight SJS football playoff appearances — Antelope has never appeared in an SJS title game. Monterey Trail has made four finals, but never won a banner, while Elk Grove looks to defend its 2019 championship in the same bracket.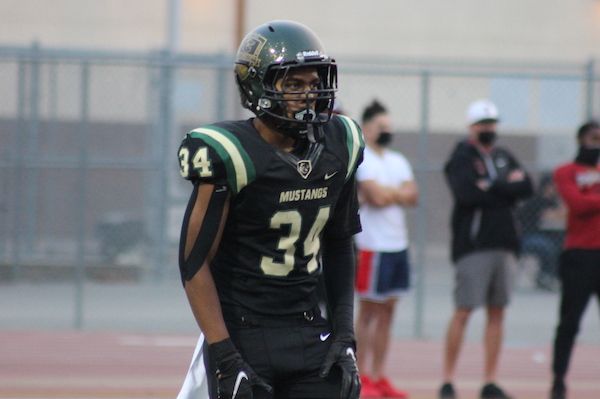 INSIDE THE NUMBERS: This bracket will likely be won on the ground. Five of the top 13 rushers in the SJS are all found inside this bracket, and that isn't including Central Catholic's Julian Lopez, who missed three games to injury, but is just outside the Top 20 in yards per game (113.5) with 13 touchdowns. Lopez and Aiden Taylor (1,425 yards, 26 touchdowns) will hope to out-gain Antelope's Curron Borders (2,039-32), while Elk Grove's Ethan Archuleta (1,451-18) and Zeke Burnett (1,325-26) look to overwhelm Monterey Trail and runner Ali Collier (1,345-21).
STAFF PICKS: Chace Bryson (Antelope, Monterey Trail), Ike Dodson (Antelope, Elk Grove), Ben Enos (Central Catholic, Monterey Trail)
DIVISION III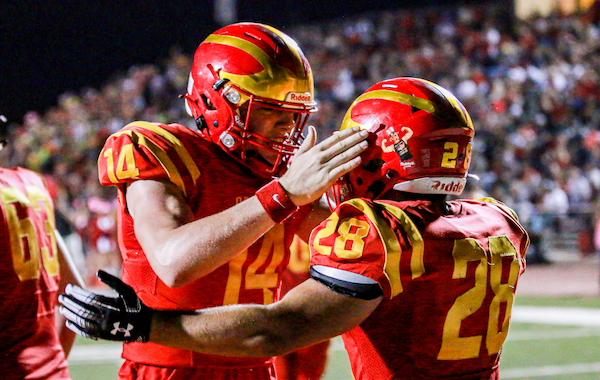 THE MATCHUPS: No. 5 Patterson (10-2) @ No. 1 Oakdale (8-2), Friday, 7 p.m.; No. 3 Manteca (8-3) @ No. 2 Lincoln (8-2), Friday, 7 p.m.
KEY STORYLINES: Valley Oak League stalwarts Oakdale and Manteca could make it a rivalry final, but Lincoln is rolling on the momentum of a game-winning pick six by Jordan Wagner. Manteca bounced Sacramento in the quarterfinals, but the Buffaloes also dropped three straight games to close league play. It's why Oakdale was given the best matchup here, though dual-threat Patterson quarterback Jason Guevarra (division-best 2,394 offensive yards) may be the top player in the bracket.
PLAYOFF HISTORY: Manteca carries the most title prestige here, after bagging seven banners, including three in the past four full seasons. Oakdale appeared in eight championship games from 2010-2019, and is looking for its first title since 2016. Oakdale, Patterson and Manteca all reached the Div. III semifinals in 2017. That year, top-seeded Oakdale beat No. 4 Patterson 63-27 before falling 34-17 to No. 2 Manteca in the finals. Like this year, Oakdale had earned the better seed by beating Manteca in VOL play.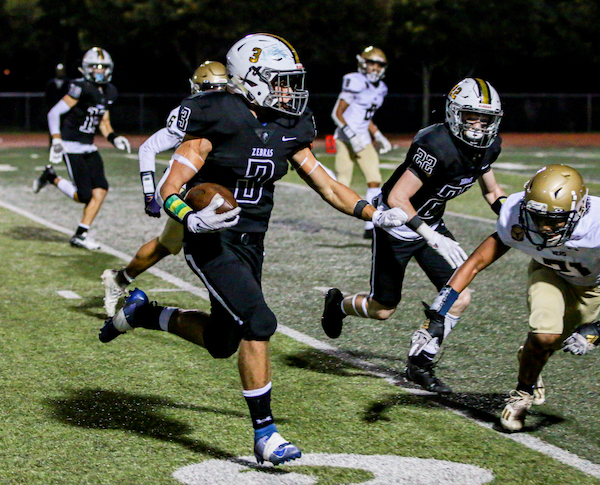 INSIDE THE NUMBERS: Though Folsom's Jake Tremain was mentioned earlier, Patterson's Johan Mendoza sports the most notable leg. The senior was Cal-Hi Sports special teams player of the week on Oct. 19 for scoring 11 points, including a season-long 39-yard field goal. He leads all California kickers with 89 points, is a perfect 5-for-5 on field goals and 74 of 75 on extra points. With 1,906 offensive yards, Manteca running back Blake Nichelson is probably the best runner in the division.
STAFF PICKS: Chace Bryson (Oakdale, Manteca), Ike Dodson (Oakdale, Lincoln), Ben Enos (Oakdale, Manteca)
DIVISION IV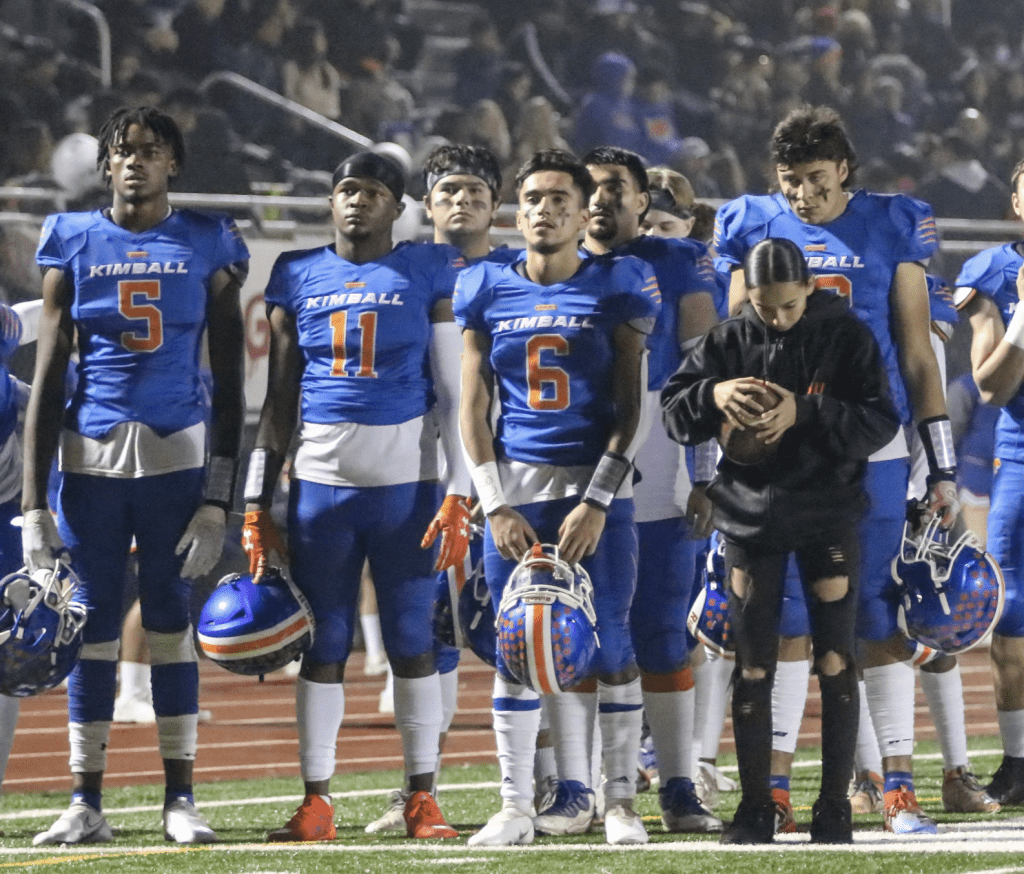 THE MATCHUPS: No. 4 Merced (8-3) @ No. 1 Kimball-Tracy (10-1), Friday, 7 p.m.; No. 3 Vista del Lago-Folsom (8-3) @ No. 2 Vanden-Fairfield (9-2), Friday, 7 p.m.
KEY STORYLINES: Merced has to feel confident after shellacking East Union-Manteca 56-15, just two weeks after the Lancers fell 54-53 to Kimball. Kimball's defense has allowed 50 or more points on three occasions, and could struggle to contain Merced quarterback Seth Scheidt, who had five touchdowns last week. Luckily for Kimball, they do roster the top passer in the state, Nicholas Coronado. Vanden is a dangerous and battle-tested team in this bracket, but so is Vista del Lago. It could come down to the success of aptly-named Vanden passer Tre Dimes vs. Vista del Lago QB-RB duo Jacob Hollingshaus and Tyler Peterson.
PLAYOFF HISTORY: Since last week's 44-32 win over Wood-Vacaville was Kimball's first ever playoff win, beating Merced would give Kimball its first ever SJS finals appearance. Merced was a Div. I SJS powerhouse from 1988-1993, but dwindling enrollment has slowly dropped the Bears all the way to Div. IV. Vanden is perfect in three Div. III title games, but hasn't won a banner since 1995. Vista del Lago has made the playoffs eight times in the last nine full seasons, and must be happy to avoid an Oakdale team that has ended four of those campaigns. The Eagles have never won an SJS title, though they lost one to Oakdale in 2012.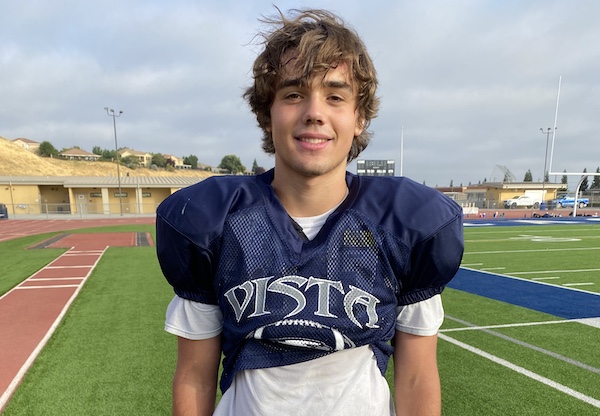 INSIDE THE NUMBERS: Coronado is the sixth-most prolific passer in the country, and can become the best SJS passer since Folsom legend Jake Browning (now on the Cincinnati Bengals' practice squad) if he merely matches his 372-yard average against Merced. To beat Browning's 2014 state record of 5,790 yards, Coronado will likely need to play in four more games (including a CIF bowl game) and average over 423 yards across that stretch. It's unlikely, but not inconceivable, considering Coronado has thrown for 500 or more yards in three games this year, and Kimball is the section's No. 1 Div. IV seed.
STAFF PICKS: Chace Bryson (Kimball, Vista del Lago), Ike Dodson (Kimball, Vista del Lago), Ben Enos (Kimball, Vanden)