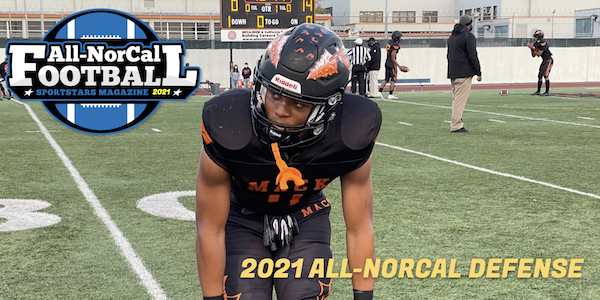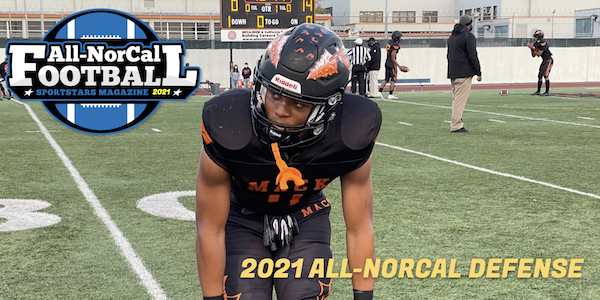 The SportStars All-NorCal Team Is Selected As One 54-Man Roster — These Are The 27 Dudes Who Make Up Our All-NorCal Defense • WANT...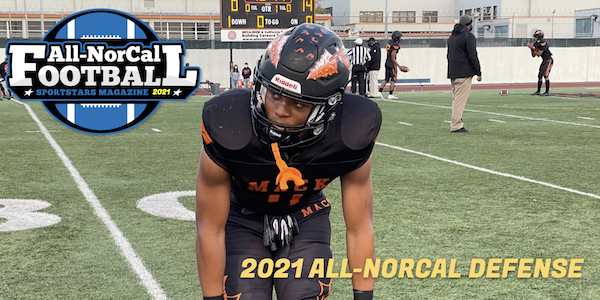 The SportStars All-NorCal Team Is Selected As One 54-Man Roster — These Are The 27 Dudes Who Make Up Our All-NorCal Defense •
There's no first-teams or second-teams when it comes to SportStars' All-NorCal Team. We just build a roster and turn it loose. And these are the guys we're using to stop people. Come at us! This is the 2021 SportStars All-NorCal Defense.
Listed in no particular order.
DEFENSIVE LINE
ORION NULL (Vanden-Fairfield) | Jr.
The Sac-Joaquin Section sack leader (16) went on a furious postseason tear to end his junior season. He had five sacks in Vanden's 56-28 win over Windsor in the D3-AA NorCal Bowl game.
MILES BAILEY (Benicia) | Sr.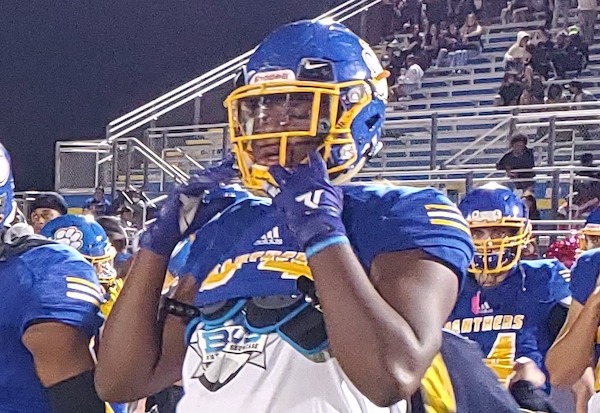 A 6-foot-4, 255-pound terror who impacted both sides of the ball for the Panthers, Bailey is headed to Fresno State after a senior year of 61 tackles, 10 sacks and three fumble recoveries (two returned for TDs)
JJ TOFEANO (De La Salle-Concord) | Sr.
Leader of the Spartans physical defensive front, Tofeano was the Spartans leader in tackles for loss (17) and sacks (7). His 57 total tackles ranked fourth on the team.
BOBBY PILAND (Rocklin) | Sr.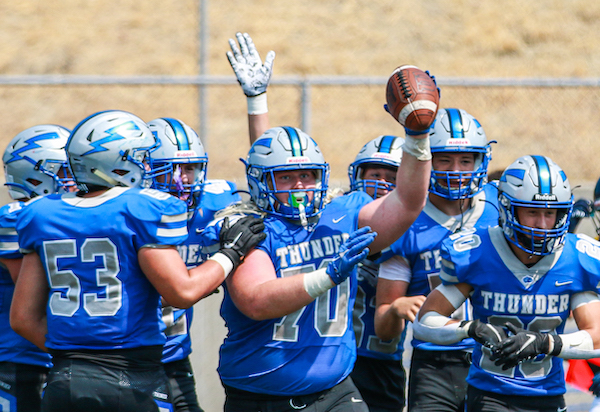 The anchor of Rocklin's defensive line was a driving force behind the section's top defense that rolled to 12 consecutive victories. An Air Force commit, Piland was a regular backfield visitor and helped control the line of scrimmage all year.
KEMOEATU KEFU (Riordan-S.F.) | Sr.
Kefu was a consensus first-team all-region pick among Bay Area media outlets after a dominant season for the Crusaders. He had 60 tackles (40 solo) and 10 sacks.
KAI WALLIN (Jesuit-Carmichael) | Sr.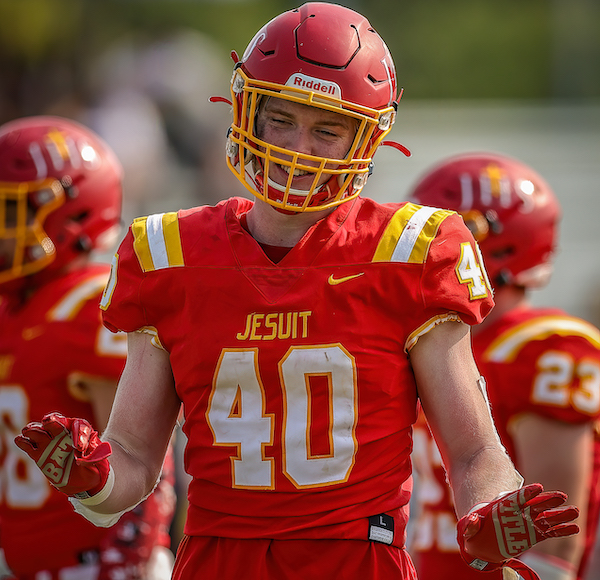 A havoc-causing defensive end, Wallin lands on our All-NorCal Defense after posting 35 tackles (21 solo) and 9.5 sacks. He was also an effective tight end for the Marauders with a pair of TDs on 14 catches.
_______________________________
CONNECT WITH US:
Follow SportStars on Twitter & Instagram | Like us on Facebook | Subscribe!
_______________________________
LINEBACKERS
CAMILO ARQUETTE (St. Francis-Mountain View) | Sr.
A three-year starter, Arquette was selected as the West Catholic Athletic League Linebacker of the Year after serving as the linchpin of the Lancers' league-championship defense. He had 71 tackles, an interception, forced fumble and a fumble recovery.
JOSH TREMAIN (Folsom) | Sr.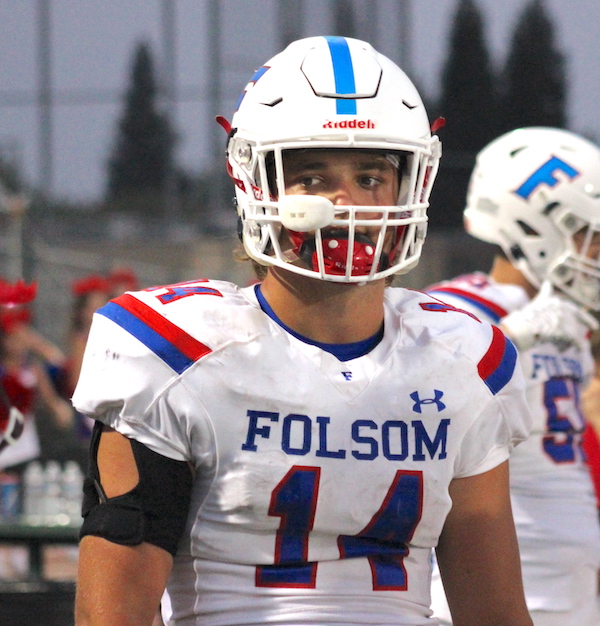 Tremain landed 152 tackles, including 60 during a dynamic performance across a stretch of his last five games. He also led the way with 16 tackles in the CIF Division 1-AA State Bowl game.
DEREK HOUSTON (Rocklin) | Jr.
Houston had 13 tackles for loss, three interceptions and three forced fumbles on the dynamic Rocklin defense. His big moment was a stripped fumble and return touchdown in Rocklin's playoff win over St. Mary's.
JAKOBE HARMON (Pittsburg) | Sr.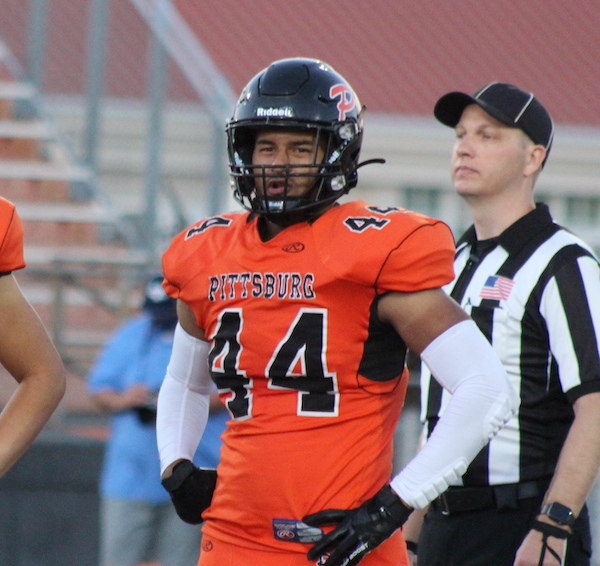 Two-thirds of Harmon's 111 tackles were solo efforts. The unanimous All-Bay Valley Athletic League selection had 12 tackles for loss and five sacks.
AIDAN FLYNN (Salinas) | Sr.
The Cowboys got just nine games in, and Flynn packed those games with 87 tackles and 12.5 sacks. The Pacific Coast League-Gabilan Division MVP was an easy add to the All-NorCal Defense.
PITA VI (Elk Grove) | Sr.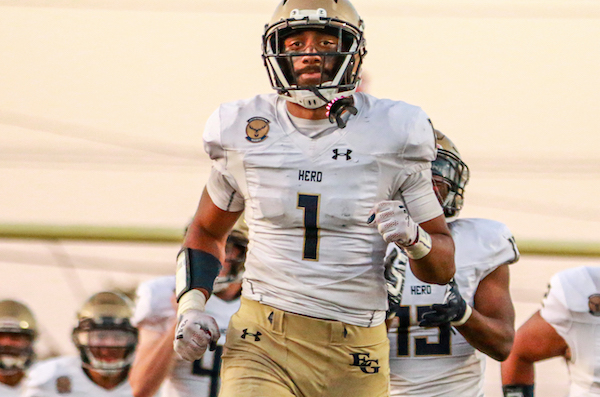 Vi was a sensational attacker on the edge of the Elk Grove line and a constant harassment to opposing quarterbacks. He finished with 10 sacks and returned a fumble for a pivotal touchdown against Sheldon.
JAKE RIPP (Los Gatos) | Sr.
Ripp is bound for Boise State after wrapping up Santa Clara Valley Athletic League De Anza Division MVP honors. He helped lead the Wildcats to a 10-0 regular season with 103 tackles on defense and six TDs on offense.
JORDAN WAGNER (Lincoln) | Sr. .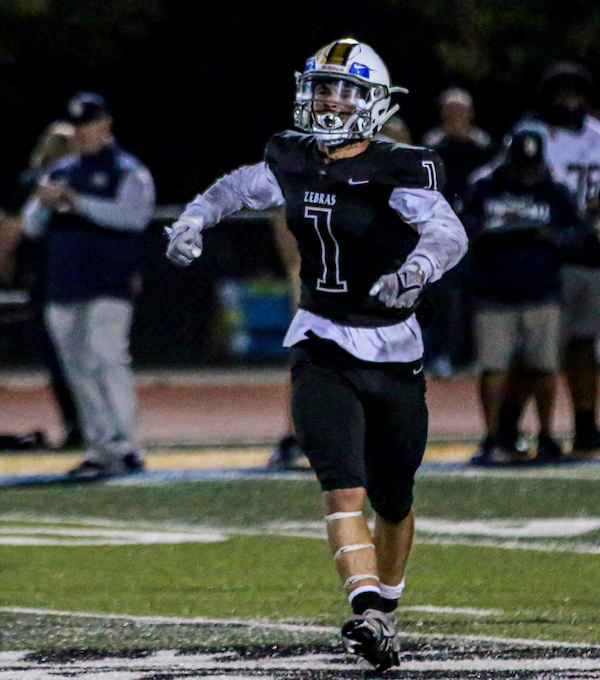 Wagner had 113 tackles (16.5 for loss), 5.5 sacks and two interceptions. His last was a doozy, returned 75 yards for the game-winning touchdown against Christian Brothers in the SJS playoffs.
DEFENSIVE BACKS
DWAYNE MCDOUGLE (McClymonds-Oakland) | Sr.
Shined as one of the senior defensive leaders for the CIF Division 3-A state champs. When not making a mark in the Warriors' passing game, he starred both as a corner in coverage and a run-stopper when lined up as a rover safety in the box.
SIMEON HARRIS (Benicia) | Sr.
Colorado-bound corner made an impact on both sides of the ball but his future lies as a shutdown defender in Boulder. Grabbed two interceptions and had four passes defensed but stats don't tell the whole story as offenses often avoided the 6-foot, 160-pound athlete.
JAMAI EAST (Vanden-Fairfield) | Sr.
His monster effort in the 3-AA CIF State Bowl final included catching both TDs and adding two interceptions on defense. On the year he had 14 TD catches, two kick return scores, three sacks and six interceptions (two returned for TDs)
NICOLAS ANDRIGHETTO (St. Francis) | Sr.
His 61 tackles ranked second on the Lancers, second only to fellow All-NorCal selection Camilo Arquette. He also had two interceptions and caught the game-winning TD in the team's historic win over De La Salle.
SIONE LAULEA (Serra-San Mateo) | Sr.
WCAL Co-Defensive Back of the Year often took away one side of the field as one of the region's top cornerbacks. Allowed just seven receptions and grabbed three interceptions in the regular season before helping the Padres win the CCS Division I title and land a spot in the CIF Open Division bowl game.
ALL-PURPOSE
ZEKE BERRY (De La Salle-Concord) | Sr.
Named as our Defensive Player of the Year for his dominance at safety (35 tackles, 2.5 sacks, 2 forced fumbles and an interception), we list him as all-purpose here for his return prowess (2 kick return TDs), receiving (120 yards, TD) and passing success (4-for-5, 196 yards and 2 TDs)
JADYN MARSHALL (St. Mary's-Stockton.) | Sr.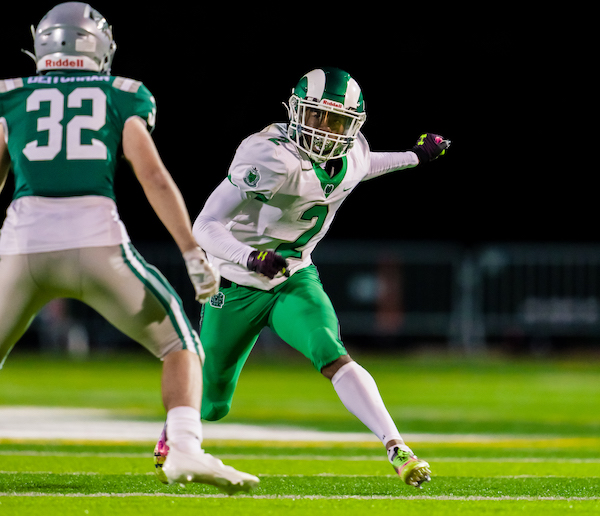 The UCLA-bound sensation had 1,872 all purpose yards and 18 touchdowns and was a dynamo on special teams. His 77-yard kick return touchdown against Rocklin had the Thunder reeling, and nearly sparked an upset. He also threw a touchdown pass.
JAY'VION COLE (McClymonds) | Sr.
Cole was the Oakland Athletic League MVP en route to leading the Warriors to yet another CIF State Bowl title. Cole had 11 TD receptions, five return TDs and seven interceptions on defense.
JUSTIN GUIN (San Marin-Novato) | Sr.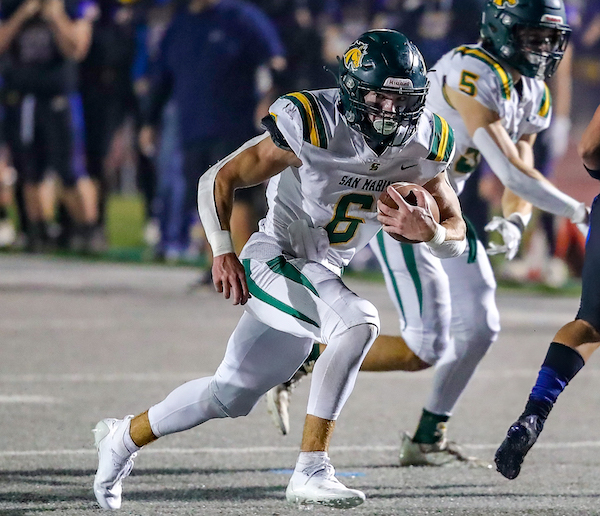 The SF Chronicle's Co-Metro Player of the Year did it all for the CIF 5-AA champs. His 2,359 yards and 36 rushing TDs both ranked second in NorCal and were each top 5 in the state. He also added 97 tackles, 12 pass breakups and two fumble recoveries.
KENNY OLSON (Foothill-Pleasanton) | Sr.
The son of a coach (Oakland Raiders OC, Greg Olson), it's no surprise he was good at any place on the field. Olson led the Falcons to the NCS Div. II final with 70 tackles and three sacks at linebacker, and 700 receiving yards with 13 TDs as a wideout.
ELIAS MULLICAN (Rocklin) | Sr.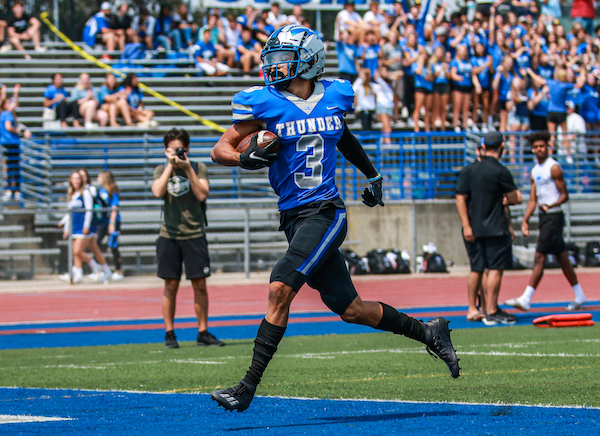 The Sierra Foothill League Most Valuable Player is committed to Sacramento State. He grabbed 40 catches for 663 yards, caught eight touchdowns, ran for two and returned two interceptions for scores. Mullican had five picks.
BEAU DAVIS (Argonaut-Jackson) | Sr.
The do-everything leader of Argonaut's state champion program had 161 tackles, three sacks and an interception. He also racked up 2009 yards of offense as Argonaut's dual-threat quarterback.
TANNER SALISBURY (San Ramon Valley-Danville) | Sr.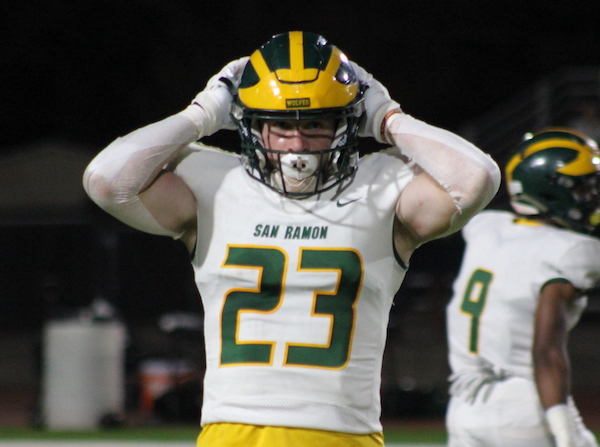 Returning to the Wolves after spending his junior year at Mater Dei-Santa Ana, Salisbury was a critical playmaker on both sides of the ball. He racked up 140 tackles (14 for loss) and caught 12 TD passes on offense.